23.
Perpetual Motion
The hydrostatic weight or differential volume problem
A too prevalent belief at the present time that a large area or body of water has a greater hydrostatic pressure than a connected tube rising from its base. A projector thought that the vessel of his contrivance, represented here, was to solve the renowned problem of the perpetual motion. It was goblet-shaped, lessening gradually toward the bottom until it became a tube, bent upward at
c
, and pointing with an open extremity into the goblet again.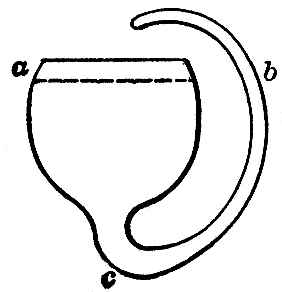 He reasoned thus: A pint of water in the goblet,
a
, must more than counterbalance an ounce which the tube,
b
, will contain, and must therefore be constantly pushing the ounce forward into the vessel again at a, and keeping up a stream or circulation which will cease only when the water dries up. He was confounded when a trial showed him the same level in
a
and in
b
.
(Subsection 960, from p.385)
From: Gardner D. Hiscox, M.E., Mechanical Appliances and Novelties of Construction (1927), Norman W. Henley Publ. Co.
---


---