23.
Perpetual Motion
A wheel, A, with a series of armatures on its periphery, revolves before a horseshoe magnet. Upon the shaft are also mounted a star wheel and a propeller wheel. The star wheel is: arranged to tilt a lever, which carries at its extremity a plate, B, of brass coated with the "chemical and mineral substances" which make it an insulator of magnetism.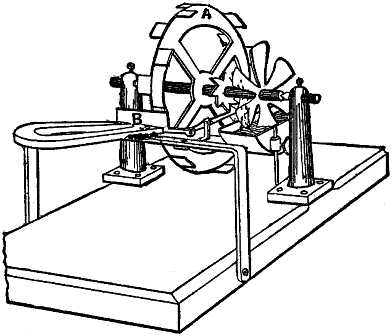 The permanent magnet is a U-shaped bar, with its poles near the wheel, A, and opposite the path of the insulating plate B. The propeller wheel, turning in a cup of water, serves to equalize the motion, and thus prevent the machine from running away with itself and committing self-destruction, so the inventor said.
(Subsection 967, from p.388)
From: Gardner D. Hiscox, M.E., Mechanical Appliances and Novelties of Construction (1927), Norman W. Henley Publ. Co.
---


---