23.
Perpetual Motion
A light wheel on friction rollers, set with slips of iron at an angle around its periphery. N, N are two magnets, which, attracting the rim of the wheel, will render one side lighter and the other heavier, causing it to revolve ad infinitum: or, to render it more powerful, let the steel rims be magnetized, and fixed on the wheel with their north poles toward its center.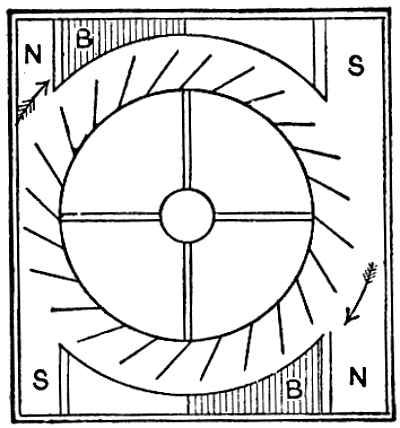 Let two more magnets be added, as shown by the unshaded lines; let these two, S, S, be placed with their south poles nearest the rim of the wheel, and the other two, N, N, with their north poles in that position. Now, as similar poles repel and opposite poles attract, the wheel will be driven round by attraction and repulsion acting conjointly on four points of its circumference. B, B are blocks of wood to keep off the attraction of the magnets from that part of the wheel which has passed them. No substance yet found that interrupts the magnetic field.
(Subsection 964, from p.387)
From: Gardner D. Hiscox, M.E., Mechanical Appliances and Novelties of Construction (1927), Norman W. Henley Publ. Co.
---


---