23.
Perpetual Motion
A wheel with a number of air bags like bellows, fulcrumed on an inner ring and with a weight on the movable cover. Each air bag is connected by a tube to the opposite bag. The wheel is immersed in water, when the weights compress the air bags at the left in the cut and extend the bags at the right side assisted by the hanging weights, the air passing through the connecting tubes. Thus, by the inflation of the bags on the right side, the wheel is made to revolve in the water.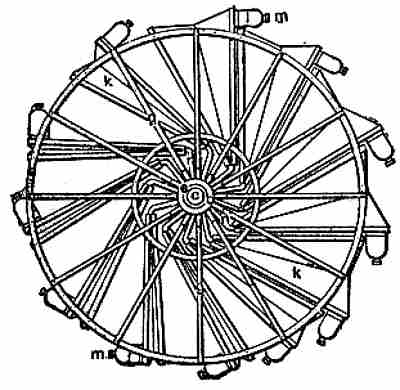 (Subsection 940, from p.376)
From: Gardner D. Hiscox, M.E., Mechanical Appliances and Novelties of Construction (1927), Norman W. Henley Publ. Co.
---


---