23.
Perpetual Motion
From this arrangement it follows that the portion of sponge No.4 which about to quit the water is pressed upon No. 5 float and spring, which, from acting vertically, is most efficient in squeezing the sponge dry; while that portion of the sponge on the point of entering the water is not compressed at all from its corresponding float No.8, not having yet reached the edge of the water. By these means, therefore, it will be seen that the sponge always rises in a dry state from the water on the ascending side, while it approaches the water on the descending side in an uncompressed state, and open to the full action of absorption by the capillary attraction.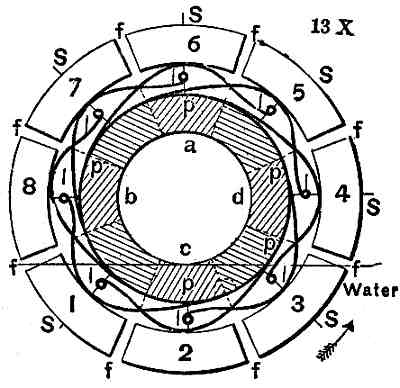 (Subsection 935, from p.374)
From: Gardner D. Hiscox, M.E., Mechanical Appliances and Novelties of Construction (1927), Norman W. Henley Publ. Co.
---


---