(source)

Bertrand Russell

(18 May 1872 - 2 Feb 1970)




A hallucination is a fact, not an error; what is erroneous is a judgment based upon it.

— Bertrand Russell

Although this may seem a paradox, all exact science is dominated by the idea of approximation. When a man tells you that he knows the exact truth about anything, you are safe in infering that he is an inexact man. Every careful measurement in science is always given with the probable error ... every observer admits that he is likely wrong, and knows about how much wrong he is likely to be.

— Bertrand Russell

If the matter is one that can be settled by observation, make the observation yourself. Aristotle could have avoided the mistake of thinking that women have fewer teeth than men, by the simple device of asking Mrs. Aristotle to keep her mouth open while he counted.

— Bertrand Russell

Since the world is what it is, it is clear that valid reasoning from sound principles cannot lead to error; but a principle may be so nearly true as to deserve theoretical respect, and yet may lead to practical consequences which we feel to be absurd. There is therefore a justification for common sense in philosophy, but only as showing that our theoretical principles cannot be quite correct so long as their consequences are condemned by an appeal to common sense which we feel to be irresistible.

— Bertrand Russell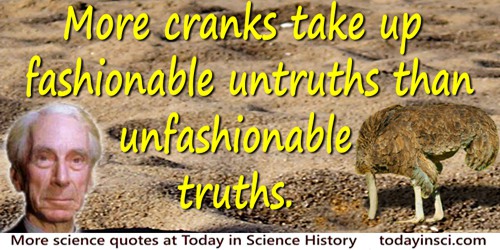 There are infinite possibilities of error, and more cranks take up fashionable untruths than unfashionable truths.

— Bertrand Russell

Who ever heard a theologian preface his creed, or a politician conclude his speech with an estimate of the probable error of his opinion.

— Bertrand Russell

See also:
18 May - short biography, births, deaths and events on date of Russell's birth.
Bertrand Russell - context of quote "A process which led from the amoeba to man" - Medium image (500 x 350 px)
Bertrand Russell - context of quote "A process which led from the amoeba to man" - Large image (800 x 600 px)