(source)

Bertrand Russell

(18 May 1872 - 2 Feb 1970)




A truer image of the world, I think, is obtained by picturing things as entering into the stream of time from an eternal world outside, than from a view which regards time as the devouring tyrant of all that is.

— Bertrand Russell

Although this may seem a paradox, all exact science is dominated by the idea of approximation. When a man tells you that he knows the exact truth about anything, you are safe in infering that he is an inexact man. Every careful measurement in science is always given with the probable error ... every observer admits that he is likely wrong, and knows about how much wrong he is likely to be.

— Bertrand Russell

Even if the open windows of science at first make us shiver after the cozy indoor warmth of traditional humanizing myths, in the end the fresh air brings vigor, and the great spaces have a splendor of their own.

— Bertrand Russell

Fear is the main source of superstition, and one of the main sources of cruelty. To conquer fear is the beginning of wisdom, in the pursuit of truth as in the endeavour after a worthy manner of life.

— Bertrand Russell

Gradually, … the aspect of science as knowledge is being thrust into the background by the aspect of science as the power of manipulating nature. It is because science gives us the power of manipulating nature that it has more social importance than art. Science as the pursuit of truth is the equal, but not the superior, of art. Science as a technique, though it may have little intrinsic value, has a practical importance to which art cannot aspire.

— Bertrand Russell

I conclude that, while it is true that science cannot decide questions of value, that is because they cannot be intellectually decided at all, and lie outside the realm of truth and falsehood. Whatever knowledge is attainable, must be attained by scientific methods; and what science cannot discover, mankind cannot know.

— Bertrand Russell

If I were to suggest that between the Earth and Mars there is a china teapot revolving about the sun in an elliptical orbit, nobody would be able to disprove my assertion provided I were careful to add that the teapot is too small to be revealed even by our most powerful telescopes. But if I were to go on to say that, since my assertion cannot be disproved, it is intolerable presumption on the part of human reason to doubt it, I should rightly be thought to be talking nonsense. If, however, the existence of such a teapot were affirmed in ancient books, taught as the sacred truth every Sunday, and instilled into the minds of children at school, hesitation to believe in its existence would become a mark of eccentricity and entitle the doubter to the attentions of the psychiatrist in an enlightened age or of the Inquisitor in an earlier time.

— Bertrand Russell

In the higher walks of politics the same sort of thing occurs. The statesman who has gradually concentrated all power within himself … may have had anything but a public motive… The phrases which are customary on the platform and in the Party Press have gradually come to him to seem to express truths, and he mistakes the rhetoric of partisanship for a genuine analysis of motives… He retires from the world after the world has retired from him.

— Bertrand Russell

It is undesirable to believe a proposition when there is no ground whatever for supposing it to be true.

— Bertrand Russell

Mathematics, rightly viewed, possesses not only truth, but supreme beauty—a beauty cold and austere, like that of sculpture, without appeal to any part of our weaker nature, without the gorgeous trappings of painting or music, yet sublimely pure, and capable of a stern perfection such as only the greatest art can show.

— Bertrand Russell

No man treats a motorcar as foolishly as he treats another human being. When the car will not go, he does not attribute its annoying behavior to sin; he does not say, "You are a wicked motorcar, and I shall not give you any more petrol until you go." He attempts to find out what is wrong and to set it right. An analogous way of treating human beings is, however, considered to be contrary to the truths of our holy religion.

— Bertrand Russell

Of these austerer virtues the love of truth is the chief, and in mathematics, more than elsewhere, the love of truth may find encouragement for waning faith. Every great study is not only an end in itself, but also a means of creating and sustaining a lofty habit of mind; and this purpose should be kept always in view throughout the teaching and learning of mathematics.

— Bertrand Russell

One of the chiefest triumphs of modern mathematics consists in having discovered what mathematics really is.

— Bertrand Russell

Pure mathematics consists entirely of such asseverations as that, if such and such is a proposition is true of anything, then such and such another propositions is true of that thing. It is essential not to discuss whether the first proposition is really true, and not to mention what the anything is of which it is supposed to be true. Both these points would belong to applied mathematics. … If our hypothesis is about anything and not about some one or more particular things, then our deductions constitute mathematics. Thus mathematics may be defined as the the subject in which we never know what we are talking about, not whether what we are saying is true. People who have been puzzled by the beginnings of mathematics will, I hope, find comfort in this definition, and will probably agree that it is accurate.

— Bertrand Russell

Pure Mathematics is the class of all propositions of the form "p implies q," where p and q are propositions containing one or more variables, the same in the two propositions, and neither p nor q contains any constants except logical constants. And logical constants are all notions definable in terms of the following: Implication, the relation of a term to a class of which it is a member, the notion of such that, the notion of relation, and such further notions as may be involved in the general notion of propositions of the above form. In addition to these, mathematics uses a notion which is not a constituent of the propositions which it considers, namely the notion of truth.

— Bertrand Russell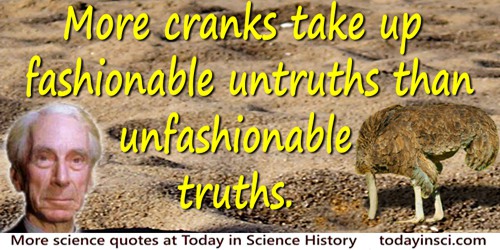 There are infinite possibilities of error, and more cranks take up fashionable untruths than unfashionable truths.

— Bertrand Russell

See also:
18 May - short biography, births, deaths and events on date of Russell's birth.
Bertrand Russell - context of quote "A process which led from the amoeba to man" - Medium image (500 x 350 px)
Bertrand Russell - context of quote "A process which led from the amoeba to man" - Large image (800 x 600 px)