Freethinking Quotes (2 quotes)
Free Thinking Quotes, Freethinker Quotes, Free-Thinking Quotes
Innovations, free thinking is blowing like a storm; those that stand in front of it, ignorant scholars like you, false scientists, perverse conservatives, obstinate goats, resisting mules are being crushed under the weight of these innovations. You are nothing but ants standing in front of the giants; nothing but chicks trying to challenge roaring volcanoes!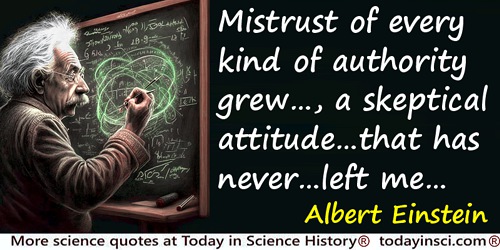 Through the reading of popular scientific books I soon reached the conviction that much in the stories of the Bible could not be true. The consequence was a positively fanatic [orgy of] freethinking coupled with the impression that youth is intentionally being deceived by the state through lies; it was a crushing impression. Mistrust of every kind of authority grew out of this experience, a skeptical attitude toward the convictions that were alive in any specific social environment–an attitude that has never again left me, even though, later on, it has been tempered by a better insight into the causal connections.