Mistrust Quotes (4 quotes)
Il n'y a qu'un demi-siècle, un orateur chrétien, se défiant des hommes de la science leur disait: 'Arrêtez-vous enfin, et ne creusez pas jusqu'aux enfers.' Aujourd'hui, Messieurs, rassurés sur l'inébranlable constance de notre foi, nous vous disons: creusez, creusez encore; plus vous descendrez, plus vous rapprocherez du grand mystère de l'impuissance de l'homme et de la vérité de la religion. Creusez donc, creusez toujours,mundum tradidit disputationibus eorum; et quand la science aura donné son dernier coup de marteau sur les fondements de la terre, vous pourrez à la lueur du feu qu'il fera jaillir, lire encore l'idée de Dieu et contempler l'empreinte de sa main.
Only a half-century ago, a Christian speaker, mistrustful of men of science told them: 'Stop finally, and do not dig to hell.' Today, gentlemen, reassured about the steadfastness of our unshakeable faith, we say: dig, dig again; the further down you, the closer you come to the great mystery of the impotence of man and truth of religion. So dig, always dig: and when science has stuck its final hammer blow on the bosom of the earth, you will be able to ignite a burst of light, read furthermore the mind of God and contemplate the imprint of His hand.

One of the great commandments of science is, 'Mistrust arguments from authority'. (Scientists, being primates, and thus given to dominance hierarchies, of course do not always follow this commandment.)

Science now finds itself in paradoxical strife with society: admired but mistrusted; offering hope for the future but creating ambiguous choice; richly supported yet unable to fulfill all its promise; boasting remarkable advances but criticized for not serving more directly the goals of society.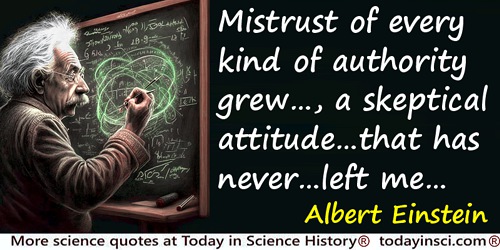 Through the reading of popular scientific books I soon reached the conviction that much in the stories of the Bible could not be true. The consequence was a positively fanatic [orgy of] freethinking coupled with the impression that youth is intentionally being deceived by the state through lies; it was a crushing impression. Mistrust of every kind of authority grew out of this experience, a skeptical attitude toward the convictions that were alive in any specific social environment–an attitude that has never again left me, even though, later on, it has been tempered by a better insight into the causal connections.