Positively Quotes (4 quotes)
Society can, and does, and must control research enormously, negatively and positively, by selectively cutting off or supplying funds. At present it cuts—not so selectively. That is all right with me, as far as my own research is concerned. I certainly do not think society owes me a living or support for my research. If it does not support my research, I can always do something else and not be worse off, perhaps better. However, the question, from society's point of view, is exceedingly complicated.

The reason I cannot really say that I positively enjoy nature is that I do not quite realize what it is that I enjoy. A work of art, on the other hand, I can grasp. I can — if I may put it this way — find that Archimedian point, and as soon as I have found it, everything is readily clear for me. Then I am able to pursue this one main idea and see how all the details serve to illuminate it.

There may be fairies at the bottom of the garden. There is no evidence of it, but you can't prove that there aren't any so shouldn't we be agnostic with respect to fairies? The trouble with the agnostic argument is that it can be applied to anything. There is an infinite number of hypothetical beliefs we could hold which we can't positively disprove. On the whole, people don't believe in most of them, such as fairies, unicorns, dragons, Father Christmas, and so on. But on the whole they do believe in a creator God, together with whatever particular baggage goes with the religion of their parents.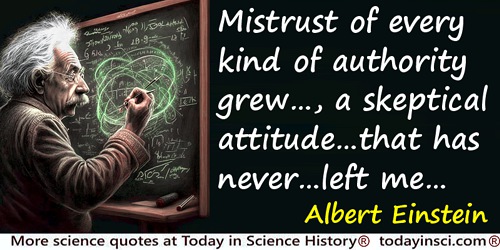 Through the reading of popular scientific books I soon reached the conviction that much in the stories of the Bible could not be true. The consequence was a positively fanatic [orgy of] freethinking coupled with the impression that youth is intentionally being deceived by the state through lies; it was a crushing impression. Mistrust of every kind of authority grew out of this experience, a skeptical attitude toward the convictions that were alive in any specific social environment–an attitude that has never again left me, even though, later on, it has been tempered by a better insight into the causal connections.