Causal Quotes (7 quotes)
The human brain is a machine which alone accounts for all our actions, our most private thoughts, our beliefs. ... To choose a spouse, a job, a religious creed—or even choose to rob a bank—is the peak of a causal chain that runs back to the origin of life and down to the nature of atoms and molecules.

The universe, as we see it, is the result of regularly working forces, having a causal connection with each other and therefore capable of being understood by human reason.

The unscientific person takes things as they are, and cares not for their origin. To study things from a scientific standpoint means to take an inventory of them—to find the process in which they are being produced; to connect them with other things; to see things in their causal process.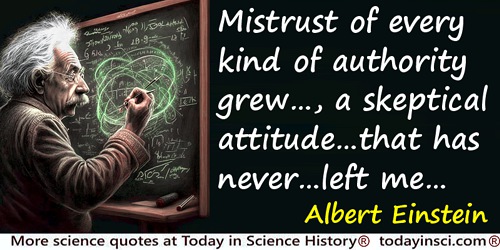 Through the reading of popular scientific books I soon reached the conviction that much in the stories of the Bible could not be true. The consequence was a positively fanatic [orgy of] freethinking coupled with the impression that youth is intentionally being deceived by the state through lies; it was a crushing impression. Mistrust of every kind of authority grew out of this experience, a skeptical attitude toward the convictions that were alive in any specific social environment–an attitude that has never again left me, even though, later on, it has been tempered by a better insight into the causal connections.

We all know, from what we experience with and within ourselves, that our conscious acts spring from our desires and our fears. Intuition tells us that that is true also of our fellows and of the higher animals. We all try to escape pain and death, while we seek what is pleasant. We are all ruled in what we do by impulses; and these impulses are so organized that our actions in general serve for our self preservation and that of the race. Hunger, love, pain, fear are some of those inner forces which rule the individual's instinct for self preservation. At the same time, as social beings, we are moved in the relations with our fellow beings by such feelings as sympathy, pride, hate, need for power, pity, and so on. All these primary impulses, not easily described in words, are the springs of man's actions. All such action would cease if those powerful elemental forces were to cease stirring within us. Though our conduct seems so very different from that of the higher animals, the primary instincts are much alike in them and in us. The most evident difference springs from the important part which is played in man by a relatively strong power of imagination and by the capacity to think, aided as it is by language and other symbolical devices. Thought is the organizing factor in man, intersected between the causal primary instincts and the resulting actions. In that way imagination and intelligence enter into our existence in the part of servants of the primary instincts. But their intervention makes our acts to serve ever less merely the immediate claims of our instincts.

We have very strong physical and chemical evidence for a large impact; this is the most firmly established part of the whole story. There is an unquestionable mass extinction at this time, and in the fossil groups for which we have the best record, the extinction coincides with the impact to a precision of a centimeter or better in the stratigraphic record. This exact coincidence in timing strongly argues for a causal relationship.

When the number of factors coming into play in a phenomenological complex is too large, scientific method in most cases fails us. One need only think of the weather, in which case prediction even for a few days ahead is impossible. Nevertheless no one doubts that we are confronted with a causal connection whose causal components are in the main known to us.