(source)

Rosalyn S. Yalow

(19 Jul 1921 - 30 May 2011)




Science Quotes by Rosalyn S. Yalow
(9 quotes)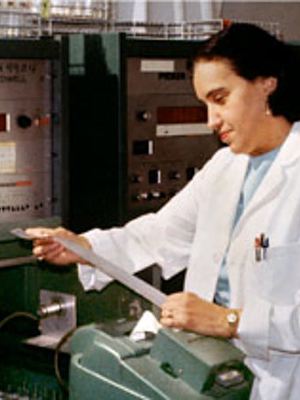 Rosalyn Yalow in her Bronx VA Medical Center lab
(source)
All women scientists should marry, rear children, cook, and clean in order to achieve fulfillment, to be a complete woman.

— Rosalyn S. Yalow

In the past, few women have tried and even fewer have succeeded.

— Rosalyn S. Yalow

My crystal ball or intuition tells me that in the '80s the impact of RIA [radioimmunoassay] on the study of infectious diseases may prove as revolutionary as its impact on endocrinology in the 60s.

— Rosalyn S. Yalow

Perhaps the earliest memories I have are of being a stubborn, determined child. Through the years my mother has told me that it was fortunate that I chose to do acceptable things, for if I had chosen otherwise no one could have deflected me from my path. ... The Chairman of the Physics Department, looking at this record, could only say 'That A- confirms that women do not do well at laboratory work'. But I was no longer a stubborn, determined child, but rather a stubborn, determined graduate student. The hard work and subtle discrimination were of no moment.

— Rosalyn S. Yalow

Radioimmunoassay (RIA) is simple in principle.

— Rosalyn S. Yalow

The first telescope opened the heavens; the first microscope opened the world of the microbes; radioisotopic methodology, as examplified by RIA [radioimmunoassay], has shown the potential for opening new vistas in science and medicine

— Rosalyn S. Yalow

The Nobel Prize gives you an opportunity to make a fool of yourself in public.

— Rosalyn S. Yalow

The war gave women like her opportunities, not a feminist movement, and if the opportunities dwindled after the war, she feels that it was because women didn't want them.

— Rosalyn S. Yalow

We cannot expect in the immediate future that all women who seek it will achieve full equality of opportunity. But if women are to start moving towards that goal, we must believe in ourselves or no one else will believe in us; we must match our aspirations with the competence, courage and determination to succeed.

— Rosalyn S. Yalow

---
Quotes by others about Rosalyn S. Yalow (1)
Ros Yalow and Sol Berson [her research partner] were the Toscaninis of the field... Most others were, if not organ-grinders, followers.

See also:
19 Jul - short biography, births, deaths and events on date of Yalow's birth.
Rosalyn Yalow, Nobel Laureate: Her Life and Work in Medicine, by Eugene Straus. - book suggestion.