(source)

Subrahmanyan Chandrasekhar

(19 Oct 1910 - 21 Aug 1995)




Science Quotes by Subrahmanyan Chandrasekhar
(5 quotes)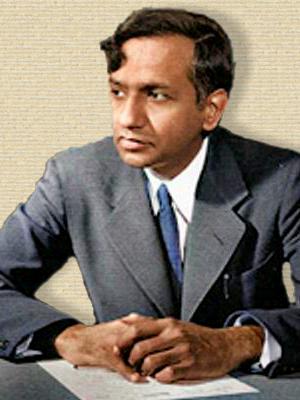 credit: palette.fm for colorization assistance
(source)
I am aware of the usefulness of science to society and of the benefits society derives from it.

— Subrahmanyan Chandrasekhar

In some strange way, any new fact or insight that I may have found has not seemed to me as a "discovery" of mine, but rather something that had always been there and that I had chanced to pick up.

— Subrahmanyan Chandrasekhar

The black holes of nature are the most perfect macroscopic objects there are in the universe: the only elements in their construction are our concepts of space and time.

— Subrahmanyan Chandrasekhar

The pursuit of science has often been compared to the scaling of mountains, high and not so high. But who amongst us can hope, even in imagination, to scale the Everest and reach its summit when the sky is blue and the air is still, and in the stillness of the air survey the entire Himalayan range in the dazzling white of the snow stretching to infinity? None of us can hope for a comparable vision of nature and of the universe around us. But there is nothing mean or lowly in standing in the valley below and awaiting the sun to rise over Kinchinjunga.

— Subrahmanyan Chandrasekhar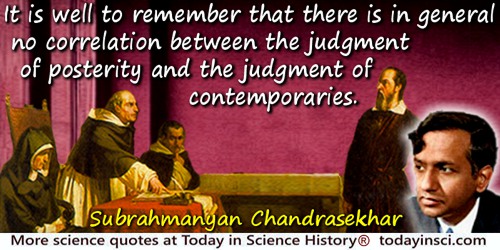 This [Nobel Prize makes] a huge perturbation in my life [and] is not something which I have particularly liked … in many ways I would have much preferred not to have received it … it is well to remember that there is in general no correlation between the judgment of posterity and the judgment of contemporaries.

— Subrahmanyan Chandrasekhar

---
Quotes by others about Subrahmanyan Chandrasekhar (2)
If this plane were to crash, we could get a new start on this quasar problem.
Said to colleagues, dramatically cupping his hand over his brow, shortly after the take-off of a propeller plane leaving Austin, Texas, after the Second Texas Symposium for Relativistic Astrophysics in Dec 1964. Various different theories had been presented at the conference. The flight passengers included many of the major scientists in quasar research, including Margaret and Geoffrey Burbridge, Subrahmanyan Chandrasekhar, John Wheeler and Maarten Schmidt.

When I entered the field of space physics in 1956, I recall that I fell in with the crowd believing, for example, that electric fields could not exist in the highly conducting plasma of space. It was three years later that I was shamed by S. Chandrasekhar into investigating Alfvén's work objectively. My degree of shock and surprise in finding Alfvén right and his critics wrong can hardly be described. I learned that a cosmic ray acceleration mechanism basically identical to the famous mechanism suggested by Fermi in 1949 had [previously] been put forth by Alfvén.

See also:
19 Oct - short biography, births, deaths and events on date of Chandrasekhar's birth.