Bad Science Quotes (5 quotes)
Bad science contributes to the steady dumbing down of our nation. Crude beliefs get transmitted to political leaders and the result is considerable damage to society. We see this happening now in the rapid rise of the religious right and how it has taken over large segments of the Republican Party.

Debunking bad science should be constant obligation of the science community, even if it takes time away from serious research or seems to be a losing battle. One takes comfort from the fact there is no Gresham's laws in science. In the long run, good science drives out bad.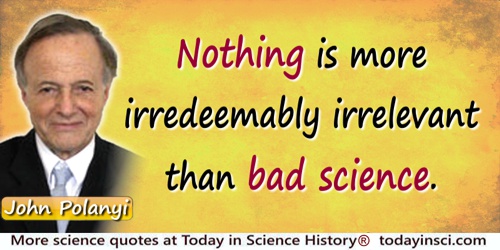 Nothing is more irredeemably irrelevant than bad science.

That form of popular science which merely recites the results of investigations, which merely communicates useful knowledge, is from this standpoint bad science, or no science at all. … Apply this test to every work professing to give a popular account of any branch of science. If any such work gives a description of phenomena that appeals to his imagination rather than to his reason, then it is bad science.

The dispute between evolutionists and creation scientists offers textbook writers and teachers a wonderful opportunity to provide students with insights into the philosophy and methods of science. … What students really need to know is … how scientists judge the merit of a theory. Suppose students were taught the criteria of scientific theory evaluation and then were asked to apply these criteria … to the two theories in question. Wouldn't such a task qualify as authentic science education? … I suspect that when these two theories are put side by side, and students are given the freedom to judge their merit as science, creation theory will fail ignominiously (although natural selection is far from faultless). … It is not only bad science to allow disputes over theory to go unexamined, but also bad education.