(source)

Thomas Tredgold

(22 Aug 1788 - 28 Jan 1829)




Science Quotes by Thomas Tredgold
(3 quotes)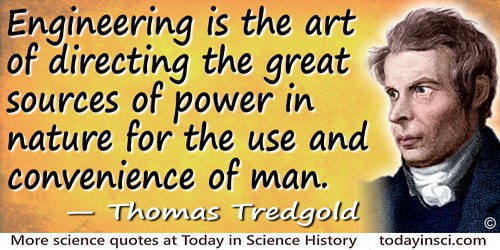 Engineering … the great sources of power in nature
(source)
...(that) any general system of conveying passengers would ... go at a velocity exceeding ten miles an hour, or thereabouts, is extremely improbable.

— Thomas Tredgold

Engineering is the art of directing the great sources of power in nature for the use and convenience of man.

— Thomas Tredgold

The most important object of Civil Engineering is to improve the means of production and of traffic in states, both for external and internal trade. It is applied in the construction and management of roads, bridges, railroads, aqueducts, canals, river navigation, docks and storehouses, for the convenience of internal intercourse and exchange; and in the construction of ports, harbours, moles, breakwaters and lighthouses; and in the navigation by artificial power for the purposes of commerce. It is applied to the protection of property where natural powers are the sources of injury, as by embankments forthe defence of tracts of country from the encroachments of the sea, or the overflowing of rivers; it also directs the means of applying streams and rivers to use, either as powers to work machines, or as supplies for the use of cities and towns, or for irrigation; as well as the means of removing noxious accumulations, as by the drainage of towns and districts to ... secure the public health.

— Thomas Tredgold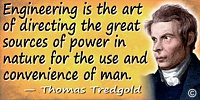 Engineering … the great sources of power in nature
(source)
See also:
22 Aug - short biography, births, deaths and events on date of Tredgold's birth.
Thomas Tredgold - context of quote "" - Medium image (500 x 250 px)
Thomas Tredgold - context of quote "" - Large image (800 x 400 px)