(source)

Niels Bohr

(7 Oct 1885 - 18 Nov 1962)




A visitor to Niels Bohr's country cottage, noticing a horseshoe hanging on the wall, teasing the eminent scientist about this ancient superstition. "Can it be true that you, of all people, believe it will bring you luck?'
'Of course not,' replied Bohr, 'but I understand it brings you luck whether you believe it or not.'"

— Niels Bohr

Anyone who is not shocked by the quantum theory has not understood it. [Attributed.]

— Niels Bohr

But, but, but … if anybody says he can think about quantum theory without getting giddy it merely shows that he hasn't understood the first thing about it!

— Niels Bohr

Every sentence I utter must be understood not as an affirmation but as a question.
[A caution he gives his students, to be wary of dogmatism.]

— Niels Bohr

The existence of life must be considered as an elementary fact that can not be explained, but must be taken as a starting point in biology, in a similar way as the quantum of action, which appears as an irrational element from the point of view of classical mechanical physics, taken together with the existence of elementary particles, forms the foundation of atomic physics. The asserted impossibility of a physical or chemical explanation of the function peculiar to life would in this sense be analogous to the insufficiency of the mechanical analysis for the understanding of the stability of atoms.

— Niels Bohr

This interpretation of the atomic number [as the number of orbital electrons] may be said to signify an important step toward the solution of the boldest dreams of natural science, namely to build up an understanding of the regularities of nature upon the consideration of pure number.

— Niels Bohr

We intend to say something about the structure of the atom but lack a language in which we can make ourselves understood. We are in much the same position as a sailor, marooned on a remote island where conditions differ radically from anything he has ever known and where, to make things worse, the natives speak a completely alien tongue.

— Niels Bohr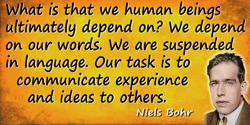 See also:
7 Oct - short biography, births, deaths and events on date of Bohr's birth.
Suspended In Language: Niels Bohr's Life, Discoveries, And The Century He Shaped, by Jim Ottaviani. - book suggestion.
Booklist for Niels Bohr.