Embryologist Quotes (3 quotes)
… the embryological record, as it is usually presented to us, is both imperfect and misleading. It may be compared to an ancient manuscript, with many of the sheets lost, others displaced, and with spurious passages interpolated by a later hand. … Like the scholar with his manuscript, the embryologist has by a process of careful and critical examination to determine where the gaps are present, to detect the later insertions, and to place in order what has been misplaced.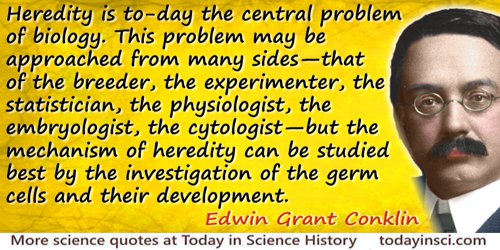 Heredity is to-day the central problem of biology. This problem may be approached from many sides—that of the breeder, the experimenter, the statistician, the physiologist, the embryologist, the cytologist—but the mechanism of heredity can be studied best by the investigation of the germ cells and their development.

We are as remote from adequate explanation of the nature and causes of mechanical evolution of the hard parts of animals as we were when Aristotle first speculated on this subject … I think it is possible that we may never fathom all the causes of mechanical evolution or of the origin of new mechanical characters, but shall have to remain content with observing the modes of mechanical evolution, just as embryologists and geneticists are observing the modes of development, from the fertilized ovum to the mature individual, without in the least understanding either the cause or the nature of the process of development which goes on under their eyes every day