(source)

Alan Gregg

(11 Jul 1890 - 19 Jun 1957)




Science Quotes by Alan Gregg
(3 quotes)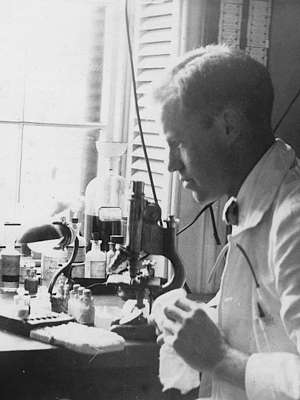 M.D.—Make Do.— Quaint idea! … Work for the handicapped … who is handicapped, your patients, or you? Both. Helping the survival of the unfit.… With more to come. What in the world was the solution. Where to find a formula for head and heart too?

— Alan Gregg

Most of the knowledge and much of the genius of the research worker lie behind his selection of what is worth observing. It is a crucial choice, often determining the success or failure of months of work, often differentiating the brilliant discoverer from an otherwise admirable but entirely unproductive plodder.

— Alan Gregg

One wonders whether the rare ability to be completely attentive to, and to profit by, Nature's slightest deviation from the conduct expected of her is not the secret of the best research minds and one that explains why some men turn to most remarkably good advantage seemingly trivial accidents. Behind such attention lies an unremitting sensitivity.

— Alan Gregg

---
Quotes by others about Alan Gregg (1)
The late Alan Gregg pointed out that human population growth within the ecosystem was closely analogous to the growth of malignant tumor cells within an organism: that man was acting like a cancer on the biosphere. The multiplication of human numbers certainly seems wild and uncontrolled… Four million a month—the equivalent of the population of Chicago… We seem to be doing all right at the moment; but if you could ask cancer cells, I suspect they would think they were doing fine. But when the organism dies, so do they; and for our own, selfish, practical, utilitarian reasons, I think we should be careful about how we influence the rest of the ecosystem.

See also:
11 Jul - short biography, births, deaths and events on date of Gregg's birth.