Guesswork Quotes (4 quotes)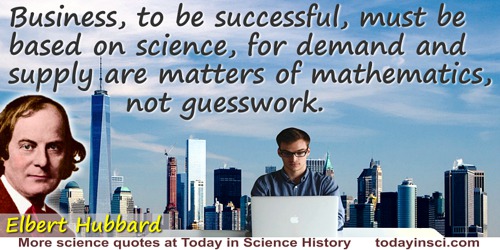 A mathematician's work is mostly a tangle of guesswork, analogy, wishful thinking and frustration, and proof, far from being the core of discovery, is more often than not a way of making sure that our minds are not playing tricks.

Business, to be successful, must be based on science, for demand and supply are matters of mathematics, not guesswork.

Mathematics is not a deductive science—that's a cliché. When you try to prove a theorem, you don't just list the hypotheses, and then start to reason. What you do is trial and error, experiment and guesswork.

The theory that gravitational attraction is inversely proportional to the square of the distance leads by remorseless logic to the conclusion that the path of a planet should be an ellipse, … It is this logical thinking that is the real meat of the physical sciences. The social scientist keeps the skin and throws away the meat. … His theorems no more follow from his postulates than the hunches of a horse player follow logically from the latest racing news. The result is guesswork clad in long flowing robes of gobbledygook.