Beggar Quotes (5 quotes)
CALPURNIA: When beggars die there are no comets seen;
The heavens themselves blaze forth the death of princes.
CAESAR: Cowards die many times before their deaths;
The valiant never taste of death but once.
Of all the wonders that I have yet heard,
It seems to me most strange that men should fear,
Seeing that death, a necessary end,
Will come when it will come.

Beggars in the streets of London were at that time leading the lives of princes, compared to the life of our soldiers in the Crimea when I arrived on the scene with thirty-six nurses.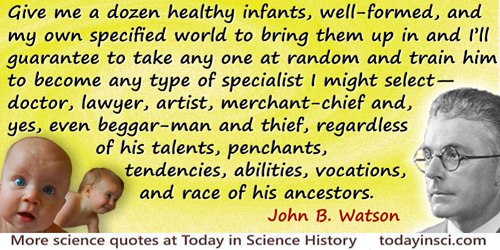 Give me a dozen healthy infants, well-formed, and my own specified world to bring them up in and I'll guarantee to take any one at random and train him to become any type of specialist I might select—doctor, lawyer, artist, merchant-chief and, yes, even beggar-man and thief, regardless of his talents, penchants, tendencies, abilities, vocations, and race of his ancestors. (1930)

Nature takes as much Pains in the Womb for the forming of a Beggar as an Emperor.

The little beggars are doing just what I don't want them to.