(source)

Henri Becquerel

(15 Dec 1852 - 25 Aug 1908)




Science Quotes by Henri Becquerel
(2 quotes)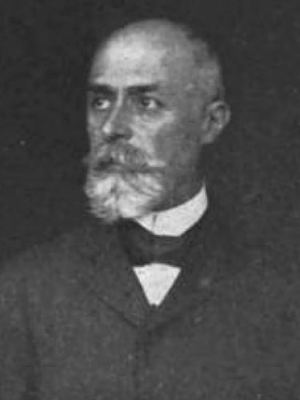 Henri Becquerel
[Concerning] phosphorescent bodies, and in particular to uranium salts whose phosphorescence has a very brief duration. With the double sulfate of uranium and potassium ... I was able to perform the following experiment: One wraps a Lumière photographic plate with a bromide emulsion in two sheets of very thick black paper, such that the plate does not become clouded upon being exposed to the sun for a day. One places on the sheet of paper, on the outside, a slab of the phosphorescent substance, and one exposes the whole to the sun for several hours. When one then develops the photographic plate, one recognizes that the silhouette of the phosphorescent substance appears in black on the negative. If one places between the phosphorescent substance and the paper a piece of money or a metal screen pierced with a cut-out design, one sees the image of these objects appear on the negative. One can repeat the same experiments placing a thin pane of glass between the phosphorescent substance and the paper, which excludes the possibility of chemical action due to vapors which might emanate from the substance when heated by the sun's rays. One must conclude from these experiments that the phosphorescent substance in question emits rays which pass through the opaque paper and reduces silver salts.
[Although the sun is irrelevant, and he misinterprets the role of phosphorescence, he has discovered the effect of radioactivity.]

— Henri Becquerel

I will insist particularly upon the following fact, which seems to me quite important and beyond the phenomena which one could expect to observe: The same [double sulfate of uranium and potassium] crystalline crusts, arranged the same way [as reported to the French academy on 24 Feb 1896] with respect to the photographic plates, in the same conditions and through the same screens, but sheltered from the excitation of incident rays and kept in darkness, still produce the same photographic images … [when kept from 26 Feb 1896] in the darkness of a bureau drawer. … I developed the photographic plates on the 1st of March, expecting to find the images very weak. Instead the silhouettes appeared with great intensity.
It is important to observe that it appears this phenomenon must not be attributed to the luminous radiation emitted by phosphorescence … One hypothesis which presents itself to the mind naturally enough would be to suppose that these rays, whose effects have a great similarity to the effects produced by the rays studied by M. Lenard and M. Röntgen, are invisible rays …
[Having eliminated phosphorescence as a cause, he has further revealed the effect of the as yet unknown radioactivity.]

— Henri Becquerel

---
Quotes by others about Henri Becquerel (3)
I have to keep going, as there are always people on my track. I have to publish my present work as rapidly as possible in order to keep in the race. The best sprinters in this road of investigation are Becquerel and the Curies...

Note: This quote is by French playwright Henri Becque. It is widely seen attributed, incorrectly, to Henri Becquerel.
Decisiveness is often the art of timely cruelty.

Who would not have been laughed at if he had said in 1800 that metals could be extracted from their ores by electricity or that portraits could be drawn by chemistry.
[Commenting on Becquerel's process for extracting metals by voltaic means.]