Louis Agassiz

(28 May 1807 - 14 Dec 1873)




I have devoted my whole life to the study of Nature, and yet a single sentence may express all that I have done. I have shown that there is a correspondence between the succession of Fishes in geological times and the different stages of their growth in the egg,—this is all. It chanced to be a result that was found to apply to other groups and has led to other conclusions of a like nature.

— Louis Agassiz

It is better to have a few forms well known than to teach a little about many hundred species. Better a dozen specimens thoroughly studied as the result of the first year's work, than to have two thousand dollars' worth of shells and corals bought from a curiosity-shop. The dozen animals would be your own.

— Louis Agassiz

The study of Nature is intercourse with the highest mind. You should never trifle with Nature. At her lowest her works are the works of the highest powers, the highest something in the universe, in whichever way we look at it… This is the charm of Study from Nature itself; she brings us back to absolute truth wherever we wander.

— Louis Agassiz

When chemists have brought their knowledge out of their special laboratories into the laboratory of the world, where chemical combinations are and have been through all time going on in such vast proportions,—when physicists study the laws of moisture, of clouds and storms, in past periods as well as in the present,—when, in short, geologists and zoologists are chemists and physicists, and vice versa,—then we shall learn more of the changes the world has undergone than is possible now that they are separately studied.

— Louis Agassiz

You cannot do without one specialty. You must have some base-line to measure the work and attainments of others. For a general view of the subject, study the history of the sciences. Broad knowledge of all Nature has been the possession of no naturalist except Humboldt, and general relations constituted his specialty.

— Louis Agassiz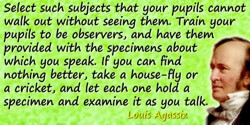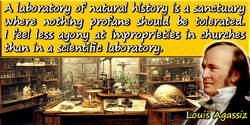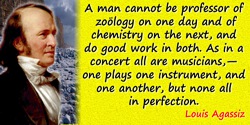 See also:
28 May - short biography, births, deaths and events on date of Agassiz's birth.
Louis Agassiz: A Life in Science, by Edward Lurie. - book suggestion.