(source)

Hillary Clinton

(26 Oct 1947 - )



Science Quotes by Hillary Clinton
(9 quotes)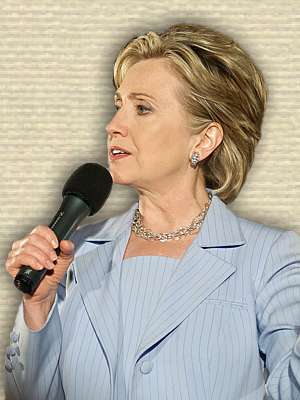 Hillary Clinton at a Presidential Primary Rally in Raleigh, NC (2008)
Photo by Keith Kissel (CC by 2.0)
(source)
Climate change threatens every corner of our country, every sector of our economy and the health and future of every child. We are already seeing its impacts and we know the poorest and most vulnerable people in the United States and around the world will suffer most of all.

— Hillary Clinton

I stand in favor of using seeds and products that have a proven track record. … There is a big gap between what the facts are, and what the perceptions are. … I mean "genetically modified" sounds Frankensteinish. Drought-resistant sounds really like something you'd want.

— Hillary Clinton

I will set ambitious goals—to see 500 million solar panels installed within four years and enough renewable electricity to power every home in America within 10 years.

— Hillary Clinton

I won't let anyone take us backward, deny our economy the benefits of harnessing a clean energy future, or force our children to endure the catastrophe that would result from unchecked climate change.

— Hillary Clinton

I would like to see us continue to explore space. There's just a lot for us to keep learning. I think it's a good investment, so on my list of things that I want our country to invest in—in terms of research and innovation and science, basic science, exploring space, exploring our oceans, exploring our genome—we're at the brink of all kinds of new information. Let's not back off now!

— Hillary Clinton

The science is clear: The earth is round, the sky is blue, and #vaccineswork. Let's protect all our kids.

— Hillary Clinton

We believe that biotechnology has a critical role to play in increasing agricultural productivity, particularly in light of climate change. We also believe it can help to improve the nutritional value of staple foods.

— Hillary Clinton

We must reject the false choice between combating climate change and fostering strong economic growth. If any country can prove that, it's the United States.

— Hillary Clinton

When I was … a teenager … like, 14, … the space program was getting started, and I wanted to be an astronaut. I wrote to NASA and I said, "What do I have to do to be prepared to be an astronaut?" And they wrote back and said, "Thank you very much but we're not taking girls." … That thankfully changed with Sally Ride and a lot of the other great women astronauts.

— Hillary Clinton