Seashore Quotes (5 quotes)
All knowledge and understanding of the Universe was no more than playing with stones and shells on the seashore of the vast imponderable ocean of truth.

At the sea shore you pick up a pebble, fashioned after a law of nature, in the exact form that best resists pressure, and worn as smooth as glass. It is so perfect that you take it as a keepsake. But could you know its history from the time when a rough fragment of rock fell from the overhanging cliff into the sea, to be taken possession of by the under currents, and dragged from one ocean to another, perhaps around the world, for a hundred years, until in reduced and perfect form it was cast upon the beach as you find it, you would have a fit illustration of what many principles, now in familiar use, have endured, thus tried, tortured and fashioned during the ages.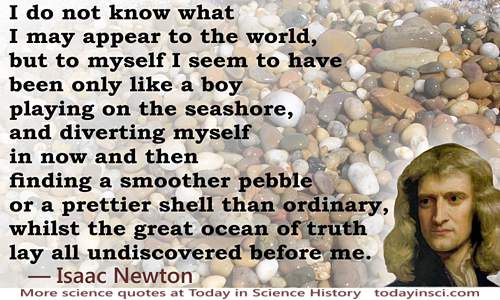 Click image for larger 800 x 500px version

I do not know what I may appear to the world, but to myself I seem to have been only like a boy playing on the seashore, and diverting myself in now and then finding a smoother pebble or a prettier shell than ordinary, whilst the great ocean of truth lay all undiscovered before me.

Memory is a child walking along a seashore. You never can tell what small pebble it will pick up and store away among its treasured things.

She sells sea-shells on the sea-shore,
The shells she sells are sea-shells, I'm sure
For if she sells sea-shells on the sea-shore
Then I'm sure she sells sea-shore shells.