(source)

Carl Sagan

(9 Nov 1934 - 20 Dec 1996)




A religion old or new, that stressed the magnificence of the universe as revealed by modern science, might be able to draw forth reserves of reverence and awe hardly tapped by the conventional faiths. Sooner or later such a religion will emerge.

— Carl Sagan

If you want to save your child from polio, you can pray or you can inoculate. ... Choose science.

— Carl Sagan

Religions are tough. Either they make no contentions which are subject to disproof or they quickly redesign doctrine after disproof. … near the core of the religious experience is something remarkably resistant to rational inquiry.

— Carl Sagan

Science is not only compatible with spirituality; it is a profound source of spirituality. When we recognize our place in an immensity of light-years and in the passage of ages, when we grasp the intricacy, beauty, and subtlety of life, then that soaring feeling, that sense of elation and humility combined, is surely spiritual ... The notion that science and spirituality are somehow mutually exclusive does a disservice to both.

— Carl Sagan

Skeptical scrutiny is the means, in both science and religion, by which deep insights can be winnowed from deep nonsense.

— Carl Sagan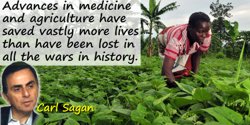 A bean farmer checks her crop in Congo. Photo by Neil Palmer (CIAT). CC2.0
(source)