(source)

Carl Sagan

(9 Nov 1934 - 20 Dec 1996)




...the scientific cast of mind examines the world critically, as if many alternative worlds might exist, as if other things might be here which are not. Then we are forced to ask why what we see is present and not something else. Why are the Sun and moon and the planets spheres? Why not pyramids, or cubes, or dodecahedra? Why not irregular, jumbly shapes? Why so symmetrical, worlds? If you spend any time spinning hypotheses, checking to see whether they make sense, whether they conform to what else we know. Thinking of tests you can pose to substantiate or deflate hypotheses, you will find yourself doing science.

— Carl Sagan

At the heart of science is an essential balance between two seemingly contradictory attitudes—an openness to new ideas, no matter how bizarre or counterintuitive they may be, and the most ruthless skeptical scrutiny of all ideas, old and new. This is how deep truths are winnowed from deep nonsense.

— Carl Sagan

In the 1920s, there was a dinner at which the physicist Robert W. Wood was asked to respond to a toast … "To physics and metaphysics." Now by metaphysics was meant something like philosophy—truths that you could get to just by thinking about them. Wood took a second, glanced about him, and answered along these lines: The physicist has an idea, he said. The more he thinks it through, the more sense it makes to him. He goes to the scientific literature, and the more he reads, the more promising the idea seems. Thus prepared, he devises an experiment to test the idea. The experiment is painstaking. Many possibilities are eliminated or taken into account; the accuracy of the measurement is refined. At the end of all this work, the experiment is completed and … the idea is shown to be worthless. The physicist then discards the idea, frees his mind (as I was saying a moment ago) from the clutter of error, and moves on to something else. The difference between physics and metaphysics, Wood concluded, is that the metaphysicist has no laboratory.

— Carl Sagan

It seems to me what is called for is an exquisite balance between two conflicting needs: the most skeptical scrutiny of all hypotheses that are served up to us and at the same time a great openness to new ideas … If you are only skeptical, then no new ideas make it through to you … On the other hand, if you are open to the point of gullibility and have not an ounce of skeptical sense in you, then you cannot distinguish the useful ideas from the worthless ones.

— Carl Sagan

Science and mathematics [are] much more compelling and exciting than the doctrines of pseudoscience, whose practitioners were condemned as early as the fifth century B.C. by the Ionian philosopher Heraclitus as "night walkers, magicians, priests of Bacchus, priestesses of the wine-vat, mystery-mongers." But science is more intricate and subtle, reveals a much richer universe, and powerfully evokes our sense of wonder. And it has the additional and important virtue—to whatever extent the word has any meaning—of being true.

— Carl Sagan

Science arouses a soaring sense of wonder. But so does pseudoscience. Sparse and poor popularizations of science abandon ecological niches that pseudoscience promptly fills. If it were widely understood that claims to knowledge require adequate evidence before they can be accepted, there would be no room for pseudoscience.

— Carl Sagan

Science is not only compatible with spirituality; it is a profound source of spirituality. When we recognize our place in an immensity of light-years and in the passage of ages, when we grasp the intricacy, beauty, and subtlety of life, then that soaring feeling, that sense of elation and humility combined, is surely spiritual ... The notion that science and spirituality are somehow mutually exclusive does a disservice to both.

— Carl Sagan

Skeptical scrutiny is the means, in both science and religion, by which deep insights can be winnowed from deep nonsense.

— Carl Sagan

The testimony of our common sense is suspect at high velocities.

— Carl Sagan

What a splendid perspective contact with a profoundly different civilization might provide! In a cosmic setting vast and old beyond ordinary human understanding we are a little lonely, and we ponder the ultimate significance, if any, of our tiny but exquisite blue planet, the Earth… In the deepest sense the search for extraterrestrial intelligence is a search for ourselves.

— Carl Sagan

[When I was a child] I grew up in Brooklyn, New York, and I was a street kid. … [T]here was one aspect of that environment that, for some reason, struck me as different, and that was the stars. … I could tell they were lights in the sky, but that wasn't an explanation. I mean, what were they? Little electric bulbs on long black wires, so you couldn't see what they were held up by? What were they? … My mother said to me, "Look, we've just got you a library card … get out a book and find the answer." … It was in there. It was stunning. The answer was that the Sun was a star, except very far away. … The dazzling idea of a universe vast beyond imagining swept over me. … I sensed awe.

— Carl Sagan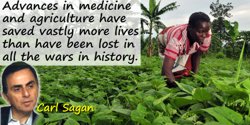 A bean farmer checks her crop in Congo. Photo by Neil Palmer (CIAT). CC2.0
(source)