(source)

Carl Sagan

(9 Nov 1934 - 20 Dec 1996)




...the scientific cast of mind examines the world critically, as if many alternative worlds might exist, as if other things might be here which are not. Then we are forced to ask why what we see is present and not something else. Why are the Sun and moon and the planets spheres? Why not pyramids, or cubes, or dodecahedra? Why not irregular, jumbly shapes? Why so symmetrical, worlds? If you spend any time spinning hypotheses, checking to see whether they make sense, whether they conform to what else we know. Thinking of tests you can pose to substantiate or deflate hypotheses, you will find yourself doing science.

— Carl Sagan

As agonizing a disease as cancer is, I do not think it can be said that our civilization is threatened by it. … But a very plausible case can be made that our civilization is fundamentally threatened by the lack of adequate fertility control. Exponential increases of population will dominate any arithmetic increases, even those brought about by heroic technological initiatives, in the availability of food and resources, as Malthus long ago realized.

— Carl Sagan

For myself, I like a universe that, includes much that is unknown and, at the same time, much that is knowable. A universe in which everything is known would be static and dull, as boring as the heaven of some weak-minded theologians. A universe that is unknowable is no fit place for a thinking being. The ideal universe for us is one very much like the universe we inhabit. And I would guess that this is not really much of a coincidence.

— Carl Sagan

In some respects, science has far surpassed religion in delivering awe. How is it that hardly any major religion has looked at science and concluded, "This is better than we thought! The Universe is much bigger than our prophets said, grander, more subtle, more elegant. God must be even greater than we dreamed"? Instead they say, 'No, no, no! My god is a little god, and I want him to stay that way.'

— Carl Sagan

In the 1920s, there was a dinner at which the physicist Robert W. Wood was asked to respond to a toast … "To physics and metaphysics." Now by metaphysics was meant something like philosophy—truths that you could get to just by thinking about them. Wood took a second, glanced about him, and answered along these lines: The physicist has an idea, he said. The more he thinks it through, the more sense it makes to him. He goes to the scientific literature, and the more he reads, the more promising the idea seems. Thus prepared, he devises an experiment to test the idea. The experiment is painstaking. Many possibilities are eliminated or taken into account; the accuracy of the measurement is refined. At the end of all this work, the experiment is completed and … the idea is shown to be worthless. The physicist then discards the idea, frees his mind (as I was saying a moment ago) from the clutter of error, and moves on to something else. The difference between physics and metaphysics, Wood concluded, is that the metaphysicist has no laboratory.

— Carl Sagan

I'd like the [Cosmos] series to be so visually stimulating that somebody who isn't even interested in the concepts will just watch for the effects. And I'd like people who are prepared to do some thinking to be really stimulated.

— Carl Sagan

Science is a way of thinking much more than it is a body of knowledge.

— Carl Sagan

We live on an obscure hunk of rock and metal circling a humdrum sun, which is on the outskirts of a perfectly ordinary galaxy comprised of 400 billion other suns, which, in turn, is one of some hundred billion galaxies that make up the universe, which, current thinking suggests, is one of a huge number—perhaps an infinite number—of other closed-off universes. From that perspective, the idea that we're at the center, that we have some cosmic importance, is ludicrous.

— Carl Sagan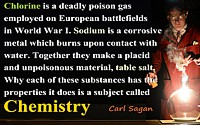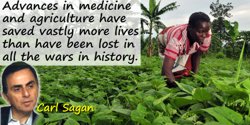 A bean farmer checks her crop in Congo. Photo by Neil Palmer (CIAT). CC2.0
(source)