(source)

Carl Sagan

(9 Nov 1934 - 20 Dec 1996)




A religion old or new, that stressed the magnificence of the universe as revealed by modern science, might be able to draw forth reserves of reverence and awe hardly tapped by the conventional faiths. Sooner or later such a religion will emerge.

— Carl Sagan

For me, it is far better to grasp the Universe as it really is than to persist in delusion, however satisfying and reassuring.

— Carl Sagan

For myself, I like a universe that, includes much that is unknown and, at the same time, much that is knowable. A universe in which everything is known would be static and dull, as boring as the heaven of some weak-minded theologians. A universe that is unknowable is no fit place for a thinking being. The ideal universe for us is one very much like the universe we inhabit. And I would guess that this is not really much of a coincidence.

— Carl Sagan

I grew up in Brooklyn, New York … a city neighborhood that included houses, lampposts, walls, and bushes. But with an early bedtime in the winter, I could look out my window and see the stars, and the stars were not like anything else in my neighborhood. [At age 5] I didn't know what they were.
[At age 9] my mother … said to me, "You have a library card now, and you know how to read. Take the streetcar to the library and get a book on stars." … I stepped up to the big librarian and asked for a book on stars. … I sat down and found out the answer, which was something really stunning.I found out that the stars are glowing balls of gas. I also found out that the Sun is a star but really close and that the stars are all suns except really far away I didn't know any physics or mathematics at that time, but I could imagine how far you'd have to move the Sun away from us till it was only as bright as a star. It was in that library, reading that book, that the scale of the universe opened up to me. There was something beautiful about it.
At that young age, I already knew that I'd be very happy if I could devote my life to finding out more about the stars and the planets that go around them. And it's been my great good fortune to do just that.

— Carl Sagan

If we lived on a planet where nothing ever changed, there would be little to do. There would be nothing to figure out. There would be no impetus for science. And if we lived in an unpredictable world, where things changed in random or very complex ways, we would not be able to figure things out. But we live in an in-between universe, where things change, but according to patterns, rules, or as we call them, laws of nature. If I throw a stick up in the air, it always falls down. If the sun sets in the west, it always rises again the next morning in the east. And so it becomes possible to figure things out. We can do science, and with it we can improve our lives.

— Carl Sagan

If we long to believe that the stars rise and set for us, that we are the reason there is a Universe, does science do us a disservice in deflating our conceits

— Carl Sagan

If you wish to make an apple pie from scratch, you must first invent the universe.

— Carl Sagan

In some respects, science has far surpassed religion in delivering awe. How is it that hardly any major religion has looked at science and concluded, "This is better than we thought! The Universe is much bigger than our prophets said, grander, more subtle, more elegant. God must be even greater than we dreamed"? Instead they say, 'No, no, no! My god is a little god, and I want him to stay that way.'

— Carl Sagan

Our posturing, our imagined self-importance, the delusion that we have some privileged position in the Universe, are challenged by this point of pale light. Our planet is a lonely speck in the great enveloping cosmic dark. In our obscurity, in all this vastness, there is no hint that help will come from elsewhere to save us from ourselves.

— Carl Sagan

Science and mathematics [are] much more compelling and exciting than the doctrines of pseudoscience, whose practitioners were condemned as early as the fifth century B.C. by the Ionian philosopher Heraclitus as "night walkers, magicians, priests of Bacchus, priestesses of the wine-vat, mystery-mongers." But science is more intricate and subtle, reveals a much richer universe, and powerfully evokes our sense of wonder. And it has the additional and important virtue—to whatever extent the word has any meaning—of being true.

— Carl Sagan

The Universe forces those who live in it to understand it. Those creatures who find everyday experience a muddled jumble of events with no predictability, no regularity, are in grave peril. The Universe belongs to those who, at least to some degree, have figured it out.

— Carl Sagan

The universe is not required to be in perfect harmony with human ambition.

— Carl Sagan

There is a place with four suns in the sky—red, white, blue, and yellow; two of them are so close together that they touch, and star-stuff flows between them. I know of a world with a million moons. I know of a sun the size of the Earth—and made of diamond. There are atomic nuclei a few miles across which rotate thirty times a second. There are tiny grains between the stars, with the size and atomic composition of bacteria. There are stars leaving the Milky Way, and immense gas clouds falling into it. There are turbulent plasmas writhing with X- and gamma-rays and mighty stellar explosions. There are, perhaps, places which are outside our universe. The universe is vast and awesome, and for the first time we are becoming a part of it.

— Carl Sagan

Those afraid of the universe as it really is, those who pretend to nonexistent knowledge and envision a Cosmos centered on human beings will prefer the fleeting comforts of superstition. They avoid rather than confront the world. But those with the courage to explore the weave and structure of the Cosmos, even where it differs profoundly from their wishes and prejudices, will penetrate its deepest mysteries.

— Carl Sagan

We live on an obscure hunk of rock and metal circling a humdrum sun, which is on the outskirts of a perfectly ordinary galaxy comprised of 400 billion other suns, which, in turn, is one of some hundred billion galaxies that make up the universe, which, current thinking suggests, is one of a huge number—perhaps an infinite number—of other closed-off universes. From that perspective, the idea that we're at the center, that we have some cosmic importance, is ludicrous.

— Carl Sagan

Wherever possible, scientists experiment. Which experiments suggest themselves often depends on which theories currently prevail. Scientists are intent of testing those theories to the breaking point. They do not trust what is intuitively obvious. That the Earth is flat was once obvious. That heavy bodies fall faster than light ones was once obvious. That bloodsucking leeches cure most diseases was once obvious. That some people are naturally and by divine decree slaves was once obvious. That there is such a place as the center of the Universe, and that the Earth sits in that exalted spot was once obvious. That there is an absolute standard of rest was once obvious. The truth may be puzzling or counterintuitive. It may contradict deeply held beliefs. Experiment is how we get a handle on it.

— Carl Sagan

Who are we? We find that we live on an insignificant planet of a humdrum star lost between two spiral arms in the outskirts of a galaxy, tucked away in some forgotten corner of a universe in which there are far more galaxies than people.

— Carl Sagan

[When I was a child] I grew up in Brooklyn, New York, and I was a street kid. … [T]here was one aspect of that environment that, for some reason, struck me as different, and that was the stars. … I could tell they were lights in the sky, but that wasn't an explanation. I mean, what were they? Little electric bulbs on long black wires, so you couldn't see what they were held up by? What were they? … My mother said to me, "Look, we've just got you a library card … get out a book and find the answer." … It was in there. It was stunning. The answer was that the Sun was a star, except very far away. … The dazzling idea of a universe vast beyond imagining swept over me. … I sensed awe.

— Carl Sagan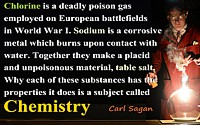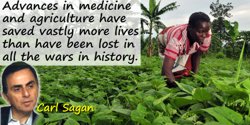 A bean farmer checks her crop in Congo. Photo by Neil Palmer (CIAT). CC2.0
(source)