(source)

John Young

(24 Sep 1930 - 5 Jan 2018)




Science Quotes by John Young
(13 quotes)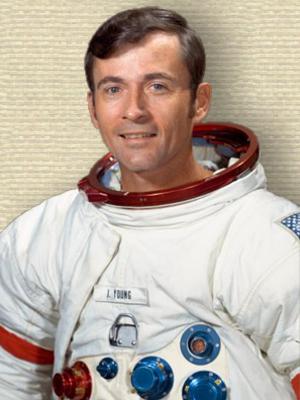 A mathematical science is any body of propositions which is capable of an abstract formulation and arrangement in such a way that every proposition of the set after a certain one is a formal logical consequence of some or all the preceding propositions. Mathematics consists of all such mathematical sciences.

— John Young

Anyone who sits on top of the largest hydrogen-oxygen fueled system in the world; knowing they're going to light the bottom, and doesn't get a little worried, does not fully understand the situation.

— John Young

If you want to see an endangered species, get up and look in the mirror.

— John Young

My grandpa taught me how to read. I read the encyclopedia when I was five.

— John Young

My heart rate wasn't as high as his [Robert Crippen], because I'm so dang old and it just wouldn't go any faster.

— John Young

One-sixth gravity on the surface of the moon is just delightful. It's not like being in zero gravity, you know. You can drop a pencil in zero gravity and look for it for three days. In one-sixth gravity, you just look down and there it is.

— John Young

Our ability to live and work on other places in the solar system will end up giving us the science and technology that we need to save the species. I'm talking about human beings. I'd hate to miss all that fun.

— John Young

The development of abstract methods during the past few years has given mathematics a new and vital principle which furnishes the most powerful instrument for exhibiting the essential unity of all its branches.

— John Young

The moon is a very nice place. When we landed, we were 20 minutes behind. Because time on the Moon was so precious, what I remember most is trying to catch up.

— John Young

There's always something to do in the space program. It's so varied. You don't do the same thing twice in any given moment of any day.

— John Young

There's no question in my mind that the capability of [the space shuttle] to put 65,000 pounds in low earth orbit—to put payloads up there cheaper than we've been able to do it before, not having to throw away the booster—will absolutely revolutionize the way we do business here on earth in ways that we just can't imagine. It will help develop science and technology. With the space shuttle—when we get it operational—we'll be able to do in 5 or 10 years what it would take us 20 to 30 years to do otherwise in science and technology development.

— John Young

When the president said, "We're going to send a man to the moon and return him safely," the safe part sounded pretty good. But they were using hydrogen, and the only thing I knew about hydrogen was that they used it with the Hindenburg, and that didn't work out too good.

— John Young

~~[Misattributed]~~ The greatest enemy of progress is the illusion of knowledge.

— John Young

See also:
24 Sep - short biography, births, deaths and events on date of Young's birth.