Ohm Quotes (5 quotes)
'O tell me, when along the line
From my full heart the message flows,
What currents are induced in thine?
One click from thee will end my woes'.
Through many an Ohm the Weber flew,
And clicked the answer back to me,
'I am thy Farad, staunch and true,
Charged to a Volt with love for thee'.

As the nineteenth century drew to a close, scientists could reflect with satisfaction that they had pinned down most of the mysteries of the physical world: electricity, magnetism, gases, optics, acoustics, kinetics and statistical mechanics … all had fallen into order before them. They had discovered the X ray, the cathode ray, the electron, and radioactivity, invented the ohm, the watt, the Kelvin, the joule, the amp, and the little erg.

Ohm (a distinguished mathematician, be it noted) brought into order a host of puzzling facts connecting electromotive force and electric current in conductors, which all previous electricians had only succeeded in loosely binding together qualitatively under some rather vague statements. Even as late as 20 years ago, "quantity" and "tension" were much used by men who did not fully appreciate Ohm's law. (Is it not rather remarkable that some of Germany's best men of genius should have been, perhaps, unfairly treated? Ohm; Mayer; Reis; even von Helmholtz has mentioned the difficulty he had in getting recognised. But perhaps it is the same all the world over.)

Ohm found that the results could be summed up in such a simple law that he who runs may read it, and a schoolboy now can predict what a Faraday then could only guess at roughly. By Ohm's discovery a large part of the domain of electricity became annexed by Coulomb's discovery of the law of inverse squares, and completely annexed by Green's investigations. Poisson attacked the difficult problem of induced magnetisation, and his results, though differently expressed, are still the theory, as a most important first approximation. Ampere brought a multitude of phenomena into theory by his investigations of the mechanical forces between conductors supporting currents and magnets. Then there were the remarkable researches of Faraday, the prince of experimentalists, on electrostatics and electrodynamics and the induction of currents. These were rather long in being brought from the crude experimental state to a compact system, expressing the real essence. Unfortunately, in my opinion, Faraday was not a mathematician. It can scarely be doubted that had he been one, he would have anticipated much later work. He would, for instance, knowing Ampere's theory, by his own results have readily been led to Neumann's theory, and the connected work of Helmholtz and Thomson. But it is perhaps too much to expect a man to be both the prince of experimentalists and a competent mathematician.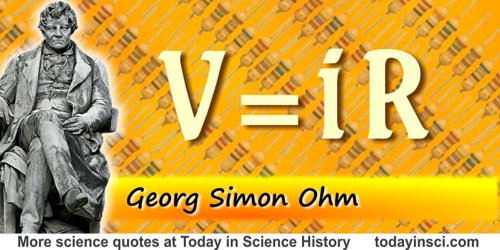 The force of the current in a galvanic circuit is directly as the sum of all the tensions, and inversely as the entire reduced length of the circuit.
[S = A / L; now written as Ohms Law: V = i R.]