(source)

Sir Arthur Stanley Eddington

(28 Dec 1882 - 22 Nov 1944)




A star is drawing on some vast reservoir of energy by means unknown to us. This reservoir can scarcely be other than the subatomic energy which, it is known exists abundantly in all matter; we sometimes dream that man will one day learn how to release it and use it for his service. The store is well nigh inexhaustible, if only it could be tapped. There is sufficient in the Sun to maintain its output of heat for 15 billion years.

— Sir Arthur Stanley Eddington

Accordingly the primordial state of things which I picture is an even distribution of protons and electrons, extremely diffuse and filling all (spherical) space, remaining nearly balanced for an exceedingly long time until its inherent instability prevails. We shall see later that the density of this distribution can be calculated; it was about one proton and electron per litre. There is no hurry for anything to begin to happen. But at last small irregular tendencies accumulate, and evolution gets under way. The first stage is the formation of condensations ultimately to become the galaxies; this, as we have seen, started off an expansion, which then automatically increased in speed until it is now manifested to us in the recession of the spiral nebulae.
As the matter drew closer together in the condensations, the various evolutionary processes followed—evolution of stars, evolution of the more complex elements, evolution of planets and life.

— Sir Arthur Stanley Eddington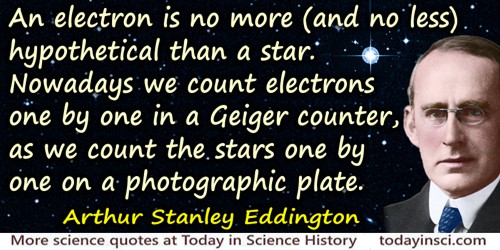 An electron is no more (and no less) hypothetical than a star. Nowadays we count electrons one by one in a Geiger counter, as we count the stars one by one on a photographic plate.

— Sir Arthur Stanley Eddington

At terrestrial temperatures matter has complex properties which are likely to prove most difficult to unravel; but it is reasonable to hope that in the not too distant future we shall be competent to understand so simple a thing as a star.

— Sir Arthur Stanley Eddington

I will give you a "celestial multiplication table." We start with a star as the unit most familiar to us, a globe comparable to the sun. Then—
A hundred thousand million Stars make one Galaxy;
A hundred thousand million Galaxies make one Universe.
The figures may not be very trustworthy, but I think they give a correct impression.

— Sir Arthur Stanley Eddington

Man is slightly nearer to the atom than to the star. … From his central position man can survey the grandest works of Nature with the astronomer, or the minutest works with the physicist. … [K]nowledge of the stars leads through the atom; and important knowledge of the atom has been reached through the stars.

— Sir Arthur Stanley Eddington

The helium which we handle must have been put together at some time and some place. We do not argue with the critic who urges that the stars are not hot enough for this process; we tell him to go and find a hotter place.

— Sir Arthur Stanley Eddington

See also:
28 Dec - short biography, births, deaths and events on date of Eddington's birth.
The Eddington Enigma, by David Evans, David S. Evans. - book suggestion.