(source)

Sir Arthur Stanley Eddington

(28 Dec 1882 - 22 Nov 1944)




Consciousness is not sharply defined, but fades into sub-consciousness; and beyond that we must postulate something indefinite but yet continuous with our mental nature. This I take it be the world-stuff.

— Sir Arthur Stanley Eddington

If to-day you ask a physicist what he has finally made out the æther or the electron to be, the answer will not be a description in terms of billiard balls or fly-wheels or anything concrete; he will point instead to a number of symbols and a set of mathematical equations which they satisfy. What do the symbols stand for? The mysterious reply is given that physics is indifferent to that; it has no means of probing beneath the symbolism. To understand the phenomena of the physical world it is necessary to know the equations which the symbols obey but not the nature of that which is being symbolised. …this newer outlook has modified the challenge from the material to the spiritual world.

— Sir Arthur Stanley Eddington

It remains a real world if there is a background to the symbols—an unknown quantity which the mathematical symbol x stands for. We think we are not wholly cut off from this background. It is to this background that our own personality and consciousness belong, and those spiritual aspects of our nature not to be described by any symbolism… to which mathematical physics has hitherto restricted itself.

— Sir Arthur Stanley Eddington

Looking back over the geological record it would seem that Nature made nearly every possible mistake before she reached her greatest achievement Man—or perhaps some would say her worst mistake of all. ... At last she tried a being of no great size, almost defenseless, defective in at least one of the more important sense organs; one gift she bestowed to save him from threatened extinction—a certain stirring, a restlessness, in the organ called the brain.

— Sir Arthur Stanley Eddington

Man is slightly nearer to the atom than to the star. … From his central position man can survey the grandest works of Nature with the astronomer, or the minutest works with the physicist. … [K]nowledge of the stars leads through the atom; and important knowledge of the atom has been reached through the stars.

— Sir Arthur Stanley Eddington

Our model of Nature should not be like a building—a handsome structure for the populace to admire, until in the course of time some one takes away a corner stone and the edifice comes toppling down. It should be like an engine with movable parts. We need not fix the position of any one lever; that is to be adjusted from time to time as the latest observations indicate. The aim of the theorist is to know the train of wheels which the lever sets in motion—that binding of the parts which is the soul of the engine.

— Sir Arthur Stanley Eddington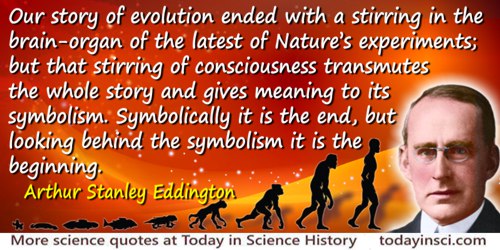 Our story of evolution ended with a stirring in the brain-organ of the latest of Nature's experiments; but that stirring of consciousness transmutes the whole story and gives meaning to its symbolism. Symbolically it is the end, but looking behind the symbolism it is the beginning.

— Sir Arthur Stanley Eddington

Physical science comes nearest to that complete system of exact knowledge which all sciences have before them as an ideal. Some fall far short of it. The physicist who inveighs against the lack of coherence and the indefiniteness of theological theories, will probably speak not much less harshly of the theories of biology and psychology. They also fail to come up to his standard of methodology. On the other side of him stands an even superior being—the pure mathematician—who has no high opinion of the methods of deduction used in physics, and does not hide his disapproval of the laxity of what is accepted as proof in physical science. And yet somehow knowledge grows in all these branches. Wherever a way opens we are impelled to seek by the only methods that can be devised for that particular opening, not over-rating the security of our finding, but conscious that in this activity of mind we are obeying the light that is in our nature.

— Sir Arthur Stanley Eddington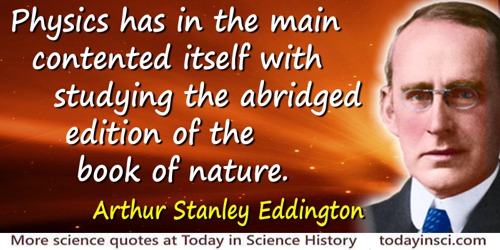 Physics has in the main contented itself with studying the abridged edition of the book of nature.

— Sir Arthur Stanley Eddington

Shuffling is the only thing which Nature cannot undo.

— Sir Arthur Stanley Eddington

Take the living human brain endowed with mind and thought. …. The physicist brings his tools and commences systematic exploration. All that he discovers is a collection of atoms and electrons and fields of force arranged in space and time, apparently similar to those found in inorganic objects. He may trace other physical characteristics, energy, temperature, entropy. None of these is identical with thought. … How can this collection of ordinary atoms be a thinking machine? … The Victorian physicist felt that he knew just what he was talking about when he used such terms as matter and atoms. … But now we realize that science has nothing to say as to the intrinsic nature of the atom. The physical atom is, like everything else in physics, a schedule of pointer readings.

— Sir Arthur Stanley Eddington

The chairs and tables around us which broadcast to us incessantly those signals which affect our sight and touch cannot in their nature be like unto the signals or to the sensations which the signals awake at the end of their journey.

— Sir Arthur Stanley Eddington

The desire for truth so prominent in the quest of science, a reaching out of the spirit from its isolation to something beyond, a response to beauty in nature and art, an Inner Light of conviction and guidance—are these as much a part of our being as our sensitivity to sense impressions?

— Sir Arthur Stanley Eddington

The law that entropy always increases—the Second Law of Thermodynamics—holds, I think, the supreme position among the laws of Nature. If someone points out to you that your pet theory of the universe is in disagreement with Maxwell's equations—then so much the worse for Maxwell's equations. If it is found to be contradicted by observation—well these experimentalists do bungle things sometimes. But if your theory is found to be against the second law of thermodynamics I can give you no hope; there is nothing for it but to collapse in deepest humiliation.

— Sir Arthur Stanley Eddington

The law that entropy increases—the Second Law of Thermodynamics—holds, I think, the supreme position among the laws of Nature.

— Sir Arthur Stanley Eddington

The universe is of the nature of a thought or sensation in a universal Mind… To put the conclusion crudely—the stuff of the world is mind-stuff. As is often the way with crude statements, I shall have to explain that by "mind" I do not exactly mean mind and by "stuff" I do not at all mean stuff. Still that is about as near as we can get to the idea in a simple phrase. The mind-stuff of the world is something more general than our individual conscious minds; but we may think of its nature as not altogether foreign to feelings in our consciousness… Having granted this, the mental activity of the part of world constituting ourselves occasions no great surprise; it is known to us by direct self-knowledge, and we do not explain it away as something other than we know it to be—or rather, it knows itself to be.

— Sir Arthur Stanley Eddington

There is only one law of Nature—the second law of thermodynamics—which recognises a distinction between past and future more profound than the difference of plus and minus. It stands aloof from all the rest. … It opens up a new province of knowledge, namely, the study of organisation; and it is in connection with organisation that a direction of time-flow and a distinction between doing and undoing appears for the first time.

— Sir Arthur Stanley Eddington

We are no longer tempted to condemn the spiritual aspects of our nature as illusory because of their lack of concreteness.

— Sir Arthur Stanley Eddington

We have found that where science has progressed the farthest, the mind has but regained from nature that which the mind has put into nature.
We have found a strange foot-print on the shores of the unknown. We have devised profound theories, one after another, to account for its origin. At last, we have succeeded in reconstructing the creature that made the foot-print. And Lo! it is our own.

— Sir Arthur Stanley Eddington

We have travelled far from the standpoint which identifies the real with the concrete. Even the older philosophy found it necessary to admit exceptions; for example, time must be admitted to be real, although no one could attribute to it a concrete nature.

— Sir Arthur Stanley Eddington

When an investigator has developed a formula which gives a complete representation of the phenomena within a certain range, he may be prone to satisfaction. Would it not be wiser if he should say "Foiled again! I can find out no more about Nature along this line."

— Sir Arthur Stanley Eddington

[Experimental Physicist] Phys. I know that it is often a help to represent pressure and volume as height and width on paper; and so geometry may have applications to the theory of gases. But is it not going rather far to say that geometry can deal directly with these things and is not necessarily concerned with lengths in space?
[Mathematician] Math. No. Geometry is nowadays largely analytical, so that in form as well as in effect, it deals with variables of an unknown nature. …It is literally true that I do not want to know the significance of the variables x, y, z, t that I am discussing. …
Phys. Yours is a strange subject. You told us at the beginning that you are not concerned as to whether your propositions are true, and now you tell us you do not even care to know what you are talking about.
Math. That is an excellent description of Pure Mathematics, which has already been given by an eminent mathematician [Bertrand Russell].

— Sir Arthur Stanley Eddington

…The present revolution of scientific thought follows in natural sequence on the great revolutions at earlier epochs in the history of science. Einstein's special theory of relativity, which explains the indeterminateness of the frame of space and time, crowns the work of Copernicus who first led us to give up our insistence on a geocentric outlook on nature; Einstein's general theory of relativity, which reveals the curvature or non-Euclidean geometry of space and time, carries forward the rudimentary thought of those earlier astronomers who first contemplated the possibility that their existence lay on something which was not flat. These earlier revolutions are still a source of perplexity in childhood, which we soon outgrow; and a time will come when Einstein's amazing revelations have likewise sunk into the commonplaces of educated thought.

— Sir Arthur Stanley Eddington

See also:
28 Dec - short biography, births, deaths and events on date of Eddington's birth.
The Eddington Enigma, by David Evans, David S. Evans. - book suggestion.