(source)

Sir Arthur Stanley Eddington

(28 Dec 1882 - 22 Nov 1944)




For the truth of the conclusions of physical science, observation is the supreme Court of Appeal. It does not follow that every item which we confidently accept as physical knowledge has actually been certified by the Court; our confidence is that it would be certified by the Court if it were submitted. But it does follow that every item of physical knowledge is of a form which might be submitted to the Court. It must be such that we can specify (although it may be impracticable to carry out) an observational procedure which would decide whether it is true or not. Clearly a statement cannot be tested by observation unless it is an assertion about the results of observation. Every item of physical knowledge must therefore be an assertion of what has been or would be the result of carrying out a specified observational procedure.

— Sir Arthur Stanley Eddington

It is an astonishing feat of deciphering that we should have been able to infer an orderly scheme of natural knowledge from such indirect communication.

— Sir Arthur Stanley Eddington

Let us suppose that an ichthyologist is exploring the life of the ocean. He casts a net into the water and brings up a fishy assortment. Surveying his catch, he proceeds in the usual manner of a scientist to systematise what it reveals. He arrives at two generalisations:
(1) No sea-creature is less than two inches long.
(2) All sea-creatures have gills.
These are both true of his catch, and he assumes tentatively that they will remain true however often he repeats it.
In applying this analogy, the catch stands for the body of knowledge which constitutes physical science, and the net for the sensory and intellectual equipment which we use in obtaining it. The casting of the net corresponds to observation; for knowledge which has not been or could not be obtained by observation is not admitted into physical science.
An onlooker may object that the first generalisation is wrong. "There are plenty of sea-creatures under two inches long, only your net is not adapted to catch them." The icthyologist dismisses this objection contemptuously. "Anything uncatchable by my net is ipso facto outside the scope of icthyological knowledge. In short, what my net can't catch isn't fish." Or—to translate the analogy—"If you are not simply guessing, you are claiming a knowledge of the physical universe discovered in some other way than by the methods of physical science, and admittedly unverifiable by such methods. You are a metaphysician. Bah!"

— Sir Arthur Stanley Eddington

Man is slightly nearer to the atom than to the star. … From his central position man can survey the grandest works of Nature with the astronomer, or the minutest works with the physicist. … [K]nowledge of the stars leads through the atom; and important knowledge of the atom has been reached through the stars.

— Sir Arthur Stanley Eddington

Our model of Nature should not be like a building—a handsome structure for the populace to admire, until in the course of time some one takes away a corner stone and the edifice comes toppling down. It should be like an engine with movable parts. We need not fix the position of any one lever; that is to be adjusted from time to time as the latest observations indicate. The aim of the theorist is to know the train of wheels which the lever sets in motion—that binding of the parts which is the soul of the engine.

— Sir Arthur Stanley Eddington

Physical science comes nearest to that complete system of exact knowledge which all sciences have before them as an ideal. Some fall far short of it. The physicist who inveighs against the lack of coherence and the indefiniteness of theological theories, will probably speak not much less harshly of the theories of biology and psychology. They also fail to come up to his standard of methodology. On the other side of him stands an even superior being—the pure mathematician—who has no high opinion of the methods of deduction used in physics, and does not hide his disapproval of the laxity of what is accepted as proof in physical science. And yet somehow knowledge grows in all these branches. Wherever a way opens we are impelled to seek by the only methods that can be devised for that particular opening, not over-rating the security of our finding, but conscious that in this activity of mind we are obeying the light that is in our nature.

— Sir Arthur Stanley Eddington

Something unknown is doing we don't know what—that is what our theory amounts to.

— Sir Arthur Stanley Eddington

The mind-stuff is not spread in space and time. But we must presume that in some other way or aspect it can be differentiated into parts. Only here and there does it arise to the level of consciousness, but from such islands proceeds all knowledge. The latter includes our knowledge of the physical world.

— Sir Arthur Stanley Eddington

The universe is of the nature of a thought or sensation in a universal Mind… To put the conclusion crudely—the stuff of the world is mind-stuff. As is often the way with crude statements, I shall have to explain that by "mind" I do not exactly mean mind and by "stuff" I do not at all mean stuff. Still that is about as near as we can get to the idea in a simple phrase. The mind-stuff of the world is something more general than our individual conscious minds; but we may think of its nature as not altogether foreign to feelings in our consciousness… Having granted this, the mental activity of the part of world constituting ourselves occasions no great surprise; it is known to us by direct self-knowledge, and we do not explain it away as something other than we know it to be—or rather, it knows itself to be.

— Sir Arthur Stanley Eddington

There is only one law of Nature—the second law of thermodynamics—which recognises a distinction between past and future more profound than the difference of plus and minus. It stands aloof from all the rest. … It opens up a new province of knowledge, namely, the study of organisation; and it is in connection with organisation that a direction of time-flow and a distinction between doing and undoing appears for the first time.

— Sir Arthur Stanley Eddington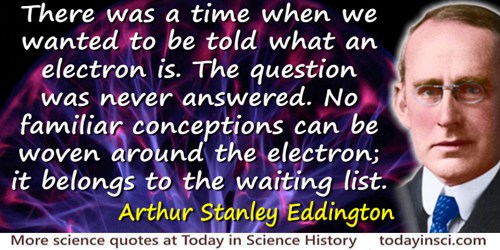 Background image credit: Lu Viatour, www.lucnix.be
(source)
There was a time when we wanted to be told what an electron is. The question was never answered. No familiar conceptions can be woven around the electron; it belongs to the waiting list.

— Sir Arthur Stanley Eddington

Unless the structure of the nucleus has a surprise in store for us, the conclusion seems plain—there is nothing in the whole system if laws of physics that cannot be deduced unambiguously from epistemological considerations. An intelligence, unacquainted with our universe, but acquainted with the system of thought by which the human mind interprets to itself the contents of its sensory experience, and should be able to attain all the knowledge of physics that we have attained by experiment.

— Sir Arthur Stanley Eddington

See also:
28 Dec - short biography, births, deaths and events on date of Eddington's birth.
The Eddington Enigma, by David Evans, David S. Evans. - book suggestion.