(source)

Sir Arthur Stanley Eddington

(28 Dec 1882 - 22 Nov 1944)




Accordingly the primordial state of things which I picture is an even distribution of protons and electrons, extremely diffuse and filling all (spherical) space, remaining nearly balanced for an exceedingly long time until its inherent instability prevails. We shall see later that the density of this distribution can be calculated; it was about one proton and electron per litre. There is no hurry for anything to begin to happen. But at last small irregular tendencies accumulate, and evolution gets under way. The first stage is the formation of condensations ultimately to become the galaxies; this, as we have seen, started off an expansion, which then automatically increased in speed until it is now manifested to us in the recession of the spiral nebulae.
As the matter drew closer together in the condensations, the various evolutionary processes followed—evolution of stars, evolution of the more complex elements, evolution of planets and life.

— Sir Arthur Stanley Eddington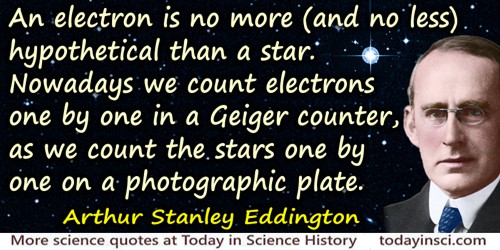 An electron is no more (and no less) hypothetical than a star. Nowadays we count electrons one by one in a Geiger counter, as we count the stars one by one on a photographic plate.

— Sir Arthur Stanley Eddington

But it is necessary to insist more strongly than usual that what I am putting before you is a model—the Bohr model atom—because later I shall take you to a profounder level of representation in which the electron instead of being confined to a particular locality is distributed in a sort of probability haze all over the atom.

— Sir Arthur Stanley Eddington

For if those who hold that there must be a physical basis for everything hold that these mystical views are nonsense, we may ask—What then is the physical basis of nonsense? ... In a world of ether and electrons we might perhaps encounter nonsense; we could not encounter damned nonsense.

— Sir Arthur Stanley Eddington

I believe there are
15,747,724,136,275,002,577,605,653,961,181,555,468,044,717,
914,527,116,709,366,231,025,076,185,631,031,296
protons in the universe, and the same number of electrons.

— Sir Arthur Stanley Eddington

If to-day you ask a physicist what he has finally made out the æther or the electron to be, the answer will not be a description in terms of billiard balls or fly-wheels or anything concrete; he will point instead to a number of symbols and a set of mathematical equations which they satisfy. What do the symbols stand for? The mysterious reply is given that physics is indifferent to that; it has no means of probing beneath the symbolism. To understand the phenomena of the physical world it is necessary to know the equations which the symbols obey but not the nature of that which is being symbolised. …this newer outlook has modified the challenge from the material to the spiritual world.

— Sir Arthur Stanley Eddington

Take the living human brain endowed with mind and thought. …. The physicist brings his tools and commences systematic exploration. All that he discovers is a collection of atoms and electrons and fields of force arranged in space and time, apparently similar to those found in inorganic objects. He may trace other physical characteristics, energy, temperature, entropy. None of these is identical with thought. … How can this collection of ordinary atoms be a thinking machine? … The Victorian physicist felt that he knew just what he was talking about when he used such terms as matter and atoms. … But now we realize that science has nothing to say as to the intrinsic nature of the atom. The physical atom is, like everything else in physics, a schedule of pointer readings.

— Sir Arthur Stanley Eddington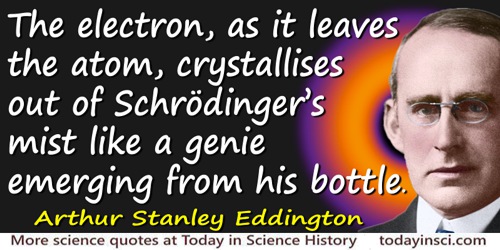 The electron, as it leaves the atom, crystallises out of Schrödinger's mist like a genie emerging from his bottle.

— Sir Arthur Stanley Eddington

The symbol A is not the counterpart of anything in familiar life. To the child the letter A would seem horribly abstract; so we give him a familiar conception along with it. "A was an Archer who shot at a frog." This tides over his immediate difficulty; but he cannot make serious progress with word-building so long as Archers, Butchers, Captains, dance round the letters. The letters are abstract, and sooner or later he has to realise it. In physics we have outgrown archer and apple-pie definitions of the fundamental symbols. To a request to explain what an electron really is supposed to be we can only answer, "It is part of the A B C of physics".

— Sir Arthur Stanley Eddington

There was a time when we wanted to be told what an electron is. The question was never answered. No familiar conceptions can be woven around the electron; it belongs to the waiting list.

— Sir Arthur Stanley Eddington

See also:
28 Dec - short biography, births, deaths and events on date of Eddington's birth.
The Eddington Enigma, by David Evans, David S. Evans. - book suggestion.