(source)

Cyril Ponnamperuma

(16 Oct 1923 - 20 Dec 1994)




Science Quotes by Cyril Ponnamperuma
(9 quotes)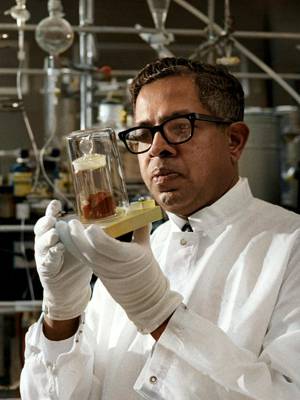 Cyril Ponnamperuma analyzing a moon sample at NASA
credit: colorization by palette.fm
(source)
A working definition of life … could thing in terms of a large molecule made up of carbon compounds that can replicate, or make copies of itself, and metabolize food and energy…: macromolecule, metabolism, replication.

— Cyril Ponnamperuma

Eventually man has to get there [Mars] because we will never be satisfied with unmanned exploration.

— Cyril Ponnamperuma

If there is life elsewhere in the universe, chemically speaking, it would be very similar to what we have on earth.

— Cyril Ponnamperuma

Recently, we've reported that we have made all five bases, the compounds that spell out the instructions for all life and are a part of the nucleic acids, RNA and DNA. Not only did we make all five bases but we found them in a meteorite! So that these two things coming together really assure us that the molecules necessary for life can be found in the absence of life. This was the biggest stumbling block.

— Cyril Ponnamperuma

Scientists are human—they're as biased as any other group. But they do have one great advantage in that science is a self-correcting process.

— Cyril Ponnamperuma

The division between life and nonlife is perhaps an artificial one.

— Cyril Ponnamperuma

The information we have so far from the exploration of the planets seems to indicate that the earth is probably the only place in this solar system where there is life.

— Cyril Ponnamperuma

The universe is reeking with organic matter. You could say that the universe is in the business of making life—or that God is an organic chemist.

— Cyril Ponnamperuma

We think of something that has four legs and wags its tail as being alive. We look at a rock and say it's not living. Yet when we get down to the no man's land of virus particles and replicating molecules, we are hard put to define what is living and what is non-living.

— Cyril Ponnamperuma

See also:
16 Oct - short biography, births, deaths and events on date of Ponnamperuma's birth.
Origins of Life, by Cyril Ponnamperuma. - book suggestion.