(source)

Gottlob Frege

(8 Nov 1848 - 26 Jul 1925)




Science Quotes by Gottlob Frege
(10 quotes)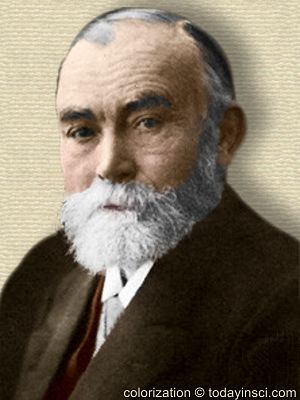 "Facts, facts, facts," cries the scientist if he wants to emphasize the necessity of a firm foundation for science. What is a fact? A fact is a thought that is true. But the scientist will surely not recognize something which depends on men's varying states of mind to be the firm foundation of science.

— Gottlob Frege

A scientific writer can scarcely encounter anything more undesirable than, after completing a work, to have one of the foundations shaken. I became aware of this situation through a letter from Mr. Bertrand Russell as the printing of this volume neared completion.

— Gottlob Frege

Every good mathematician is at least half a philosopher, and every good philosopher at least half a mathematician.

— Gottlob Frege

I compare arithmetic with a tree that unfolds upwards in a multitude of techniques and theorems while the root drives into the depths.

— Gottlob Frege

It really is worth the trouble to invent a new symbol if we can thus remove not a few logical difficulties and ensure the rigour of the proofs. But many mathematicians seem to have so little feeling for logical purity and accuracy that they will use a word to mean three or four different things, sooner than make the frightful decision to invent a new word.

— Gottlob Frege

Not everything is an idea. Otherwise psychology would contain all the sciences within it or at least it would be the highest judge over all the sciences. Otherwise psychology would rule over logic and mathematics. But nothing would be a greater misunderstanding of mathematics than its subordination to psychology.

— Gottlob Frege

Strictly speaking, it is really scandalous that science has not yet clarified the nature of number. It might be excusable that there is still no generally accepted definition of number, if at least there were general agreement on the matter itself. However, science has not even decided on whether number is an assemblage of things, or a figure drawn on the blackboard by the hand of man; whether it is something psychical, about whose generation psychology must give information, or whether it is a logical structure; whether it is created and can vanish, or whether it is eternal. It is not known whether the propositions of arithmetic deal with those structures composed of calcium carbonate [chalk] or with non-physical entities. There is as little agreement in this matter as there is regarding the meaning of the word "equal" and the equality sign. Therefore, science does not know the thought content which is attached to its propositions; it does not know what it deals with; it is completely in the dark regarding their proper nature. Isn't this scandalous?

— Gottlob Frege

The aim of scientific work is truth. While we internally recognise something as true, we judge, and while we utter judgements, we assert.

— Gottlob Frege

The work of science does not consist of creation but of the discovery of true thoughts.

— Gottlob Frege

There is more danger of numerical sequences continued indefinitely than of trees growing up to heaven. Each will some time reach its greatest height.

— Gottlob Frege

---
Quotes by others about Gottlob Frege (2)
Since the examination of consistency is a task that cannot be avoided, it appears necessary to axiomatize logic itself and to prove that number theory and set theory are only parts of logic. This method was prepared long ago (not least by Frege's profound investigations); it has been most successfully explained by the acute mathematician and logician Russell. One could regard the completion of this magnificent Russellian enterprise of the axiomatization of logic as the crowning achievement of the work of axiomatization as a whole.

The modern development of mathematical logic dates from Boole's Laws of Thought (1854). But in him and his successors, before Peano and Frege, the only thing really achieved, apart from certain details, was the invention of a mathematical symbolism for deducing consequences from the premises which the newer methods shared with Aristotle.