(source)

Oliver Evans

(13 Sep 1755 - 15 Apr 1819)




Science Quotes by Oliver Evans
(11 quotes)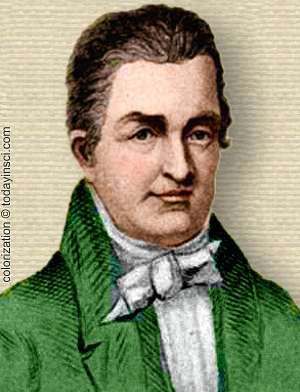 A carriage (steam) will set out from Washington in the morning, the passengers will breakfast at Baltimore, dine at Philadelphia, and sup in New York the same day.

— Oliver Evans

About the year 1772, being then an apprentice to a wheel-wright, or wagon maker, I laboured to discover some means of propelling land carriages without animal power. … one of my brothers [told me of] blacksmith's boys, who, for amusement, had stopped up the touch hole of a gun barrel, then put in about a gill of water, and rammed down a tight wad; after which they put the breech in the smith's fire, when it discharged itself with as loud a crack as if it had been loaded with powder. It immediately occurred to me, that here was the power to propel any wagon, if I could only apply it.

— Oliver Evans

Engines will drive boats ten or twelve miles per hour, and there will be many hundred steamboats running on the Mississippi.

— Oliver Evans

I do verily believe that the time will come when carriages propelled by steam will be in general use, as well for the transportation of passengers as goods, traveling at the rate of fifteen miles an hour, or 300 miles per day.

— Oliver Evans

I have no doubt but that my engines will propel boats against the current of the Mississippi, and wagons on turnpike roads, with great profit.

— Oliver Evans

It frequently happens that two persons, reasoning right on a mechanical subject, think alike and invent the same thing without any communication with each other.

— Oliver Evans

The more we resist the steam the greater is the effect of the engine. On these principles, very light, but powerful engines, can be made, suitable for propelling boats and land-carriages, without the great incumbrance of their own weight

— Oliver Evans

The power of my [steam] engine rises in a geometrical proportion, while the consumption of fuel has only an arithmetical ratio; in such proportion that every time I added one fourth more to the consumption of fuel, the powers of the engine were doubled.

— Oliver Evans

The time will come when people will travel in stages moved by steam engines, from city to city, almost as fast as birds fly,—fifteen or twenty miles an hour. Passing through the air with such velocity, changing the scene in such rapid succession, will be the most exhilarating exercise.

— Oliver Evans

Why may not the present generation, who have already good turnpikes, make the experiment of using steam carriages upon them? They will assuredly effect the movement of heavy burthens; with a slow motion of two and a half miles an hour, and as their progress need not be interrupted, they may travel fifty or sixty miles in the 24 hours.

— Oliver Evans

[In early mill designs, from repeated handling, the flour was mixed with a] great quantity of dirt … from the dirty feet of every one who trampled in it, trailing it over the whole Mill and wasting much … [for] people did not even then like to eat dirt, if they could see it.

— Oliver Evans

---
Quotes by others about Oliver Evans (1)
Wherever the steam mill resounds with the hum of Industry, whether grinding flour on … the Schuylkill, or cutting logs in Oregon, there you find a monument to the memory of Oliver Evans.