(source)

Orville Wright

(19 Aug 1871 - 30 Jan 1948)




Science Quotes by Orville Wright
(2 quotes)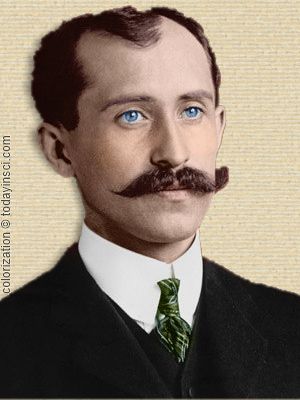 Successful—four flights on Thursday morning—took off with motors from level ground—average speed thirty miles an hour—longest flight 59 seconds—inform press—home for Christmas—Orville.

— Orville Wright

The wildest stretch of the imagination of that time would not have permitted us to believe that within a space of fifteen years actually thousands of these machines would be in the air engaged in deadly combat.

— Orville Wright

---
Quotes by others about Orville Wright (8)
In honoring the Wright Brothers, it is customary and proper to recognize their contribution to scientific progress. But I believe it is equally important to emphasize the qualities in their pioneering life and the character in man that such a life produced. The Wright Brothers balanced sucess with modesty, science with simplicity. At Kitty Hawk their intellects and senses worked in mutual support. They represented man in balance, and from that balance came wings to lift a world.

The fact that some geniuses were laughed at does not imply that all who are laughed at are geniuses. They laughed at Columbus, they laughed at Fulton, they laughed at the Wright brothers. But they also laughed at Bozo the clown.

Progress may have been all right once, but it went on too long;
I think progress began to retrogress when Wilbur and Orville started tinkering around in Dayton and at Kitty Hawk, because I believe that two Wrights made a wrong.

The gentleman [Mr. Taber] from New York says [agricultural research] is all foolish. Yes; it was foolish when Burbank was experimenting with wild cactus. It was foolish when the Wright boys went down to Kitty Hawk and had a contraption there that they were going to fly like birds. It was foolish when Robert Fulton tried to put a boiler into a sail boat and steam it up the Hudson. It was foolish when one of my ancestors thought the world was round and discovered this country so that the gentleman from New York could become a Congressman. (Laughter.) ... Do not seek to stop progress; do not seek to put the hand of politics on these scientific men who are doing a great work. As the gentleman from Texas points out, it is not the discharge of these particular employees that is at stake, it is all the work of investigation, of research, of experimentation that has been going on for years that will be stopped and lost.

Seldom has there occurred a more pitifully tragic disaster than the sudden fall of the Wright aeroplane, involving the death of that promising young officer Lieut. Thomas Selfridge, and inflicting shocking injuries on the talented inventor, Orville Wright. But although the accident is deplorable, it should not be allowed to discredit the art of aeroplane navigation. If it emphasizes the risks, there is nothing in the mishap to shake our faith in the principles upon which the Wright brothers built their machine, and achieved such brilliant success.

Samuel Pierpoint Langley, at that time regarded as one of the most distinguished scientists in the United States … evidently believed that a full sized airplane could be built and flown largely from theory alone. This resulted in two successive disastrous plunges into the Potomac River, the second of which almost drowned his pilot. This experience contrasts with that of two bicycle mechanics Orville and Wilbur Wright who designed, built and flew the first successful airplane. But they did this after hundreds of experiments extending over a number of years.

We must conquer [the atmosphere] in our struggle for existence. Now that our aeronauts Orville and Wilbur Wright have learned to fly, we must learn to utilize the air just as the mariners have learned to utilize the winds and avoid the storms.

Thursday, December 17 [1903]. In the afternoon about 5:30 we received the following telegram from Orvill[e], dated Kitty Hawk, N.C., Dec. 17. "Bishop M. Wright: "Success four flights Thursday morning all against a twenty-one mile wind started from level with engine power alone average speed through the air thirty one miles—longest 57 seconds. XXX home Christmas. Orville Wright."