(source)

Thomas Edison

(11 Feb 1847 - 18 Oct 1931)




A minor invention every ten days, and a big one every six months or so.

— Thomas Edison

I find out what the world needs, then I proceed to invent. My main purpose in life is to make money so that I can afford to go on creating more inventions.

— Thomas Edison

I never did anything worth doing entirely by accident and none of my inventions came about totally by accident. They came about by hard work.

— Thomas Edison

I never pick up an item without thinking of how I might improve it. I never perfected an invention that I did not think about in terms of the service it might give others. I want to save and advance human life, not destroy it. I am proud of the fact that I never invented weapons to kill. The dove is my emblem.

— Thomas Edison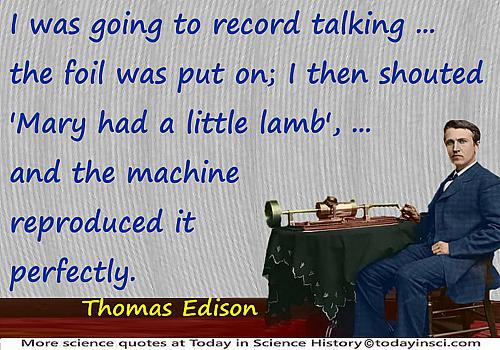 I told [Kruesi] I was going to record talking, and then have the machine talk back. He thought it absurd. However, it was finished, the foil was put on; I then shouted "Mary had a little lamb," etc. I adjusted the reproducer, and the machine reproduced it perfectly.
On first words spoken on a phonograph.

— Thomas Edison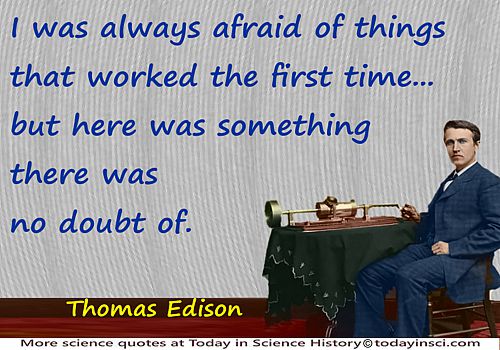 I was always afraid of things that worked the first time. Long experience proved that there were great drawbacks found generally before they could be got commercial; but here was something there was no doubt of.
[Recalling astonishment when his tin-foil cylinder phonograph first played back his voice recording of "Mary had a little lamb."]

— Thomas Edison

In working out an invention, the most important quality is persistence. Nearly every man who develops an idea works it up to the point where it looks impossible, and then he gets discouraged. That's not the place to become discouraged, that's the place to get interested.

— Thomas Edison

It has been just so in all my inventions. The first step is an intuition—and comes with a burst, then difficulties arise. This thing that gives out and then that—"Bugs"as such little faults and difficulties are called show themselves and months of anxious watching, study and labor are requisite before commercial success—or failure—is certainly reached.
[Describing his invention of a storage battery that involved 10,296 experiments. Note Edison's use of the term "Bug" in the engineering research field for a mechanical defect greatly predates the use of the term as applied by Admiral Grace Murray Hopper to a computing defect upon finding a moth in the electronic mainframe.]

— Thomas Edison

It usually takes me from five to seven years to perfect a thing. Some things I have been working on for twenty-five years—and some of them are still unsolved. My average would be about seven years. The incandescent light was the hardest one of all: it took many years not only of concentrated thought but also of world-wide research. The storage battery took eight years. It took even longer to perfect the phonograph.

— Thomas Edison

Many inventions are not suitable for the people at large because of their carelessness. Before a thing can be marketed to the masses, it must be made practically fool-proof. Its operation must be made extremely simple. That is one reason, I think, why the phonograph has been so universally adopted. Even a child can operate it. … Another reason is that people are far more willing to pay for being amused than for anything else.

— Thomas Edison

Mary had a little lamb, whose fleece was white as snow!

— Thomas Edison

Most inventors who have an idea never stop to think whether their invention will be saleable when they get it made. Unless a man has plenty of money to throw away, he will find that making inventions is about the costliest amusement he can find.

— Thomas Edison

Of all my inventions, I liked the phonograph best. Life's most soothing things are sweet music and a child's goodnight.

— Thomas Edison

The point in which I am different from most inventors is that I have, besides the usual inventor's make-up, the bump of practicality as a sort of appendix, the sense of the business, money value of an invention. Oh, no, I didn't have it naturally. It was pounded into me by some pretty hard knocks.

— Thomas Edison

Which do I consider my greatest invention? … I like the phonograph best … because I love music. And then it has brought so much joy into millions of homes all over this country, and, indeed, all over the world.

— Thomas Edison

[A] quality of an inventor is imagination, because invention is a leap of the imagination from what is known to what has never been before.

— Thomas Edison