(source)

E.P. Whipple

(8 Mar 1819 - 6 1886)



Science Quotes by E.P. Whipple
(15 quotes)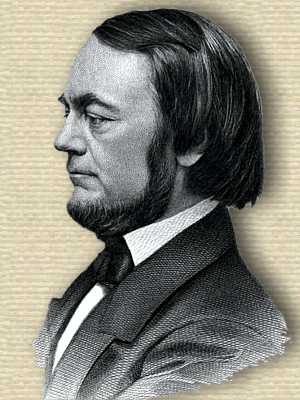 Engraving of Edwin Percy Whipple,
frontispiece from his
Recollections of Eminent Men: With Other Papers
(1886).
(source)
It is … genius which has given motion and progress to society; prevented the ossification of the human heart and brain; and though, in its processes, it may not ever have followed the rules laid down in primers, it has, at least, saved history from being the region of geology, and our present society from being a collection of fossil remains.

— E.P. Whipple

Talent accumulates knowledge, and has it packed up in the memory; genius assimilates it with its own substance, grows with every new accession, and converts knowledge into power.

— E.P. Whipple

Talent deals with the actual, with discovered and realized truths, any analyzing, arranging, combining, applying positive knowledge, and, in action, looking to precedents. Genius deals with the possible, creates new combinations, discovers new laws, and acts from an insight into new principles.

— E.P. Whipple

Talent gives out what it has taken in ; genius, what has risen from its unsounded wells of living thought.

— E.P. Whipple

Talent is a cistern; genius a fountain.

— E.P. Whipple

Talent is full of thoughts; genius, of thought. One has definite acquisitions; the other, indefinite power.

— E.P. Whipple

Talent jogs to conclusions to which genius takes giant leaps.

— E.P. Whipple

Talent repeats; genius creates.

— E.P. Whipple

Talent, in difficult situations, strives to untie knots, which genius instantly cuts with one swift decision.

— E.P. Whipple

The exterior appearance of human life is but the material embodiment, the substantial expression, of thought—the hieroglyphic writing of the soul.

— E.P. Whipple

The laws of science are the permanent contributions to knowledge—the individual pieces that are fitted together in an attempt to form a picture of the physical universe in action. As the pieces fall into place, we often catch glimpses of emerging patterns, called theories; they set us searching for the missing pieces that will fill in the gaps and complete the patterns. These theories, these provisional interpretations of the data in hand, are mere working hypotheses, and they are treated with scant respect until they can be tested by new pieces of the puzzle.

— E.P. Whipple

The most important distinction between the two qualities [talent and genius] is this: one, in conception, follows mechanical processes; the other, vital. Talent feebly conceives objects with the senses and understanding; genius, fusing all its powers together in the alembic of an impassioned imagination, clutches every thing in the concrete, conceives objects as living realities, gives body to spiritual abstractions, and spirit to bodily appearances, and like
"A gate of steel
Fronting the sun, receives and renders back
His figure and his heat!"

— E.P. Whipple

The young genius early exults in the contemplation of power and beauty. During Scott's childhood, a frightful thunder-storm raged at Edinburgh, which made his brothers and the domestics huddle together in one room, shivering with fear at every peal. Young Walter was found lying on his back in the garden, the rain pitilessly pelting his face, while he, almost convulsed with delight, shouted, at every flash, "bonnie! bonnie!" Schiller was found by his father, on a similar occasion, perched upon a tree, and, on being harshly questioned as to his object, whimpered out that he wanted to see where the thunder came from.

— E.P. Whipple

There are … two fields for human thought and action—the actual and the possible, the realized and the real. In the actual, the tangible, the realized, the vast proportion of mankind abide. The great, region of the possible, whence all discovery, invention, creation proceed, and which is to the actual as a universe to a planet, is the chosen region of genius. As almost every thing which is now actual was once only possible, as our present facts and axioms were originally inventions or discoveries, it is, under God, to genius that we owe our present blessings. In the past, it created the present; in the present, it is creating the future.

— E.P. Whipple

This quality of genius is, sometimes, difficult to be distinguished from talent, because high genius includes talent. It is talent, and something more. The usual distinction between genius and talent is, that one represents creative thought, the other practical skill: one invents, the other applies. But the truth is, that high genius applies its own inventions better than talent alone can do. A man who has mastered the higher mathematics, does not, on that account, lose his knowledge of arithmetic. Hannibal, Napoleon, Shakespeare, Newton, Scott, Burke, Arkwright, were they not men of talent as well as men of genius?

— E.P. Whipple