Human Genome Quotes (8 quotes)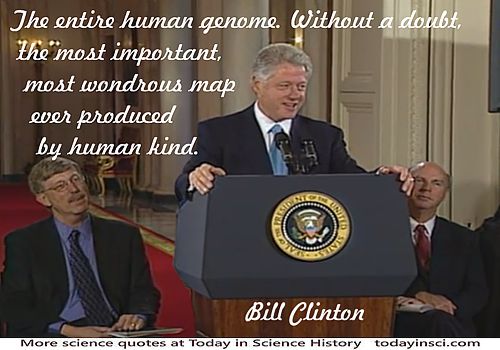 President Clinton at the Human Genome Announcement at the White House (20 Jun 2000), with Francis S. Collins (left) and Craig Ventner.
(source)
Ever so often in the history of human endeavour, there comes a breakthrough that takes humankind across a frontier into a new era. ... today's announcement is such a breakthrough, a breakthrough that opens the way for massive advancement in the treatment of cancer and hereditary diseases. And that is only the beginning.

Mapping the human genome has been compared with putting a man on the moon, but I believe it is more than that. This is the outstanding achievement not only of our lifetime, but in terms of human history. A few months ago I compared the project to the invention of the wheel. On reflection, it is more than that. I can well imagine technology making the wheel obsolete. But this code is the essence of mankind, and as long as humans exists, this code is going to be important and will be used.

The problem [with genetic research] is, we're just starting down this path, feeling our way in the dark. We have a small lantern in the form of a gene, but the lantern doesn't penetrate more than a couple of hundred feet. We don't know whether we're going to encounter chasms, rock walls or mountain ranges along the way. We don't even know how long the path is.

We are here to celebrate the completion of the first survey of the entire human genome. Without a doubt, this is the most important, most wondrous map ever produced by human kind.

We share half our genes with the banana. [After the announcement Jun 2000 that a working draft of the genetic sequence of humans had been completed by the Human Genome Project.]

What more powerful form of study of mankind could there be than to read our own instruction book?

[Decoding the human genome sequence] is the most significant undertaking that we have mounted so far in an organized way in all of science. I believe that reading our blueprints, cataloguing our own instruction book, will be judged by history as more significant than even splitting the atom or going to the moon.

[Locating, from scratch, the gene related to a disease is like] trying to find a burned-out light bulb in a house located somewhere between the East and West coasts without knowing the state, much less the town or street the house is on.