(source)

Albert Einstein

(14 Mar 1879 - 18 Apr 1955)




[Misquotation; not by Einstein.] If only I had known, I should have become a watchmaker. [Apparently remorseful for his role in the development of the atom bomb.]

— Albert Einstein

[When asked "Dr. Einstein, why is it that when the mind of man has stretched so far as to discover the structure of the atom we have been unable to devise the political means to keep the atom from destroying us?"] That is simple, my friend. It is because politics is more difficult than physics.

— Albert Einstein

Often in evolutionary processes a species must adapt to new conditions in order to survive. Today the atomic bomb has altered profoundly the nature of the world as we know it, and the human race consequently finds itself in a new habitat to which it must adapt its thinking.

— Albert Einstein

Some recent work by E. Fermi and L. Szilard, which has been communicated to me in manuscript, leads me to expect that the element uranium may be turned into a new and important source of energy in the immediate future. Certain aspects of the situation seem to call for watchfulness and, if necessary, quick action on the part of the Administration. …
In the course of the last four months it has been made probable … that it may become possible to set up nuclear chain reactions in a large mass of uranium, by which vast amounts of power and large quantities of new radium-like elements would be generated. Now it appears almost certain that this could be achieved in the immediate future.
This new phenomenon would also lead to the construction of bombs, and it is conceivable—though much less certain—that extremely powerful bombs of a new type may thus be constructed. A single bomb of this type, carried by boat or exploded in a port, might well destroy the whole port altogether with some of the surrounding territory. However, such bombs might well prove to be too heavy for transportation by air.

— Albert Einstein

The conflict that exists today is no more than an old-style struggle for power, once again presented to mankind in semireligious trappings. The difference is that, this time, the development of atomic power has imbued the struggle with a ghostly character; for both parties know and admit that, should the quarrel deteriorate into actual war, mankind is doomed.

— Albert Einstein

The position in which we are now is a very strange one which in general political life never happened. Namely, the thing that I refer to is this: To have security against atomic bombs and against the other biological weapons, we have to prevent war, for if we cannot prevent war every nation will use every means that is at their disposal; and in spite of all promises they make, they will do it.

— Albert Einstein

The release of atomic energy has not created a new problem. It has merely made more urgent the necessity of solving an existing one … I do not believe that civilization will be wiped out in a war fought with the atomic bomb. Perhaps two thirds of the people of the Earth would be killed.

— Albert Einstein

The unleashed power of the atom has changed everything save our modes of thinking and we thus drift toward unparalleled catastrophe.

— Albert Einstein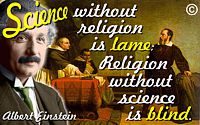 "Galileo Facing the Roman Inquisition," by Christiano Banti.
(source)