(source)

Albert Einstein

(14 Mar 1879 - 18 Apr 1955)




The supreme task of the physicist is to arrive at those universal elementary laws from which the cosmos can be built up by pure deduction. There is no logical path to these laws; only intuition, resting on sympathetic understanding of experience, can reach them. In this methodological uncertainty, one might suppose that there were any number of possible systems of theoretical physics all equally well justified; and this opinion is no doubt correct, theoretically. But the development of physics has shown that at any given moment, out of all conceivable constructions, a single one has always proved itself decidedly superior to all the rest.

— Albert Einstein

As far as the laws of mathematics refer to reality, they are not certain; and as far as they are certain, they do not refer to reality.

— Albert Einstein

But, on the other hand, every one who is seriously involved in the pursuit of science becomes convinced that a spirit is manifest in the laws of the Universe—a spirit vastly superior to that of man, and one in the face of which we with our modest powers must feel humble.

— Albert Einstein

However, all scientific statements and laws have one characteristic in common: they are "true or false" (adequate or inadequate). Roughly speaking, our reaction to them is "yes" or "no." The scientific way of thinking has a further characteristic. The concepts which it uses to build up its coherent systems are not expressing emotions. For the scientist, there is only "being," but no wishing, no valuing, no good, no evil; no goal. As long as we remain within the realm of science proper, we can never meet with a sentence of the type: "Thou shalt not lie." There is something like a Puritan's restraint in the scientist who seeks truth: he keeps away from everything voluntaristic or emotional.

— Albert Einstein

In my opinion there is no other salvation for civilization and even for the human race than the creation of a world government with security on the basis of law. As long as there are sovereign states with their separate armaments and armament secrets, new world wars cannot be avoided.

— Albert Einstein

In the beginning (if there was such a thing), God created Newton's laws of motion together with the necessary masses and forces. This is all; everything beyond this follows from the development of appropriate mathematical methods by means of deduction.

— Albert Einstein

It has often been said, and certainly not without justification, that the man of science is a poor philosopher. Why then should it not be the right thing for the physicist to let the philosopher do the philosophising? Such might indeed be the right thing to do a time when the physicist believes he has at his disposal a rigid system of fundamental laws which are so well that waves of doubt can't reach them; but it cannot be right at a time when the very foundations of physics itself have become problematic as they are now … when experience forces us to seek a newer and more solid foundation.

— Albert Einstein

Our experience up to date justifies us in feeling sure that in Nature is actualized the ideal of mathematical simplicity. It is my conviction that pure mathematical construction enables us to discover the concepts and the laws connecting them, which gives us the key to understanding nature… In a certain sense, therefore, I hold it true that pure thought can grasp reality, as the ancients dreamed.

— Albert Einstein

Pure mathematics is, in its way, the poetry of logical ideas. One seeks the most general ideas of operation which will bring together in simple, logical and unified form the largest possible circle of formal relationships. In this effort toward logical beauty spiritual formulas are discovered necessary for the deeper penetration into the laws of nature.

— Albert Einstein

Scientific research is based on the idea that everything that takes place is determined by laws of nature, and therefore this holds for the actions of people. For this reason, a research scientist will hardly be inclined to believe that events could be influenced by a prayer, i.e. by a wish addressed to a supernatural Being.
However, it must be admitted that our actual knowledge of these laws is only imperfect and fragmentary, so that, actually, the belief in the existence of basic all-embracing laws in Nature also rests on a sort of faith. All the same this faith has been largely justified so far by the success of scientific research.

— Albert Einstein

There is no logical way to the discovery of these elemental laws. There is only the way of intuition, which is helped by a feeling for the order lying behind the appearance.

— Albert Einstein

You believe in the God who plays dice, and I in complete law and order in a world that objectively exists, and which I, in a wildly speculative way, am trying to capture. … Even the great initial success of the quantum theory does not make me believe in the fundamental dice-game, although I am well aware that our younger colleagues interpret this as a consequence of senility. No doubt the day will come when we will see whose instinctive attitude was the correct one.

— Albert Einstein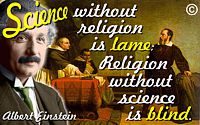 "Galileo Facing the Roman Inquisition," by Christiano Banti.
(source)