(source)

Albert Einstein

(14 Mar 1879 - 18 Apr 1955)




The supreme task of the physicist is to arrive at those universal elementary laws from which the cosmos can be built up by pure deduction. There is no logical path to these laws; only intuition, resting on sympathetic understanding of experience, can reach them. In this methodological uncertainty, one might suppose that there were any number of possible systems of theoretical physics all equally well justified; and this opinion is no doubt correct, theoretically. But the development of physics has shown that at any given moment, out of all conceivable constructions, a single one has always proved itself decidedly superior to all the rest.

— Albert Einstein

[When asked "Dr. Einstein, why is it that when the mind of man has stretched so far as to discover the structure of the atom we have been unable to devise the political means to keep the atom from destroying us?"] That is simple, my friend. It is because politics is more difficult than physics.

— Albert Einstein

A theory is the more impressive the greater the simplicity of its premises is, the more different kinds of things it relates, and the more extended is its area of applicability. Therefore the deep impression which classical thermodynamics made upon me. It is the only physical theory of universal content concerning which I am convinced that within the framework of the applicability of its basic concepts, it will never be overthrown.

— Albert Einstein

All religions, arts and sciences are branches of the same tree. All these aspirations are directed toward ennobling man's life, lifting it from the sphere of mere physical existence and leading the individual towards freedom.

— Albert Einstein

Besides agreeing with the aims of vegetarianism for aesthetic and moral reasons, it is my view that a vegetarian manner of living by its purely physical effect on the human temperament would most beneficially influence the lot of mankind.

— Albert Einstein

Classical thermodynamics ... is the only physical theory of universal content which I am convinced ... will never be overthrown.

— Albert Einstein

I cannot seriously believe in it [quantum theory] because the theory cannot be reconciled with the idea that physics should represent a reality in time and space, free from spooky actions at a distance [spukhafte Fernwirkungen].

— Albert Einstein

I used to wonder how it comes about that the electron is negative. Negative-positive—these are perfectly symmetric in physics. There is no reason whatever to prefer one to the other. Then why is the electron negative? I thought about this for a long time and at last all I could think was 'It won the fight!'

— Albert Einstein

If we consider that part of the theory of relativity which may nowadays in a sense be regarded as bone fide scientific knowledge, we note two aspects which have a major bearing on this theory. The whole development of the theory turns on the question of whether there are physically preferred states of motion in Nature (physical relativity problem). Also, concepts and distinctions are only admissible to the extent that observable facts can be assigned to them without ambiguity (stipulation that concepts and distinctions should have meaning). This postulate, pertaining to epistemology, proves to be of fundamental importance.

— Albert Einstein

If you want to find out anything from the theoretical physicists about the methods they use, I advise you to stick closely to one principle: don't listen to their words, fix your attention on their deeds. To him who is a discoverer in this field the products of his imagination appear so necessary and natural that he regards them, and would like to have them regarded by others, not as creations of thought but as given realities.

— Albert Einstein

If you wish to learn from the theoretical physicist anything about the methods which he uses, I would give you the following piece of advice: Don't listen to his words, examine his achievements. For to the discoverer in that field, the constructions of his imagination appear so necessary and so natural that he is apt to treat them not as the creations of his thoughts but as given realities.

— Albert Einstein

It gave me great pleasure to tell you about the mysteries with which physics confronts us. As a human being, one has been endowed with just enough intelligence to be able to see clearly how utterly inadequate that intelligence is when confronted with what exists. If such humility could be conveyed to everybody, the world of human activities would be more appealing.

— Albert Einstein

It has often been said, and certainly not without justification, that the man of science is a poor philosopher. Why then should it not be the right thing for the physicist to let the philosopher do the philosophising? Such might indeed be the right thing to do a time when the physicist believes he has at his disposal a rigid system of fundamental laws which are so well that waves of doubt can't reach them; but it cannot be right at a time when the very foundations of physics itself have become problematic as they are now … when experience forces us to seek a newer and more solid foundation.

— Albert Einstein

It must be conceded that a theory has an important advantage if its basic concepts and fundamental hypotheses are 'close to experience,' and greater confidence in such a theory is certainly justified. There is less danger of going completely astray, particularly since it takes so much less time and effort to disprove such theories by experience. Yet more and more, as the depth of our knowledge increases, we must give up this advantage in our quest for logical simplicity in the foundations of physical theory...

— Albert Einstein

No one must think that Newton's great creation can be overthrown in any real sense by this [Theory of Relativity] or by any other theory. His clear and wide ideas will for ever retain their significance as the foundation on which our modern conceptions of physics have been built.

— Albert Einstein

Now [Michele Besso] has departed from this strange world a little ahead of me. That signifies nothing. For us believing in physicists, the distinction between past, present and future is only a stubbornly persistent illusion.

— Albert Einstein

Our new idea is simple: to build a physics valid for all coordinate systems.

— Albert Einstein

Physical concepts are free creations of the human mind, and are not, however it may seem, uniquely determined by the external world. In our endeavour to understand reality we are somewhat like a man trying to understand the mechanism of a closed watch. He sees the face and the moving hands, even hears its ticking, but he has no way of opening the case. If he is ingenious he may form some picture of a mechanism which could be responsible for all the things he observes, but he may never be quite sure his picture is the only one which could explain his observations. He will never be able to compare his picture with the real mechanism and he cannot even imagine the possibility or the meaning of such a comparison. But he certainly believes that, as his knowledge increases, his picture of reality will become simpler and simpler and will explain a wider and wider range of his sensuous impressions. He may also believe in the existence of the ideal limit of knowledge and that it is approached by the human mind. He may call this ideal limit the objective truth.

— Albert Einstein

The importance of C.F. Gauss for the development of modern physical theory and especially for the mathematical fundament of the theory of relativity is overwhelming indeed; also his achievement of the system of absolute measurement in the field of electromagnetism. In my opinion it is impossible to achieve a coherent objective picture of the world on the basis of concepts which are taken more or less from inner psychological experience.

— Albert Einstein

The more success the quantum theory has, the sillier it looks.

— Albert Einstein

The physicist cannot simply surrender to the philosopher the critical contemplation of the theoretical foundations for he himself knows best and feels most surely where the shoe pinches. … he must try to make clear in his own mind just how far the concepts which he uses are justified … The whole of science is nothing more than a refinement of everyday thinking.

— Albert Einstein

The present theory of relativity is based on a division of physical reality into a metric field (gravitation) on the one hand and into an electromagnetic field and matter on the other hand. In reality space will probably be of a uniform character and the present theory will be valid only as a limiting case. For large densities of field and of matter, the field equations and even the field variables which enter into them will have no real significance. One may not therefore assume the validity of the equations for very high density of field and matter, and one may not conclude that the 'beginning of the expansion' must mean a singularity in the mathematical sense. All we have to realise is that the equations may not be continued over such regions.

— Albert Einstein

There is no inductive method which could lead to the fundamental concepts of physics. Failure to understand this fact constituted the basic philosophical error of so many investigators of the nineteenth century.

— Albert Einstein

This change in the conception of reality is the most profound and the most fruitful that physics has experienced since the time of Newton.
Refering to James Clerk Maxwell's contributions to physics.

— Albert Einstein

What nature demands of us is not a quantum theory or a wave theory, instead nature demands of us a synthesis both conceptions, which, to be sure, until now still exceeds the powers of thought of the physicists.

— Albert Einstein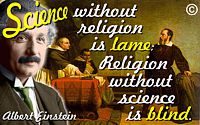 "Galileo Facing the Roman Inquisition," by Christiano Banti.
(source)