(source)

Albert Einstein

(14 Mar 1879 - 18 Apr 1955)




A man's value to the community depends primarily on how far his feelings, thoughts, and actions are directed towards promoting the good of his fellows. We call him good or bad according to how he stands in this matter. It looks at first sight as if our estimate of a man depended entirely on his social qualities.

— Albert Einstein

All of us who are concerned for peace and triumph of reason and justice must be keenly aware how small an influence reason and honest good will exert upon events in the political field.

— Albert Einstein

All religions, arts and sciences are branches of the same tree. All these aspirations are directed toward ennobling man's life, lifting it from the sphere of mere physical existence and leading the individual towards freedom.

— Albert Einstein

Anybody who really wants to abolish war must resolutely declare himself in favor of his own country's committing a portion of its sovereignty in favor of international institutions.

— Albert Einstein

Armament is no protection against the war but leads to war. Striving for peace and preparing for war are incompatible with each other

— Albert Einstein

As for the search for truth, I know from my own painful searching, with its many blind alleys, how hard it is to take a reliable step, be it ever so small, towards the understanding of that which is truly significant.

— Albert Einstein

As regards religion, on the other hand, one is generally agreed that it deals with goals and evaluations and, in general, with the emotional foundation of human thinking and acting, as far as these are not predetermined by the inalterable hereditary disposition of the human species. Religion is concerned with man's attitude toward nature at large, with the establishing of ideals for the individual and communal life, and with mutual human relationship. These ideals religion attempts to attain by exerting an educational influence on tradition and through the development and promulgation of certain easily accessible thoughts and narratives (epics and myths) which are apt to influence evaluation and action along the lines of the accepted ideals.

— Albert Einstein

Even though the realms of religion and science in themselves are clearly marked off from each other, nevertheless there exist between the two strong reciprocal relationships and dependencies. Though religion may be that which determines the goal, it has, nevertheless, learned from science, in the broadest sense, what means will contribute to the attainment of the goals it has set up. But science can only be created by those who are thoroughly imbued with the aspiration toward truth and understanding. This source of feeling, however, springs from the sphere of religion. To this there also belongs the faith in the possibility that the regulations valid for the world of existence are rational, that is, comprehensible to reason. I cannot conceive of a genuine scientist without that profound faith. The situation may be expressed by an image: science without religion is lame, religion without science is blind.

— Albert Einstein

Everyone is aware of the difficult and menacing situation in which human society–shrunk into one community with a common fate–now finds itself, but only a few act accordingly. Most people go on living their every-day life: half frightened, half indifferent, they behold the ghostly tragicomedy which is being performed on the international stage before the eyes and ears of the world. But on that stage, on which the actors under the floodlights play their ordained parts, our fate of tomorrow, life or death of the nations, is being decided.

— Albert Einstein

For any one who is pervaded with the sense of causal law in all that happens, who accepts in real earnest the assumption of causality, the idea of a Being who interferes with the sequence of events in the world is absolutely impossible! Neither the religion of fear nor the social-moral religion can have, any hold on him. A God who rewards and punishes is for him unthinkable, because man acts in accordance with an inner and outer necessity, and would, in the eyes of God, be as little responsible as an inanimate object is for the movements which it makes. Science, in consequence, has been accused of undermining morals—but wrongly. The ethical behavior of man is better based on sympathy, education and social relationships, and requires no support from religion. Man's plight would, indeed, be sad if he had to be kept in order through fear of punishment and hope of rewards after death.

— Albert Einstein

He who joyfully marches to music in rank and file has already earned my contempt. He has been given a large brain by mistake, since for him the spinal cord would fully suffice. This disgrace to civilisation should be done away with at once. Heroism at command, senseless brutality, deplorable love-of-country stance, how violently I hate all this, how despicable and ignoble war is; I would rather be torn to shreds than be part of so base an action! It is my conviction that killing under the cloak of war is nothing but an act of murder.

— Albert Einstein

I am absolutely convinced that no wealth in the world can help humanity forward, even in the hands of the most devoted worker. The example of great and pure individuals is the only thing that can lead us to noble thoughts and deeds. Money only appeals to selfishness and irresistibly invites abuse. Can anyone imagine Moses, Jesus or Gandhi armed with the moneybags of Carnegie?

— Albert Einstein

I am convinced there is only one way to eliminate these grave evils, namely through the establishment of a socialist economy, accompanied by an educational system which would be oriented toward social goals.

— Albert Einstein

I am not only a pacifist but a militant pacifist. I am willing to fight for peace. Nothing will end war unless the people themselves refuse to go to war.

— Albert Einstein

I am quite aware that we have just now lightheartedly expelled in imagination many excellent men who are largely, perhaps chiefly, responsible for the buildings of the temple of science; and in many cases our angel would find it a pretty ticklish job to decide. But of one thing I feel sure: if the types we have just expelled were the only types there were, the temple would never have come to be, any more than a forest can grow which consists of nothing but creepers. For these people any sphere of human activity will do, if it comes to a point; whether they become engineers, officers, tradesmen, or scientists depends on circumstances.

— Albert Einstein

I cannot conceive of a God who rewards and punishes his creatures, or has a will of the type of which we are conscious in ourselves. An individual who should survive his physical death is also beyond my comprehension, nor do I wish it otherwise; such notions are for the fears or absurd egoism of feeble souls.

— Albert Einstein

I cannot imagine a God who rewards and punishes the objects of his creation, whose purposes are modeled after our own–a God, in short, who is but a reflection of human frailty. Neither can I believe that the individual survives the death of his body, although feeble souls harbor such thoughts through fear or ridiculous egotism. It is enough for me to contemplate the mystery of conscious life perpetuating itself through all eternity, to reflect upon the marvelous structure of the universe which we can dimly perceive, and to try humbly to comprehend even an infinitesimal part of the intelligence manifested in nature.

— Albert Einstein

I do not believe in freedom of the will. Schopenhauer's words: 'Man can do what he wants, but he cannot will what he wills' accompany me in all situations throughout my life and reconcile me with the actions of others even if they are rather painful to me. This awareness of the lack of freedom of will preserves me from taking too seriously myself and my fellow men as acting and deciding individuals and from losing my temper.

— Albert Einstein

I do not believe that a moral philosophy can ever be founded on a scientific basis. … The valuation of life and all its nobler expressions can only come out of the soul's yearning toward its own destiny. Every attempt to reduce ethics to scientific formulas must fail. Of that I am perfectly convinced.

— Albert Einstein

I do not think words alone will solve humanity's present problems. The sound of bombs drowns out men's voices. In times of peace I have great faith in the communication of ideas among thinking men, but today, with brute force dominating so many millions of lives, I fear that the appeal to man's intellect is fast becoming virtually meaningless.

— Albert Einstein

I have never looked upon ease and happiness as ends in themselves–this critical basis I call the ideal of a pigsty. The ideals that have lighted my way, and time after time have given me new courage to face life cheerfully, have been Kindness, Beauty, and Truth. Without the sense of kinship with men of like mind, without the occupation with the objective world, the eternally unattainable in the field of art and scientific endeavors, life would have seemed empty to me. The trite objects of human efforts–possessions, outward success, luxury–have always seemed to me contemptible.

— Albert Einstein

I know not with what weapons World War III will be fought, but World War IV will be fought with sticks and stones.

— Albert Einstein

I was sitting in a chair in the patent office at Bern when all of a sudden a thought occurred to me: "If a person falls freely he will not feel his own weight." I was startled. This simple thought made a deep impression on me. It impelled me toward a theory of gravitation.

— Albert Einstein

I'm not an atheist and I don't think I can call myself a pantheist. We are in the position of a little child entering a huge library filled with books in many different languages. The child knows someone must have written those books. It doe s not know how. The child dimly suspects a mysterious order in the arrangement of the books but doesn't know what it is. That, it seems to me, is the attitude of even the most intelligent human being toward God.

— Albert Einstein

If people are good only because they fear punishment, and hope for reward, then we are a sorry lot indeed.

— Albert Einstein

In light of new knowledge ... an eventual world state is not just desirable in the name of brotherhood, it is necessary for survival ... Today we must abandon competition and secure cooperation. This must be the central fact in all our considerations of international affairs; otherwise we face certain disaster. Past thinking and methods did not prevent world wars. Future thinking must prevent wars.

— Albert Einstein

In my opinion there is no other salvation for civilization and even for the human race than the creation of a world government with security on the basis of law. As long as there are sovereign states with their separate armaments and armament secrets, new world wars cannot be avoided.

— Albert Einstein

In the case of a Christian clergyman, the tragic-comical is found in this: that the Christian religion demands love from the faithful, even love for the enemy. This demand, because it is indeed superhuman, he is unable to fulfill. Thus intolerance and hatred ring through the oily words of the clergyman. The love, which on the Christian side is the basis for the conciliatory attempt towards Judaism is the same as the love of a child for a cake. That means that it contains the hope that the object of the love will be eaten up.

— Albert Einstein

It is an irony of fate that I myself have been the recipient of excessive admiration and reverence from my fellow-beings, through no fault, and no merit, of my own. The cause of this may well be the desire, unattainable for many, to understand the few ideas to which I have with my feeble powers attained through ceaseless struggle. I am quite aware that for any organisation to reach its goals, one man must do the thinking and directing and generally bear the responsibility. But the led must not be coerced, they must be able to choose their leader.

— Albert Einstein

It was my good fortune to be linked with Mme. Curie through twenty years of sublime and unclouded friendship. I came to admire her human grandeur to an ever growing degree. Her strength, her purity of will, her austerity toward herself, her objectivity, her incorruptible judgement—all these were of a kind seldom found joined in a single individual… The greatest scientific deed of her life—proving the existence of radioactive elements and isolating them—owes its accomplishment not merely to bold intuition but to a devotion and tenacity in execution under the most extreme hardships imaginable, such as the history of experimental science has not often witnessed.

— Albert Einstein

May the conscience and the common sense of the peoples be awakened, so that we may reach a new stage in the life of nations, where people will look back on war as an incomprehensible aberration of their forefathers!

— Albert Einstein

My scientific work is motivated by an irresistible longing to understand the secrets of nature and by no other feeling. My love for justice and striving to contribute towards the improvement of human conditions are quite independent from my scientific interests.

— Albert Einstein

Nobody, certainly, will deny that the idea of the existence of an omnipotent, just, and omnibeneficent personal God is able to accord man solace, help, and guidance; also, by virtue of its simplicity it is accessible to the most undeveloped mind. But, on the other hand, there are decisive weaknesses attached to this idea in its elf, which have been painfully felt since the beginning of history. That is, if this being is omnipotent, then every occurrence, including every human action, every human thought, and every human feeling and aspiration is also His work; how is it possible to think of holding men responsible for their deeds and thoughts before such an almighty Being? In giving out punishment and rewards He would to a certain extent be passing judgment on Himself. How can this be combined with the goodness and righteousness ascribed to Him?

— Albert Einstein

Of what significance is one's one existence, one is basically unaware. What does a fish know about the water in which he swims all his life? The bitter and the sweet come from outside. The hard from within, from one's own efforts. For the most part I do what my own nature drives me to do. It is embarrassing to earn such respect and love for it.

— Albert Einstein

Only the individual can think, and thereby create new values for society–nay, even set up new moral standards to which the life of the community conforms. Without creative, independently thinking and judging personalities the upward development of society is as unthinkable as the development of the individual personality without the nourishing soil of the community.

— Albert Einstein

Our situation on this earth seems strange. Every one of us appears here involuntarily and uninvited for a short stay, without knowing the whys and the wherefore. In our daily lives we only feel that man is here for the sake of others, for those whom we love and for many other beings whose fate is connected with our own. I am often worried at the thought that my life is based to such a large extent on the work of my fellow human beings and I am aware of my great indebtedness to them.

— Albert Einstein

Our world faces a crisis as yet unperceived by those possessing power to make great decisions for good or evil. The unleashed power of the atom has changed everything save our modes of thinking and we thus drift toward unparalleled catastrophe. We scientists who released this immense power have an overwhelming responsibility in this world life-and-death struggle to harness the atom for the benefit of mankind and not for humanity's destruction. … We need two hundred thousand dollars at once for a nation-wide campaign to let people know that a new type of thinking is essential if mankind is to survive and move toward higher levels. This appeal is sent to you only after long consideration of the immense crisis we face. … We ask your help at this fateful moment as a sign that we scientists do not stand alone.

— Albert Einstein

Pure mathematics is, in its way, the poetry of logical ideas. One seeks the most general ideas of operation which will bring together in simple, logical and unified form the largest possible circle of formal relationships. In this effort toward logical beauty spiritual formulas are discovered necessary for the deeper penetration into the laws of nature.

— Albert Einstein

Science has gone a long way toward helping man to free himself from the burden of hard labor; yet, science itself is not a liberator. It creates means, not goals. It is up to men to utilize those means to achieve reasonable goals.

— Albert Einstein

The conflict that exists today is no more than an old-style struggle for power, once again presented to mankind in semireligious trappings. The difference is that, this time, the development of atomic power has imbued the struggle with a ghostly character; for both parties know and admit that, should the quarrel deteriorate into actual war, mankind is doomed.

— Albert Einstein

The desire for guidance, love, and support prompts men to form the social or moral conception of God. This is the God of Providence, who protects, disposes, rewards, and punishes; the God who, according to the limits of the believer's outlook, loves and cherishes the life of the tribe or of the human race, or even or life itself; the comforter in sorrow and unsatisfied longing; he who preserves the souls of the dead. This is the social or moral conception of God.

— Albert Einstein

The efforts of most human-beings are consumed in the struggle for their daily bread, but most of those who are, either through fortune or some special gift, relieved of this struggle are largely absorbed in further improving their worldly lot. Beneath the effort directed toward the accumulation of worldly goods lies all too frequently the illusion that this is the most substantial and desirable end to be achieved; but there is, fortunately, a minority composed of those who recognize early in their lives that the most beautiful and satisfying experiences open to humankind are not derived from the outside, but are bound up with the development of the individual's own feeling, thinking and acting. The genuine artists, investigators and thinkers have always been persons of this kind. However inconspicuously the life of these individuals runs its course, none the less the fruits of their endeavors are the most valuable contributions which one generation can make to its successors.

— Albert Einstein

The man who is thoroughly convinced of the universal operation of the law of causation cannot for a moment entertain the idea of a being who interferes in the course of events–provided, of course, that he takes the hypothesis of causality really seriously. He has no use for the religion of fear and equally little for social or moral religion. A God who rewards and punishes is inconceivable to him for the simple reason that a man's actions are determined by necessity, external and internal, so that in God's eyes he cannot be responsible, any more than an inanimate object is responsible for the motions it undergoes. Science has therefore been charged with undermining morality, but the charge is unjust. A man's ethical behavior should be based effectually on sympathy, education, and social ties and needs; no religious basis is necessary. Man would indeed be in a poor way if he had to be restrained by fear of punishment and hopes of reward after death.

— Albert Einstein

The position in which we are now is a very strange one which in general political life never happened. Namely, the thing that I refer to is this: To have security against atomic bombs and against the other biological weapons, we have to prevent war, for if we cannot prevent war every nation will use every means that is at their disposal; and in spite of all promises they make, they will do it.

— Albert Einstein

The release of atomic energy has not created a new problem. It has merely made more urgent the necessity of solving an existing one … I do not believe that civilization will be wiped out in a war fought with the atomic bomb. Perhaps two thirds of the people of the Earth would be killed.

— Albert Einstein

The scientific method can teach us nothing else beyond how facts are related to, and conditioned by, each other. The aspiration toward such objective knowledge belongs to the highest of which man is capable…. Yet it is equally clear that knowledge of what is does not open the door directly to what should be. One, can have the clearest and most complete knowledge of is, and yet not be able to deduct from that what should be the goal of our human aspirations.

— Albert Einstein

The United States is the most powerful technically advanced country in the world to-day. Its influence on the shaping of international relations is absolutely incalculable. But America is a large country and its people have so far not shown much interest in great international problems, among which the problem of disarmament occupies first place today. This must be changed, if only in the essential interests of the Americans. The last war has shown that there are no longer any barriers between the continents and that the destinies of all countries are closely interwoven. The people of this country must realize that they have a great responsibility in the sphere of international politics. The part of passive spectator is unworthy of this country and is bound in the end to lead to disaster all round.

— Albert Einstein

The unleashed power of the atom has changed everything save our modes of thinking and we thus drift toward unparalleled catastrophe.

— Albert Einstein

There are pessimists who hold that such a state of affairs is necessarily inherent in human nature; it is those who propound such views that are the enemies of true religion, for they imply thereby that religious teachings are utopian ideals and unsuited to afford guidance in human affairs. The study of the social patterns in certain so-called primitive cultures, however, seems to have made it sufficiently evident that such a defeatist view is wholly unwarranted.

— Albert Einstein

These thoughts did not come in any verbal formulation. I rarely think in words at all. A thought comes, and I may try to express it in words afterward.

— Albert Einstein

This is really the cornerstone of our situation. Now, I believe what we should try to bring about is the general conviction that the first thing you have to abolish is war at all costs, and every other point of view must be of secondary importance.

— Albert Einstein

This topic brings me to that worst outcrop of the herd nature, the military system, which I abhor. That a man can take pleasure in marching in formation to the strains of a band is enough to make me despise him. He has only been given his big brain by mistake; a backbone was all he needed. This plague-spot of civilisation ought to be abolished with all possible speed. Heroism by order, senseless violence, and all the pestilent nonsense that goes by the name of patriotism–how I hate them! War seems to me a mean, contemptible thing: I would rather be hacked in pieces than take part in such an abominable business.

— Albert Einstein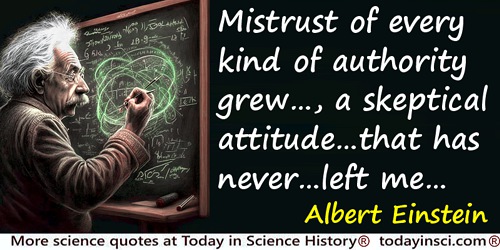 Through the reading of popular scientific books I soon reached the conviction that much in the stories of the Bible could not be true. The consequence was a positively fanatic [orgy of] freethinking coupled with the impression that youth is intentionally being deceived by the state through lies; it was a crushing impression. Mistrust of every kind of authority grew out of this experience, a skeptical attitude toward the convictions that were alive in any specific social environment–an attitude that has never again left me, even though, later on, it has been tempered by a better insight into the causal connections.

— Albert Einstein

When men are engaged in war and conquest, the tools of science become as dangerous as a razor in the hands of a child of three. We must not condemn man because his inventiveness and patient conquest of the forces of nature are being exploited for false and destructive purposes. Rather, we should remember that the fate of mankind hinges entirely upon man's moral development.

— Albert Einstein

You believe in the God who plays dice, and I in complete law and order in a world that objectively exists, and which I, in a wildly speculative way, am trying to capture. … Even the great initial success of the quantum theory does not make me believe in the fundamental dice-game, although I am well aware that our younger colleagues interpret this as a consequence of senility. No doubt the day will come when we will see whose instinctive attitude was the correct one.

— Albert Einstein

You cannot simultaneously prevent and prepare for war.

— Albert Einstein