(source)

Albert Einstein

(14 Mar 1879 - 18 Apr 1955)




Falling in love is not at all the most stupid thing that people do, but gravitation cannot be held responsible for it.
Scribbled by Einstein on a letter received during a visit to England (1933) from a man who suggested that gravity meant that as the world rotated people were sometimes upside down, horizontal, or at 'left angles' and that perhaps, this disorientation explained why people do foolish things like falling in love.

— Albert Einstein

In the temple of science are many mansions, and various indeed are they that dwell therein and the motives that have led them thither. Many take to science out of a joyful sense of superior intellectual power; science is their own special sport to which they look for vivid experience and the satisfaction of ambition; many others are to be found in the temple who have offered the products of their brains on this altar for purely utilitarian purposes. Were an angel of the Lord to come and drive all the people belonging to these two categories out of the temple, the assemblage would be seriously depleted, but there would still be some men, of both present and past times, left inside. Our Planck is one of them, and that is why we love him.

— Albert Einstein

My scientific work is motivated by an irresistible longing to understand the secrets of nature and by no other feeling. My love for justice and striving to contribute towards the improvement of human conditions are quite independent from my scientific interests.

— Albert Einstein

The longing to behold this pre-established harmony [of phenomena and theoretical principles] is the source of the inexhaustible patience and perseverance with which Planck has devoted himself ... The state of mind which enables a man to do work of this kind is akin to that of the religious worshiper or the lover; the daily effort comes from no deliberate intention or program, but straight from the heart.

— Albert Einstein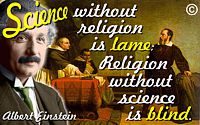 "Galileo Facing the Roman Inquisition," by Christiano Banti.
(source)