(source)

Albert Einstein

(14 Mar 1879 - 18 Apr 1955)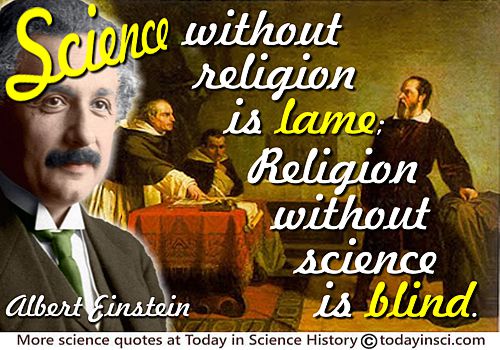 All religions, arts and sciences are branches of the same tree. All these aspirations are directed toward ennobling man's life, lifting it from the sphere of mere physical existence and leading the individual towards freedom.

— Albert Einstein

Even though the realms of religion and science in themselves are clearly marked off from each other, nevertheless there exist between the two strong reciprocal relationships and dependencies. Though religion may be that which determines the goal, it has, nevertheless, learned from science, in the broadest sense, what means will contribute to the attainment of the goals it has set up. But science can only be created by those who are thoroughly imbued with the aspiration toward truth and understanding. This source of feeling, however, springs from the sphere of religion. To this there also belongs the faith in the possibility that the regulations valid for the world of existence are rational, that is, comprehensible to reason. I cannot conceive of a genuine scientist without that profound faith. The situation may be expressed by an image: science without religion is lame, religion without science is blind.

— Albert Einstein

It is difficult even to attach a precise meaning to the term "scientific truth." So different is the meaning of the word "truth" according to whether we are dealing with a fact of experience, a mathematical proposition or a scientific theory. "Religious truth" conveys nothing clear to me at all.

— Albert Einstein

It was, of course, a lie what you read about my religious convictions, a lie which is being systematically repeated. I do not believe in a personal God and I have never denied this but have expressed it clearly. If something is in me which can be called religious then it is the unbounded admiration for the structure of the world so far as our science can reveal it.

— Albert Einstein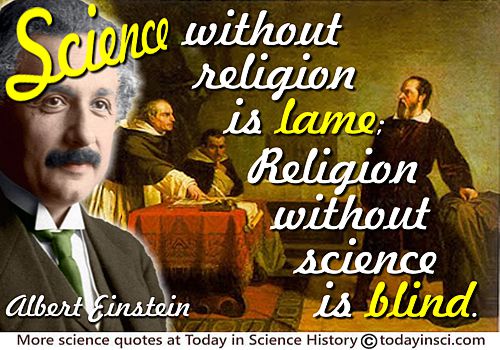 Science without religion is lame; religion without science is blind.

— Albert Einstein

Scientific research can reduce superstition by encouraging people to think and survey things in terms of cause and effect. Certain it is that a conviction, akin to religious feeling, of the rationality or intelligibility of the world lies behind all scientific work of a higher order.

— Albert Einstein

The conflict that exists today is no more than an old-style struggle for power, once again presented to mankind in semireligious trappings. The difference is that, this time, the development of atomic power has imbued the struggle with a ghostly character; for both parties know and admit that, should the quarrel deteriorate into actual war, mankind is doomed.

— Albert Einstein

The fairest thing we can experience is the mysterious. It is the fundamental emotion which stands at the cradle of true art and true science. He who knows it not and can no longer wonder, no longer feel amazement, is as good as dead, a snuffed-out candle. It was the experience of mystery–even if mixed with fear–that engendered religion. A knowledge of the existence of something we cannot penetrate, of the manifestations of the profoundest reason and the most radiant beauty, which are only accessible to our reason in their most elementary forms–it is this knowledge and this emotion that constitute the truly religious attitude; in this sense, and in this alone, I am a deeply religious man.

— Albert Einstein

The longing to behold this pre-established harmony [of phenomena and theoretical principles] is the source of the inexhaustible patience and perseverance with which Planck has devoted himself ... The state of mind which enables a man to do work of this kind is akin to that of the religious worshiper or the lover; the daily effort comes from no deliberate intention or program, but straight from the heart.

— Albert Einstein

The most beautiful emotion we can experience is the mystical. It is the power of all true art and science. He to whom this emotion is a stranger, who can no longer wonder and stand rapt in awe, is as good as dead. To know that what is impenetrable to us really exists, manifesting itself as the highest wisdom and the most radiant beauty, which our dull faculties can comprehend only in their most primitive forms — this knowledge, this feeling, is at the center of true religiousness. In this sense, and in this sense only, I belong to the rank of devoutly religious men.

— Albert Einstein

While it is true that scientific results are entirely independent from religious and moral considerations, those individuals to whom we owe the great creative achievements of science were all of them imbued with the truly religious conviction that this universe of ours is something perfect and susceptible to the rational striving for knowledge. If this conviction had not been a strongly emotional one and if those searching for knowledge had not been inspired by Spinoza's Amor Dei Intellectualis, they would hardly have been capable of that untiring devotion which alone enables man to attain his greatest achievements.

— Albert Einstein