(source)

Albert Einstein

(14 Mar 1879 - 18 Apr 1955)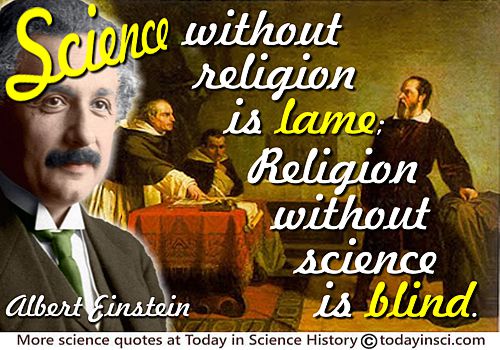 "Galileo Facing the Roman Inquisition," by Christiano Banti.
(source)
A conflict arises when a religious community insists on the absolute truthfulness of all statements recorded in the Bible. This means an intervention on the part of religion into the sphere of science; this is where the struggle of the Church against the doctrines of Galileo and Darwin belongs. On the other hand, representatives of science have often made an attempt to arrive at fundamental judgments with respect to values and ends on the basis of scientific method, and in this way have set themselves in opposition to religion. These conflicts have all sprung from fatal errors.

— Albert Einstein

A man who is convinced of the truth of his religion is indeed never tolerant. At the least, he is to feel pity for the adherent of another religion but usually it does not stop there. The faithful adherent of a religion will try first of all to convince those that believe in another religion and usually he goes on to hatred if he is not successful. However, hatred then leads to persecution when the might of the majority is behind it.

— Albert Einstein

A person who is religiously enlightened appears to me to be one who has, to the best of his ability, liberated himself from the fetters of his selfish desires and is preoccupied with thoughts, feelings, and aspirations to which he clings because of their superpersonal value. It seems to me that what is important is the force of this superpersonal content and the depth of the conviction concerning its overpowering meaningfulness, regardless of whether any attempt is made to unite this content with a divine Being, for otherwise it would not be possible to count Buddha and Spinoza as religious personalities. Accordingly, a religious person is devout in the sense that he has no doubt of the significance and loftiness of those superpersonal objects and goals which neither require nor are capable of rational foundation. They exist with the same necessity and matter-of-factness as he himself. In this sense religion is the age-old endeavor of mankind to become clearly and completely conscious of these values and goals and constantly to strengthen and extend their effect. If one conceives of religion and science according to these definitions then a conflict between them appears impossible. For science can only ascertain what is, but not what should be, and outside of its domain value judgments of all kinds remain necessary.

— Albert Einstein

All religions, arts and sciences are branches of the same tree. All these aspirations are directed toward ennobling man's life, lifting it from the sphere of mere physical existence and leading the individual towards freedom.

— Albert Einstein

As regards religion, on the other hand, one is generally agreed that it deals with goals and evaluations and, in general, with the emotional foundation of human thinking and acting, as far as these are not predetermined by the inalterable hereditary disposition of the human species. Religion is concerned with man's attitude toward nature at large, with the establishing of ideals for the individual and communal life, and with mutual human relationship. These ideals religion attempts to attain by exerting an educational influence on tradition and through the development and promulgation of certain easily accessible thoughts and narratives (epics and myths) which are apt to influence evaluation and action along the lines of the accepted ideals.

— Albert Einstein

Common to all these types is the anthropomorphic character of their conception of God. In general, only individuals of exceptional endowments, and exceptionally high-minded communities, rise to any considerable extent above this level. But there is a third stage of religious experience which belongs to all of them, even though it is rarely found in a pure form: I shall call it cosmic religious feeling. It is very difficult to elucidate this feeling to anyone who is entirely without it, especially as there is no anthropomorphic conception of God corresponding to it.

— Albert Einstein

Cosmic religiousness is the strongest and most noble driving force of scientific research.

— Albert Einstein

Does there truly exist an insuperable contradiction between religion and science? Can religion be superseded by science? The answers to these questions have, for centuries, given rise to considerable dispute and, indeed, bitter fighting. Yet, in my own mind there can be no doubt that in both cases a dispassionate consideration can only lead to a negative answer. What complicates the solution, however, is the fact that while most people readily agree on what is meant by 'science,' they are likely to differ on the meaning of 'religion.'

— Albert Einstein

Even though the realms of religion and science in themselves are clearly marked off from each other, nevertheless there exist between the two strong reciprocal relationships and dependencies. Though religion may be that which determines the goal, it has, nevertheless, learned from science, in the broadest sense, what means will contribute to the attainment of the goals it has set up. But science can only be created by those who are thoroughly imbued with the aspiration toward truth and understanding. This source of feeling, however, springs from the sphere of religion. To this there also belongs the faith in the possibility that the regulations valid for the world of existence are rational, that is, comprehensible to reason. I cannot conceive of a genuine scientist without that profound faith. The situation may be expressed by an image: science without religion is lame, religion without science is blind.

— Albert Einstein

For any one who is pervaded with the sense of causal law in all that happens, who accepts in real earnest the assumption of causality, the idea of a Being who interferes with the sequence of events in the world is absolutely impossible! Neither the religion of fear nor the social-moral religion can have, any hold on him. A God who rewards and punishes is for him unthinkable, because man acts in accordance with an inner and outer necessity, and would, in the eyes of God, be as little responsible as an inanimate object is for the movements which it makes. Science, in consequence, has been accused of undermining morals—but wrongly. The ethical behavior of man is better based on sympathy, education and social relationships, and requires no support from religion. Man's plight would, indeed, be sad if he had to be kept in order through fear of punishment and hope of rewards after death.

— Albert Einstein

How can cosmic religious feeling be communicated from one person to another, if it can give rise to no definite notion of a God and no theology? In my view, it is the most important function of art and science to awaken this feeling and keep it alive in those who are receptive to it.

— Albert Einstein

I assert that the cosmic religious experience is the strongest and the noblest driving force behind scientific research.

— Albert Einstein

I can understand your aversion to the use of the term 'religion' to describe an emotional and psychological attitude which shows itself most clearly in Spinoza ... I have not found a better expression than 'religious' for the trust in the rational nature of reality that is, at least to a certain extent, accessible to human reason.

— Albert Einstein

I have found no better expression than 'religious' for confidence in the rational nature of reality, insofar as it is accessible to human reason. Whenever this feeling is absent, science degenerates into uninspired empiricism.

— Albert Einstein

In every true searcher of Nature there is a kind of religious reverence, for he finds it impossible to imagine that he is the first to have thought out the exceedingly delicate threads that connect his perceptions.

— Albert Einstein

In the case of a Christian clergyman, the tragic-comical is found in this: that the Christian religion demands love from the faithful, even love for the enemy. This demand, because it is indeed superhuman, he is unable to fulfill. Thus intolerance and hatred ring through the oily words of the clergyman. The love, which on the Christian side is the basis for the conciliatory attempt towards Judaism is the same as the love of a child for a cake. That means that it contains the hope that the object of the love will be eaten up.

— Albert Einstein

It is difficult even to attach a precise meaning to the term "scientific truth." So different is the meaning of the word "truth" according to whether we are dealing with a fact of experience, a mathematical proposition or a scientific theory. "Religious truth" conveys nothing clear to me at all.

— Albert Einstein

It is easy to follow in the sacred writings of the Jewish people the development of the religion of fear into the moral religion, which is carried further in the New Testament. The religions of all civilized peoples, especially those of the Orient, are principally moral religions. An important advance in the life of a people is the transformation of the religion of fear into the moral religion.

— Albert Einstein

It is therefore easy to see why the churches have always fought science and persecuted its devotees. On the other hand, I maintain that the cosmic religious feeling is the strongest and noblest motive for scientific research. Only those who realize the immense efforts and, above all, the devotion without which pioneer work in theoretical science cannot be achieved are able to grasp the strength of the emotion out of which alone such work, remote as it is from the immediate realities of life, can issue. What a deep conviction of the rationality of the universe and what a yearning to understand, were it but a feeble reflection of the mind revealed in this world, Kepler and Newton must have had to enable them to spend years of solitary labor in disentangling the principles of celestial mechanics! Those whose acquaintance with scientific research is derived chiefly from its practical results easily develop a completely false notion of the mentality of the men who, surrounded by a skeptical world, have shown the way to kindred spirits scattered wide through the world and through the centuries. Only one who has devoted his life to similar ends can have a vivid realization of what has inspired these men and given them the strength to remain true to their purpose in spite of countless failures. It is cosmic religious feeling that gives a man such strength. A contemporary has said, not unjustly, that in this materialistic age of ours the serious scientific workers are the only profoundly religious people.

— Albert Einstein

It is this mythical, or rather this symbolic, content of the religious traditions which is likely to come into conflict with science. This occurs whenever this religious stock of ideas contains dogmatically fixed statements on subjects which be long in the domain of science. Thus, it is of vital importance for the preservation of true religion that such conflicts be avoided when they arise from subjects which, in fact, are not really essential for the pursuance of the religious aims.

— Albert Einstein

It was, of course, a lie what you read about my religious convictions, a lie which is being systematically repeated. I do not believe in a personal God and I have never denied this but have expressed it clearly. If something is in me which can be called religious then it is the unbounded admiration for the structure of the world so far as our science can reveal it.

— Albert Einstein

It would not be difficult to come to an agreement as to what we understand by science. Science is the century-old endeavor to bring together by means of systematic thought the perceptible phenomena of this world into as thoroughgoing an association as possible. To put it boldly, it is the attempt at the posterior reconstruction of existence by the process of conceptualization. But when asking myself what religion is I cannot think of the answer so easily. And even after finding an answer which may satisfy me at this particular moment, I still remain convinced that I can never under any circumstances bring together, even to a slight extent, the thoughts of all those who have given this question serious consideration.

— Albert Einstein

My religion consists of a humble admiration of the illimitable superior spirit who reveals himself in the slight details we are able to perceive with our frail and feeble minds. That deeply emotional conviction of the presence of a superior reasoning power, which is revealed in the incomprehensible universe, forms my idea of God.

— Albert Einstein

One strength of the communist system of the East is that it has some of the character of a religion and inspires the emotions of a religion.

— Albert Einstein

Science not only purifies the religious impulse of the dross of its anthropomorphism but also contributes to a religious spiritualization of our understanding of life.

— Albert Einstein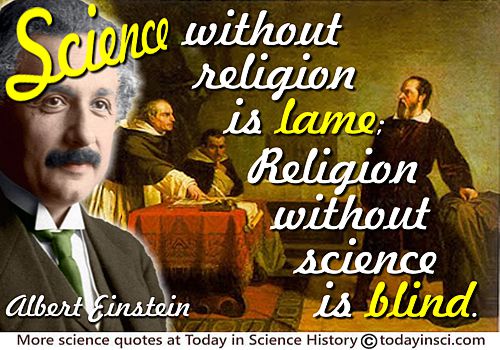 "Galileo Facing the Roman Inquisition," by Christiano Banti.
(source)
Science without religion is lame; religion without science is blind.

— Albert Einstein

Scientific research can reduce superstition by encouraging people to think and survey things in terms of cause and effect. Certain it is that a conviction, akin to religious feeling, of the rationality or intelligibility of the world lies behind all scientific work of a higher order.

— Albert Einstein

The conflict that exists today is no more than an old-style struggle for power, once again presented to mankind in semireligious trappings. The difference is that, this time, the development of atomic power has imbued the struggle with a ghostly character; for both parties know and admit that, should the quarrel deteriorate into actual war, mankind is doomed.

— Albert Einstein

The fairest thing we can experience is the mysterious. It is the fundamental emotion which stands at the cradle of true art and true science. He who knows it not and can no longer wonder, no longer feel amazement, is as good as dead, a snuffed-out candle. It was the experience of mystery–even if mixed with fear–that engendered religion. A knowledge of the existence of something we cannot penetrate, of the manifestations of the profoundest reason and the most radiant beauty, which are only accessible to our reason in their most elementary forms–it is this knowledge and this emotion that constitute the truly religious attitude; in this sense, and in this alone, I am a deeply religious man.

— Albert Einstein

The further the spiritual evolution of mankind advances, the more certain it seems to me that the path to genuine religiosity does not lie through the fear of life, and the fear of death, and blind faith, but through striving after rational knowledge.

— Albert Einstein

The highest principles for our aspirations and judgments are given to us in the Jewish-Christian religious tradition. It is a very high goal which, with our weak powers, we can reach only very inadequately, but which gives a sure foundation to our aspirations and valuations.

— Albert Einstein

The individual feels the futility of human desires and aims and the sublimity and marvelous order which reveal themselves both in nature and in the world of thought. Individual existence impresses him as a sort of prison and he wants to experience the universe as a single significant whole. The beginnings of cosmic religious feeling already appear at an early stage of development, e.g., in many of the Psalms of David and in some of the Prophets. Buddhism, as we have learned especially from the wonderful writings of Schopenhauer, contains a much stronger element of this. The religious geniuses of all ages have been distinguished by this kind of religious feeling, which knows no dogma and no God conceived in man's image; so that there can be no church whose central teachings are based on it. Hence it is precisely among the heretics of every age that we find men who were filled with this highest kind of religious feeling and were in many cases regarded by their contemporaries as atheists, sometimes also as saints. Looked at in this light, men like Democritus, Francis of Assisi, and Spinoza are closely akin to one another.

— Albert Einstein

The Jewish scriptures admirably illustrate the development from the religion of fear to moral religion, a development continued in the New Testament. The religions of all civilized peoples, especially the peoples of the Orient, are primarily moral religions. The development from a religion of fear to moral religion is a great step in peoples' lives. And yet, that primitive religions are based entirely on fear and the religions of civilized peoples purely on morality is a prejudice against which we must be on our guard. The truth is that all religions are a varying blend of both types, with this differentiation: that on the higher levels of social life the religion of morality predominates.

— Albert Einstein

The longing to behold this pre-established harmony [of phenomena and theoretical principles] is the source of the inexhaustible patience and perseverance with which Planck has devoted himself ... The state of mind which enables a man to do work of this kind is akin to that of the religious worshiper or the lover; the daily effort comes from no deliberate intention or program, but straight from the heart.

— Albert Einstein

The main source of the present-day conflicts between the spheres of religion and of science lies in this concept of a personal God.

— Albert Einstein

The man who is thoroughly convinced of the universal operation of the law of causation cannot for a moment entertain the idea of a being who interferes in the course of events–provided, of course, that he takes the hypothesis of causality really seriously. He has no use for the religion of fear and equally little for social or moral religion. A God who rewards and punishes is inconceivable to him for the simple reason that a man's actions are determined by necessity, external and internal, so that in God's eyes he cannot be responsible, any more than an inanimate object is responsible for the motions it undergoes. Science has therefore been charged with undermining morality, but the charge is unjust. A man's ethical behavior should be based effectually on sympathy, education, and social ties and needs; no religious basis is necessary. Man would indeed be in a poor way if he had to be restrained by fear of punishment and hopes of reward after death.

— Albert Einstein

The moral attitudes of a people that is supported by religion need always aim at preserving and promoting the sanity and vitality of the community and its individuals, since otherwise this community is bound to perish. A people that were to honor falsehood, defamation, fraud, and murder would be unable, indeed, to subsist for very long.

— Albert Einstein

The most beautiful and deepest experience a man can have is the sense of the mysterious. It is the underlying principle of religion as well as all serious endeavour in art and science. He who never had this experience seems to me, if not dead, then at least blind. To sense that behind anything that can be experienced there is a something that our mind cannot grasp and whose beauty and sublimity reaches us only indirectly and as a feeble reflection, this is religiousness.

— Albert Einstein

The most beautiful and profound experience for a person is the feeling of the mysterious. It underlies religion and all deeper endeavors in art and science. Anyone who has not experienced this appears to me, if not like a dead man, at least like a blind man. To feel that behind the perceptible is hidden something that is incomprehensible, whose beauty and grandeur only reach us indirectly and in a dim reflection—that is religiousness. In that sense I am religious. It is enough for me to sense these secrets with wonder and to try to humbly grasp a faint image of the majestic structure of all things.

— Albert Einstein

The most beautiful emotion we can experience is the mystical. It is the power of all true art and science. He to whom this emotion is a stranger, who can no longer wonder and stand rapt in awe, is as good as dead. To know that what is impenetrable to us really exists, manifesting itself as the highest wisdom and the most radiant beauty, which our dull faculties can comprehend only in their most primitive forms — this knowledge, this feeling, is at the center of true religiousness. In this sense, and in this sense only, I belong to the rank of devoutly religious men.

— Albert Einstein

There are pessimists who hold that such a state of affairs is necessarily inherent in human nature; it is those who propound such views that are the enemies of true religion, for they imply thereby that religious teachings are utopian ideals and unsuited to afford guidance in human affairs. The study of the social patterns in certain so-called primitive cultures, however, seems to have made it sufficiently evident that such a defeatist view is wholly unwarranted.

— Albert Einstein

There remains something subtle, intangible and inexplicable. Veneration for this force beyond anything that we can comprehend is my religion.

— Albert Einstein

Try and penetrate with our limited means the secrets of nature and you will find that, behind all the discernible concatenations, there remains something subtle, intangible and inexplicable. Veneration for this force beyond anything that we can comprehend is my religion. To that extent I am, in point of fact, religious.

— Albert Einstein

What is the meaning of human life, or for that matter, of the life of any creature? To know an answer to this question means to be religious. Does it make any sense, then, to pose this question? I answer: The man who regards his own life and that of his fellow creatures as meaningless is not merely unhappy but hardly fit for life.

— Albert Einstein

What is the meaning of human life, or of organic life altogether? To answer this question at all implies a religion. Is there any sense then, you ask, in putting it? I answer, the man who regards his own life and that of his fellow creatures as meaningless is not merely unfortunate but almost disqualified for life.

— Albert Einstein

While it is true that scientific results are entirely independent from religious and moral considerations, those individuals to whom we owe the great creative achievements of science were all of them imbued with the truly religious conviction that this universe of ours is something perfect and susceptible to the rational striving for knowledge. If this conviction had not been a strongly emotional one and if those searching for knowledge had not been inspired by Spinoza's Amor Dei Intellectualis, they would hardly have been capable of that untiring devotion which alone enables man to attain his greatest achievements.

— Albert Einstein

While religion prescribes brotherly love in the relations among the individuals and groups, the actual spectacle more resembles a battlefield than an orchestra. Everywhere, in economic as well as in political life, the guiding principle is one of ruthless striving for success at the expense of one's fellow men. This competitive spirit prevails even in school and, destroying all feelings of human fraternity and cooperation, conceives of achievement not as derived from the love for productive and thoughtful work, but as springing from personal ambition and fear of rejection.

— Albert Einstein