(source)

Albert Einstein

(14 Mar 1879 - 18 Apr 1955)




Even though the realms of religion and science in themselves are clearly marked off from each other, nevertheless there exist between the two strong reciprocal relationships and dependencies. Though religion may be that which determines the goal, it has, nevertheless, learned from science, in the broadest sense, what means will contribute to the attainment of the goals it has set up. But science can only be created by those who are thoroughly imbued with the aspiration toward truth and understanding. This source of feeling, however, springs from the sphere of religion. To this there also belongs the faith in the possibility that the regulations valid for the world of existence are rational, that is, comprehensible to reason. I cannot conceive of a genuine scientist without that profound faith. The situation may be expressed by an image: science without religion is lame, religion without science is blind.

— Albert Einstein

I was sitting in a chair in the patent office at Bern when all of a sudden a thought occurred to me: "If a person falls freely he will not feel his own weight." I was startled. This simple thought made a deep impression on me. It impelled me toward a theory of gravitation.

— Albert Einstein

My scientific work is motivated by an irresistible longing to understand the secrets of nature and by no other feeling. My love for justice and striving to contribute towards the improvement of human conditions are quite independent from my scientific interests.

— Albert Einstein

Our experience up to date justifies us in feeling sure that in Nature is actualized the ideal of mathematical simplicity. It is my conviction that pure mathematical construction enables us to discover the concepts and the laws connecting them, which gives us the key to understanding nature… In a certain sense, therefore, I hold it true that pure thought can grasp reality, as the ancients dreamed.

— Albert Einstein

Scientific research can reduce superstition by encouraging people to think and survey things in terms of cause and effect. Certain it is that a conviction, akin to religious feeling, of the rationality or intelligibility of the world lies behind all scientific work of a higher order.

— Albert Einstein

The efforts of most human-beings are consumed in the struggle for their daily bread, but most of those who are, either through fortune or some special gift, relieved of this struggle are largely absorbed in further improving their worldly lot. Beneath the effort directed toward the accumulation of worldly goods lies all too frequently the illusion that this is the most substantial and desirable end to be achieved; but there is, fortunately, a minority composed of those who recognize early in their lives that the most beautiful and satisfying experiences open to humankind are not derived from the outside, but are bound up with the development of the individual's own feeling, thinking and acting. The genuine artists, investigators and thinkers have always been persons of this kind. However inconspicuously the life of these individuals runs its course, none the less the fruits of their endeavors are the most valuable contributions which one generation can make to its successors.

— Albert Einstein

The most beautiful emotion we can experience is the mystical. It is the power of all true art and science. He to whom this emotion is a stranger, who can no longer wonder and stand rapt in awe, is as good as dead. To know that what is impenetrable to us really exists, manifesting itself as the highest wisdom and the most radiant beauty, which our dull faculties can comprehend only in their most primitive forms — this knowledge, this feeling, is at the center of true religiousness. In this sense, and in this sense only, I belong to the rank of devoutly religious men.

— Albert Einstein

There is no logical way to the discovery of these elemental laws. There is only the way of intuition, which is helped by a feeling for the order lying behind the appearance.

— Albert Einstein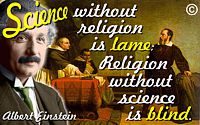 "Galileo Facing the Roman Inquisition," by Christiano Banti.
(source)