(source)

Albert Einstein

(14 Mar 1879 - 18 Apr 1955)




A human being is part of the whole, called by us "Universe"; a part limited in time and space. He experiences himself, his thoughts and feelings as something separated from the rest—a kind of optical delusion of his consciousness. This delusion is a kind of prison for us, restricting us to our personal desires and to affection for a few persons nearest us. Our task must be to free ourselves from this prison by widening our circle of compassion to embrace all living creatures and the whole of nature in its beauty. Nobody is able to achieve this completely but the striving for such achievement is, in itself, a part of the liberation and a foundation for inner security.

— Albert Einstein

A man's value to the community depends primarily on how far his feelings, thoughts, and actions are directed towards promoting the good of his fellows. We call him good or bad according to how he stands in this matter. It looks at first sight as if our estimate of a man depended entirely on his social qualities.

— Albert Einstein

A person who is religiously enlightened appears to me to be one who has, to the best of his ability, liberated himself from the fetters of his selfish desires and is preoccupied with thoughts, feelings, and aspirations to which he clings because of their superpersonal value. It seems to me that what is important is the force of this superpersonal content and the depth of the conviction concerning its overpowering meaningfulness, regardless of whether any attempt is made to unite this content with a divine Being, for otherwise it would not be possible to count Buddha and Spinoza as religious personalities. Accordingly, a religious person is devout in the sense that he has no doubt of the significance and loftiness of those superpersonal objects and goals which neither require nor are capable of rational foundation. They exist with the same necessity and matter-of-factness as he himself. In this sense religion is the age-old endeavor of mankind to become clearly and completely conscious of these values and goals and constantly to strengthen and extend their effect. If one conceives of religion and science according to these definitions then a conflict between them appears impossible. For science can only ascertain what is, but not what should be, and outside of its domain value judgments of all kinds remain necessary.

— Albert Einstein

Although I am a typical loner in daily life, my consciousness of belonging to the invisible community of those who strive for truth, beaut y, and justice has preserved me from feeling isolated.

— Albert Einstein

Common to all these types is the anthropomorphic character of their conception of God. In general, only individuals of exceptional endowments, and exceptionally high-minded communities, rise to any considerable extent above this level. But there is a third stage of religious experience which belongs to all of them, even though it is rarely found in a pure form: I shall call it cosmic religious feeling. It is very difficult to elucidate this feeling to anyone who is entirely without it, especially as there is no anthropomorphic conception of God corresponding to it.

— Albert Einstein

Even though the realms of religion and science in themselves are clearly marked off from each other, nevertheless there exist between the two strong reciprocal relationships and dependencies. Though religion may be that which determines the goal, it has, nevertheless, learned from science, in the broadest sense, what means will contribute to the attainment of the goals it has set up. But science can only be created by those who are thoroughly imbued with the aspiration toward truth and understanding. This source of feeling, however, springs from the sphere of religion. To this there also belongs the faith in the possibility that the regulations valid for the world of existence are rational, that is, comprehensible to reason. I cannot conceive of a genuine scientist without that profound faith. The situation may be expressed by an image: science without religion is lame, religion without science is blind.

— Albert Einstein

Everything that the human race has done and thought is concerned with the satisfaction of deeply felt needs and the assuagement of pain. One has to keep this constantly in mind if one wishes to understand spiritual movements and their development. Feeling and longing are the motive force behind all human endeavor and human creation, in however exalted a guise the latter may present themselves to us.

— Albert Einstein

For the most part we humans live with the false impression of security and a feeling of being at home in a seemingly trustworthy physical and human environment. But when the expected course of everyday life is interrupted, we are like shipwrecked people on a miserable plank in the open sea, having forgotten where they came from and not knowing whither they are drifting. But once we fully accept this, life becomes easier and there is no longer any disappointment.

— Albert Einstein

How can cosmic religious feeling be communicated from one person to another, if it can give rise to no definite notion of a God and no theology? In my view, it is the most important function of art and science to awaken this feeling and keep it alive in those who are receptive to it.

— Albert Einstein

I gang my own gait and have never belonged to my country, my home, my friends, or even my immediate family, with my whole heart; in the face of all these ties I have never lost an obstinate sense of detachment, of the need for solitude–a feeling which increases with the years.

— Albert Einstein

I have found no better expression than 'religious' for confidence in the rational nature of reality, insofar as it is accessible to human reason. Whenever this feeling is absent, science degenerates into uninspired empiricism.

— Albert Einstein

I was sitting in a chair in the patent office at Bern when all of a sudden a thought occurred to me: "If a person falls freely he will not feel his own weight." I was startled. This simple thought made a deep impression on me. It impelled me toward a theory of gravitation.

— Albert Einstein

In human freedom in the philosophical sense I am definitely a disbeliever. Everybody acts not only under external compulsion but also in accordance with inner necessity. Schopenhauer's saying, that 'a man can do what he wants, but not want what he wants,' has been an inspiration to me since my youth up, and a continual consolation and unfailing well-spring of patience in the face of the hardships of life, my own and others. This feeling mercifully not only mitigates the sense of responsibility which so easily becomes paralysing, and it prevents us from taking ourselves and other people too seriously; it conduces to a view of life in which humour, above all, has its due place.

— Albert Einstein

It is not enough to teach man a specialty. Through it he may become a kind of useful machine, but not a harmoniously developed personality. It is essential that the student acquire an understanding of and a lively feeling for values. He must acquire a vivid sense of the beautiful and of the morally good. Otherwise he—with his specialized knowledge—more closely resembles a well-trained dog than a harmoniously developed person.

— Albert Einstein

It is therefore easy to see why the churches have always fought science and persecuted its devotees. On the other hand, I maintain that the cosmic religious feeling is the strongest and noblest motive for scientific research. Only those who realize the immense efforts and, above all, the devotion without which pioneer work in theoretical science cannot be achieved are able to grasp the strength of the emotion out of which alone such work, remote as it is from the immediate realities of life, can issue. What a deep conviction of the rationality of the universe and what a yearning to understand, were it but a feeble reflection of the mind revealed in this world, Kepler and Newton must have had to enable them to spend years of solitary labor in disentangling the principles of celestial mechanics! Those whose acquaintance with scientific research is derived chiefly from its practical results easily develop a completely false notion of the mentality of the men who, surrounded by a skeptical world, have shown the way to kindred spirits scattered wide through the world and through the centuries. Only one who has devoted his life to similar ends can have a vivid realization of what has inspired these men and given them the strength to remain true to their purpose in spite of countless failures. It is cosmic religious feeling that gives a man such strength. A contemporary has said, not unjustly, that in this materialistic age of ours the serious scientific workers are the only profoundly religious people.

— Albert Einstein

My scientific work is motivated by an irresistible longing to understand the secrets of nature and by no other feeling. My love for justice and striving to contribute towards the improvement of human conditions are quite independent from my scientific interests.

— Albert Einstein

No one can read the Gospels without feeling the actual presence of Jesus. His personality pulsates in every word. No myth is filled with such life.

— Albert Einstein

Nobody, certainly, will deny that the idea of the existence of an omnipotent, just, and omnibeneficent personal God is able to accord man solace, help, and guidance; also, by virtue of its simplicity it is accessible to the most undeveloped mind. But, on the other hand, there are decisive weaknesses attached to this idea in its elf, which have been painfully felt since the beginning of history. That is, if this being is omnipotent, then every occurrence, including every human action, every human thought, and every human feeling and aspiration is also His work; how is it possible to think of holding men responsible for their deeds and thoughts before such an almighty Being? In giving out punishment and rewards He would to a certain extent be passing judgment on Himself. How can this be combined with the goodness and righteousness ascribed to Him?

— Albert Einstein

One has a feeling that one has a kind of home in this timeless community of human beings that strive for truth ... I have always believed that Jesus meant by the Kingdom of God the small group scattered all through time of intellectually and ethically valuable people.

— Albert Einstein

Our experience up to date justifies us in feeling sure that in Nature is actualized the ideal of mathematical simplicity. It is my conviction that pure mathematical construction enables us to discover the concepts and the laws connecting them, which gives us the key to understanding nature… In a certain sense, therefore, I hold it true that pure thought can grasp reality, as the ancients dreamed.

— Albert Einstein

Scientific research can reduce superstition by encouraging people to think and survey things in terms of cause and effect. Certain it is that a conviction, akin to religious feeling, of the rationality or intelligibility of the world lies behind all scientific work of a higher order.

— Albert Einstein

The efforts of most human-beings are consumed in the struggle for their daily bread, but most of those who are, either through fortune or some special gift, relieved of this struggle are largely absorbed in further improving their worldly lot. Beneath the effort directed toward the accumulation of worldly goods lies all too frequently the illusion that this is the most substantial and desirable end to be achieved; but there is, fortunately, a minority composed of those who recognize early in their lives that the most beautiful and satisfying experiences open to humankind are not derived from the outside, but are bound up with the development of the individual's own feeling, thinking and acting. The genuine artists, investigators and thinkers have always been persons of this kind. However inconspicuously the life of these individuals runs its course, none the less the fruits of their endeavors are the most valuable contributions which one generation can make to its successors.

— Albert Einstein

The individual feels the futility of human desires and aims and the sublimity and marvelous order which reveal themselves both in nature and in the world of thought. Individual existence impresses him as a sort of prison and he wants to experience the universe as a single significant whole. The beginnings of cosmic religious feeling already appear at an early stage of development, e.g., in many of the Psalms of David and in some of the Prophets. Buddhism, as we have learned especially from the wonderful writings of Schopenhauer, contains a much stronger element of this. The religious geniuses of all ages have been distinguished by this kind of religious feeling, which knows no dogma and no God conceived in man's image; so that there can be no church whose central teachings are based on it. Hence it is precisely among the heretics of every age that we find men who were filled with this highest kind of religious feeling and were in many cases regarded by their contemporaries as atheists, sometimes also as saints. Looked at in this light, men like Democritus, Francis of Assisi, and Spinoza are closely akin to one another.

— Albert Einstein

The individual, if left alone from birth would remain primitive and beast-like in his thoughts and feelings to a degree that we can hardly conceive. The individual is what he is and has the significance that he has not so much in virtue of his individuality, but rather as a member of a great human society, which directs his material and spiritual existence from the cradle to the grave.

— Albert Einstein

The most beautiful and profound experience for a person is the feeling of the mysterious. It underlies religion and all deeper endeavors in art and science. Anyone who has not experienced this appears to me, if not like a dead man, at least like a blind man. To feel that behind the perceptible is hidden something that is incomprehensible, whose beauty and grandeur only reach us indirectly and in a dim reflection—that is religiousness. In that sense I am religious. It is enough for me to sense these secrets with wonder and to try to humbly grasp a faint image of the majestic structure of all things.

— Albert Einstein

The most beautiful emotion we can experience is the mystical. It is the power of all true art and science. He to whom this emotion is a stranger, who can no longer wonder and stand rapt in awe, is as good as dead. To know that what is impenetrable to us really exists, manifesting itself as the highest wisdom and the most radiant beauty, which our dull faculties can comprehend only in their most primitive forms — this knowledge, this feeling, is at the center of true religiousness. In this sense, and in this sense only, I belong to the rank of devoutly religious men.

— Albert Einstein

The really valuable thing in the pageant of human life seems to me not the State but the creative, sentient individual, the personality; it alone creates the noble and the sublime, while the herd as such remains dull in thought and dull in feeling.

— Albert Einstein

There is no logical way to the discovery of these elemental laws. There is only the way of intuition, which is helped by a feeling for the order lying behind the appearance.

— Albert Einstein

These were errors in thinking which caused me two years of hard work before at last, in 1915, I recognised them as such. … The final results appear almost simple; any intelligent undergraduate can understand them without much trouble. But the years of searching in the dark for a truth that one feels, but cannot express; the intense desire and the alternations of confidence and misgiving, until one breaks through to clarity and understanding, are only known to him who has himself experienced them.

— Albert Einstein

We all know, from what we experience with and within ourselves, that our conscious acts spring from our desires and our fears. Intuition tells us that that is true also of our fellows and of the higher animals. We all try to escape pain and death, while we seek what is pleasant. We are all ruled in what we do by impulses; and these impulses are so organized that our actions in general serve for our self preservation and that of the race. Hunger, love, pain, fear are some of those inner forces which rule the individual's instinct for self preservation. At the same time, as social beings, we are moved in the relations with our fellow beings by such feelings as sympathy, pride, hate, need for power, pity, and so on. All these primary impulses, not easily described in words, are the springs of man's actions. All such action would cease if those powerful elemental forces were to cease stirring within us. Though our conduct seems so very different from that of the higher animals, the primary instincts are much alike in them and in us. The most evident difference springs from the important part which is played in man by a relatively strong power of imagination and by the capacity to think, aided as it is by language and other symbolical devices. Thought is the organizing factor in man, intersected between the causal primary instincts and the resulting actions. In that way imagination and intelligence enter into our existence in the part of servants of the primary instincts. But their intervention makes our acts to serve ever less merely the immediate claims of our instincts.

— Albert Einstein

When we survey our lives and endeavours we soon observe that almost the whole of our actions and desires are bound up with the existence of other human beings. We see that our whole nature resembles that of the social animals. We eat food that others have grown, wear clothes that others have made, live in houses that others have built. The greater part of our knowledge and beliefs has been communicated to us by other people through the medium of a language which others have created. Without language our mental capacities would be poor indeed, comparable to those of the higher animals; we have, therefore, to admit that we owe our principal advantage over the beasts to the fact of living in human society. The individual, if left alone from birth would remain primitive and beast-like in his thoughts and feelings to a degree that we can hardly conceive. The individual is what he is and has the significance that he has not so much in virtue of his individuality, but rather as a member of a great human society, which directs his material and spiritual existence from the cradle to the grave.

— Albert Einstein

While religion prescribes brotherly love in the relations among the individuals and groups, the actual spectacle more resembles a battlefield than an orchestra. Everywhere, in economic as well as in political life, the guiding principle is one of ruthless striving for success at the expense of one's fellow men. This competitive spirit prevails even in school and, destroying all feelings of human fraternity and cooperation, conceives of achievement not as derived from the love for productive and thoughtful work, but as springing from personal ambition and fear of rejection.

— Albert Einstein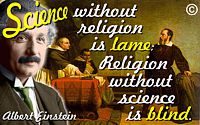 "Galileo Facing the Roman Inquisition," by Christiano Banti.
(source)