(source)

Albert Einstein

(14 Mar 1879 - 18 Apr 1955)




[An outsider views a scientist] as a type of unscrupulous opportunist: he appears as a realist, insofar as he seeks to describe the world independent of the act of perception; as idealist insofar as he looks upon the concepts and theories as the free inventions of the human spirit (not logically derivable from that which is empirically given); as positivist insofar as he considers his concepts and theories justified only to the extent to which they furnish a logical representation of relations among sense experiences. He may even appear as Platonist or Pythagorean insofar as he considers the viewpoint of logical simplicity as an indispensable and effective tool of his research.

— Albert Einstein

[Kepler] had to realize clearly that logical-mathematical theoretizing, no matter how lucid, could not guarantee truth by itself; that the most beautiful logical theory means nothing in natural science without comparison with the exactest experience. Without this philosophic attitude, his work would not have been possible.

— Albert Einstein

[Misquotation? Probably not by Einstein.] We owe a lot to the Indians, who taught us how to count, without which no worthwhile scientific discovery could have been made.

— Albert Einstein

[Newton wrote to Halley … that he would not give Hooke any credit] That, alas, is vanity. You find it in so many scientists. You know, it has always hurt me to think that Galileo did not acknowledge the work of Kepler.

— Albert Einstein

[Almost certainly not by Einstein.] The more I study science, the more I believe in God.

— Albert Einstein

A conflict arises when a religious community insists on the absolute truthfulness of all statements recorded in the Bible. This means an intervention on the part of religion into the sphere of science; this is where the struggle of the Church against the doctrines of Galileo and Darwin belongs. On the other hand, representatives of science have often made an attempt to arrive at fundamental judgments with respect to values and ends on the basis of scientific method, and in this way have set themselves in opposition to religion. These conflicts have all sprung from fatal errors.

— Albert Einstein

A person who is religiously enlightened appears to me to be one who has, to the best of his ability, liberated himself from the fetters of his selfish desires and is preoccupied with thoughts, feelings, and aspirations to which he clings because of their superpersonal value. It seems to me that what is important is the force of this superpersonal content and the depth of the conviction concerning its overpowering meaningfulness, regardless of whether any attempt is made to unite this content with a divine Being, for otherwise it would not be possible to count Buddha and Spinoza as religious personalities. Accordingly, a religious person is devout in the sense that he has no doubt of the significance and loftiness of those superpersonal objects and goals which neither require nor are capable of rational foundation. They exist with the same necessity and matter-of-factness as he himself. In this sense religion is the age-old endeavor of mankind to become clearly and completely conscious of these values and goals and constantly to strengthen and extend their effect. If one conceives of religion and science according to these definitions then a conflict between them appears impossible. For science can only ascertain what is, but not what should be, and outside of its domain value judgments of all kinds remain necessary.

— Albert Einstein

After a certain high level of technical skill is achieved, science and art tend to coalesce in esthetics, plasticity, and form. The greatest scientists are always artists as well.

— Albert Einstein

All great achievements in science start from intuitive knowledge, namely, in axioms, from which deductions are then made. … Intuition is the necessary condition for the discovery of such axioms.

— Albert Einstein

All religions, arts and sciences are branches of the same tree. All these aspirations are directed toward ennobling man's life, lifting it from the sphere of mere physical existence and leading the individual towards freedom.

— Albert Einstein

Anyone who thinks science is trying to make human life easier or more pleasant is utterly mistaken.

— Albert Einstein

But, on the other hand, every one who is seriously involved in the pursuit of science becomes convinced that a spirit is manifest in the laws of the Universe—a spirit vastly superior to that of man, and one in the face of which we with our modest powers must feel humble.

— Albert Einstein

By an application of the theory of relativity to the taste of readers, today in Germany I am called a German man of science, and in England I am represented as a Swiss Jew. If I come to be regarded as a bête noire the descriptions will be reversed, and I shall become a Swiss Jew for the Germans and a German man of science for the English!

— Albert Einstein

Cosmic religiousness is the strongest and most noble driving force of scientific research.

— Albert Einstein

Development of Western science is based on two great achievements: the invention of the formal logical system (in Euclidean geometry) by the Greek philosophers, and the discovery of the possibility to find out causal relationships by systematic experiment (during the Renaissance). In my opinion, one has not to be astonished that the Chinese sages have not made these steps. The astonishing thing is that these discoveries were made at all.

— Albert Einstein

Does there truly exist an insuperable contradiction between religion and science? Can religion be superseded by science? The answers to these questions have, for centuries, given rise to considerable dispute and, indeed, bitter fighting. Yet, in my own mind there can be no doubt that in both cases a dispassionate consideration can only lead to a negative answer. What complicates the solution, however, is the fact that while most people readily agree on what is meant by 'science,' they are likely to differ on the meaning of 'religion.'

— Albert Einstein

Ethical axioms are found and tested not very differently from the axioms of science. Truth is what stands the test of experience.

— Albert Einstein

Even though the realms of religion and science in themselves are clearly marked off from each other, nevertheless there exist between the two strong reciprocal relationships and dependencies. Though religion may be that which determines the goal, it has, nevertheless, learned from science, in the broadest sense, what means will contribute to the attainment of the goals it has set up. But science can only be created by those who are thoroughly imbued with the aspiration toward truth and understanding. This source of feeling, however, springs from the sphere of religion. To this there also belongs the faith in the possibility that the regulations valid for the world of existence are rational, that is, comprehensible to reason. I cannot conceive of a genuine scientist without that profound faith. The situation may be expressed by an image: science without religion is lame, religion without science is blind.

— Albert Einstein

Every serious scientific worker is painfully conscious of this involuntary relegation to an ever-narrowing sphere of knowledge, which threatens to deprive the investigator of his broad horizon and degrades him to the level of a mechanic.

— Albert Einstein

For any one who is pervaded with the sense of causal law in all that happens, who accepts in real earnest the assumption of causality, the idea of a Being who interferes with the sequence of events in the world is absolutely impossible! Neither the religion of fear nor the social-moral religion can have, any hold on him. A God who rewards and punishes is for him unthinkable, because man acts in accordance with an inner and outer necessity, and would, in the eyes of God, be as little responsible as an inanimate object is for the movements which it makes. Science, in consequence, has been accused of undermining morals—but wrongly. The ethical behavior of man is better based on sympathy, education and social relationships, and requires no support from religion. Man's plight would, indeed, be sad if he had to be kept in order through fear of punishment and hope of rewards after death.

— Albert Einstein

For scientific endeavor is a natural whole the parts of which mutually support one another in a way which, to be sure, no one can anticipate.

— Albert Einstein

Fortunate Newton, happy childhood of science! … In one person he combined the experimenter, the theorist, the mechanic—and, not least, the artist in exposition. He stands before us strong, certain, and alone: his joy in creation and his minute precision are evident in every word and in every figure.

— Albert Einstein

Here arises a puzzle that has disturbed scientists of all periods. How can it be that mathematics, being after all a product of human thought which is independent of experience, is so admirably appropriate to the objects of reality? Is human reason, then, without experience, merely by taking thought, able to fathom the properties of real things?

— Albert Einstein

How can cosmic religious feeling be communicated from one person to another, if it can give rise to no definite notion of a God and no theology? In my view, it is the most important function of art and science to awaken this feeling and keep it alive in those who are receptive to it.

— Albert Einstein

How does it happen that a properly endowed natural scientist comes to concern himself with epistemology?

— Albert Einstein

However, all scientific statements and laws have one characteristic in common: they are "true or false" (adequate or inadequate). Roughly speaking, our reaction to them is "yes" or "no." The scientific way of thinking has a further characteristic. The concepts which it uses to build up its coherent systems are not expressing emotions. For the scientist, there is only "being," but no wishing, no valuing, no good, no evil; no goal. As long as we remain within the realm of science proper, we can never meet with a sentence of the type: "Thou shalt not lie." There is something like a Puritan's restraint in the scientist who seeks truth: he keeps away from everything voluntaristic or emotional.

— Albert Einstein

I agree with Schopenhauer that one of the most powerful motives that attracts people to science and art is the longing to escape from everyday life.

— Albert Einstein

I am quite aware that we have just now lightheartedly expelled in imagination many excellent men who are largely, perhaps chiefly, responsible for the buildings of the temple of science; and in many cases our angel would find it a pretty ticklish job to decide. But of one thing I feel sure: if the types we have just expelled were the only types there were, the temple would never have come to be, any more than a forest can grow which consists of nothing but creepers. For these people any sphere of human activity will do, if it comes to a point; whether they become engineers, officers, tradesmen, or scientists depends on circumstances.

— Albert Einstein

I assert that the cosmic religious experience is the strongest and the noblest driving force behind scientific research.

— Albert Einstein

I believe in intuition and inspiration. Imagination is more important than knowledge. For knowledge is limited, whereas imagination embraces the entire world, stimulating progress, giving birth to evolution. It is, strictly speaking, a real factor in scientific research.

— Albert Einstein

I believe with Schopenhauer that one of the strongest motives that lead men to art and science is escape from everyday life with its painful crudity and hopeless dreariness, from the fetters of one's own ever shifting desires. A finely tempered nature longs to escape from personal life into the world of objective perception and thought; this desire may be compared with the townsman's irresistible longing to escape from his noisy, cramped surroundings into the silence of high mountains, where the eye ranges freely through the still, pure air and fondly traces out the restful contours apparently built for eternity.

— Albert Einstein

I do not believe that a moral philosophy can ever be founded on a scientific basis. … The valuation of life and all its nobler expressions can only come out of the soul's yearning toward its own destiny. Every attempt to reduce ethics to scientific formulas must fail. Of that I am perfectly convinced.

— Albert Einstein

I have always eaten animal flesh with a somewhat guilty conscience.

— Albert Einstein

I have found no better expression than 'religious' for confidence in the rational nature of reality, insofar as it is accessible to human reason. Whenever this feeling is absent, science degenerates into uninspired empiricism.

— Albert Einstein

I have little patience with scientists who take a board of wood, look for its thinnest part and drill a great number of holes where drilling is easy.

— Albert Einstein

I have never looked upon ease and happiness as ends in themselves–this critical basis I call the ideal of a pigsty. The ideals that have lighted my way, and time after time have given me new courage to face life cheerfully, have been Kindness, Beauty, and Truth. Without the sense of kinship with men of like mind, without the occupation with the objective world, the eternally unattainable in the field of art and scientific endeavors, life would have seemed empty to me. The trite objects of human efforts–possessions, outward success, luxury–have always seemed to me contemptible.

— Albert Einstein

If I would be a young man again and had to decide how to make my living, I would not try to become a scientist or scholar or teacher. I would rather choose to be a plumber or a peddler in the hope to find that modest degree of independence still available under present circumstances.

— Albert Einstein

If we consider that part of the theory of relativity which may nowadays in a sense be regarded as bone fide scientific knowledge, we note two aspects which have a major bearing on this theory. The whole development of the theory turns on the question of whether there are physically preferred states of motion in Nature (physical relativity problem). Also, concepts and distinctions are only admissible to the extent that observable facts can be assigned to them without ambiguity (stipulation that concepts and distinctions should have meaning). This postulate, pertaining to epistemology, proves to be of fundamental importance.

— Albert Einstein

In my opinion it is not right to bring politics into scientific matters, nor should individuals be held responsible for the government of the country to which they happen to belong.

— Albert Einstein

In the temple of science are many mansions, and various indeed are they that dwell therein and the motives that have led them thither. Many take to science out of a joyful sense of superior intellectual power; science is their own special sport to which they look for vivid experience and the satisfaction of ambition; many others are to be found in the temple who have offered the products of their brains on this altar for purely utilitarian purposes. Were an angel of the Lord to come and drive all the people belonging to these two categories out of the temple, the assemblage would be seriously depleted, but there would still be some men, of both present and past times, left inside. Our Planck is one of them, and that is why we love him.

— Albert Einstein

It has often been said, and certainly not without justification, that the man of science is a poor philosopher. Why then should it not be the right thing for the physicist to let the philosopher do the philosophising? Such might indeed be the right thing to do a time when the physicist believes he has at his disposal a rigid system of fundamental laws which are so well that waves of doubt can't reach them; but it cannot be right at a time when the very foundations of physics itself have become problematic as they are now … when experience forces us to seek a newer and more solid foundation.

— Albert Einstein

It is difficult even to attach a precise meaning to the term "scientific truth." So different is the meaning of the word "truth" according to whether we are dealing with a fact of experience, a mathematical proposition or a scientific theory. "Religious truth" conveys nothing clear to me at all.

— Albert Einstein

It is mathematics that offers the exact natural sciences a certain measure of security which, without mathematics, they could not attain.

— Albert Einstein

It is not enough that you should understand about applied science in order that your work may increase man's blessings. Concern for man himself and his fate must always form the chief interest of all technical endeavours... in order that the creations of our minds shall be a blessing and not a curse to mankind. Never forget this in the midst of your diagrams and equations.

— Albert Einstein

It is not the fruits of scientific research that elevate man and enrich his nature but the urge to understand, the intellectual work, creative or receptive.

— Albert Einstein

It is therefore easy to see why the churches have always fought science and persecuted its devotees. On the other hand, I maintain that the cosmic religious feeling is the strongest and noblest motive for scientific research. Only those who realize the immense efforts and, above all, the devotion without which pioneer work in theoretical science cannot be achieved are able to grasp the strength of the emotion out of which alone such work, remote as it is from the immediate realities of life, can issue. What a deep conviction of the rationality of the universe and what a yearning to understand, were it but a feeble reflection of the mind revealed in this world, Kepler and Newton must have had to enable them to spend years of solitary labor in disentangling the principles of celestial mechanics! Those whose acquaintance with scientific research is derived chiefly from its practical results easily develop a completely false notion of the mentality of the men who, surrounded by a skeptical world, have shown the way to kindred spirits scattered wide through the world and through the centuries. Only one who has devoted his life to similar ends can have a vivid realization of what has inspired these men and given them the strength to remain true to their purpose in spite of countless failures. It is cosmic religious feeling that gives a man such strength. A contemporary has said, not unjustly, that in this materialistic age of ours the serious scientific workers are the only profoundly religious people.

— Albert Einstein

It is this mythical, or rather this symbolic, content of the religious traditions which is likely to come into conflict with science. This occurs whenever this religious stock of ideas contains dogmatically fixed statements on subjects which be long in the domain of science. Thus, it is of vital importance for the preservation of true religion that such conflicts be avoided when they arise from subjects which, in fact, are not really essential for the pursuance of the religious aims.

— Albert Einstein

It stands to the everlasting credit of science that by acting on the human mind it has overcome man's insecurity before himself and before nature.

— Albert Einstein

It was my good fortune to be linked with Mme. Curie through twenty years of sublime and unclouded friendship. I came to admire her human grandeur to an ever growing degree. Her strength, her purity of will, her austerity toward herself, her objectivity, her incorruptible judgement—all these were of a kind seldom found joined in a single individual… The greatest scientific deed of her life—proving the existence of radioactive elements and isolating them—owes its accomplishment not merely to bold intuition but to a devotion and tenacity in execution under the most extreme hardships imaginable, such as the history of experimental science has not often witnessed.

— Albert Einstein

It was, of course, a lie what you read about my religious convictions, a lie which is being systematically repeated. I do not believe in a personal God and I have never denied this but have expressed it clearly. If something is in me which can be called religious then it is the unbounded admiration for the structure of the world so far as our science can reveal it.

— Albert Einstein

It would be possible to describe absolutely everything scientifically, but it would make no sense. It would be without meaning, as if you described a Beethoven symphony as a variation of wave pressure.

— Albert Einstein

It would not be difficult to come to an agreement as to what we understand by science. Science is the century-old endeavor to bring together by means of systematic thought the perceptible phenomena of this world into as thoroughgoing an association as possible. To put it boldly, it is the attempt at the posterior reconstruction of existence by the process of conceptualization. But when asking myself what religion is I cannot think of the answer so easily. And even after finding an answer which may satisfy me at this particular moment, I still remain convinced that I can never under any circumstances bring together, even to a slight extent, the thoughts of all those who have given this question serious consideration.

— Albert Einstein

Man tries to make for himself in the fashion that suits him best a simplified and intelligible picture of the world; he then tries to some extent to substitute this cosmos of his for the world of experience, and thus to overcome it. This is what the painter, the poet, the speculative philosopher, and the natural scientist do, each in his own fashion. Each makes this cosmos and its construction the pivot of his emotional life, in order to find in this way the peace and security which he cannot find in the narrow whirlpool of personal experience.

— Albert Einstein

May the conscience and the common sense of the peoples be awakened, so that we may reach a new stage in the life of nations, where people will look back on war as an incomprehensible aberration of their forefathers!

— Albert Einstein

Most of the fundamental ideas of science are essentially simple, and may, as a rule, be expressed in a language comprehensible to everyone.
Co-authored with Leopold Infeld.

— Albert Einstein

My scientific work is motivated by an irresistible longing to understand the secrets of nature and by no other feeling. My love for justice and striving to contribute towards the improvement of human conditions are quite independent from my scientific interests.

— Albert Einstein

Never do anything against conscience even if the state demands it.

— Albert Einstein

One of the strongest motives that lead men to art and science is escape from everyday life with its painful crudity and hopeless dreariness, from the fetters of one's own ever-shifting desires. A finely tempered nature longs to escape from the personal life into the world of objective perception and thought.

— Albert Einstein

One ought to be ashamed to make use of the wonders of science embodied in a radio set, while appreciating them as little as a cow appreciates the botanical marvels in the plant she munches.

— Albert Einstein

One reason why mathematics enjoys special esteem, above all other sciences, is that its laws are absolutely certain and indisputable, while those of other sciences are to some extent debatable and in constant danger of being overthrown by newly discovered facts.

— Albert Einstein

One scientific epoch ended and another began with James Clerk Maxwell.

— Albert Einstein

One thing I have learned in a long life: that all our science, measured against reality, is primitive and childlike—and yet is the most precious thing we have.

— Albert Einstein

Our defense is not in our armaments, nor in science, nor in going underground. Our defense is in law and order.

— Albert Einstein

Our time is distinguished by wonderful achievements in the fields of scientific understanding and the technical application of those insights. Who would not be cheered by this? But let us not forget that human knowledge and skills alone cannot lead humanity to a happy and dignified life. Humanity has every reason to place the proclaimers of high moral standards and values above the discoverers of objective truth. What humanity owes to personalities like Buddha, Moses, and Jesus ranks for me higher than all the achievements of the inquiring constructive mind.

— Albert Einstein

Our world faces a crisis as yet unperceived by those possessing power to make great decisions for good or evil. The unleashed power of the atom has changed everything save our modes of thinking and we thus drift toward unparalleled catastrophe. We scientists who released this immense power have an overwhelming responsibility in this world life-and-death struggle to harness the atom for the benefit of mankind and not for humanity's destruction. … We need two hundred thousand dollars at once for a nation-wide campaign to let people know that a new type of thinking is essential if mankind is to survive and move toward higher levels. This appeal is sent to you only after long consideration of the immense crisis we face. … We ask your help at this fateful moment as a sign that we scientists do not stand alone.

— Albert Einstein

Responsibility lies with those who make use of these new tools and not with those who contribute to the progress of knowledge: therefore, with the politicians, not with the scientists.

— Albert Einstein

Science can progress on the basis of error as long as it is not trivial.

— Albert Einstein

Science has gone a long way toward helping man to free himself from the burden of hard labor; yet, science itself is not a liberator. It creates means, not goals. It is up to men to utilize those means to achieve reasonable goals.

— Albert Einstein

Science is a wonderful thing if one does not have to earn one's living at it. One should earn one's living by work of which one is sure one is capable. Only when we do not have to be accountable to anybody can we find joy in scientific endeavor.

— Albert Einstein

Science is the attempt to make the chaotic diversity of our sense-experience correspond to a logically uniform system of thought.

— Albert Einstein

Science is, according to Mach, nothing but the comparison and orderly arrangement of factually given contents of our consciousness, in accord with certain gradually acquired points of view and methods. Therefore, physics and psychology differ from each other not so much in the subject matter, but rather only in the points of view of the arrangement and connection of the various topics.

— Albert Einstein

Science not only purifies the religious impulse of the dross of its anthropomorphism but also contributes to a religious spiritualization of our understanding of life.

— Albert Einstein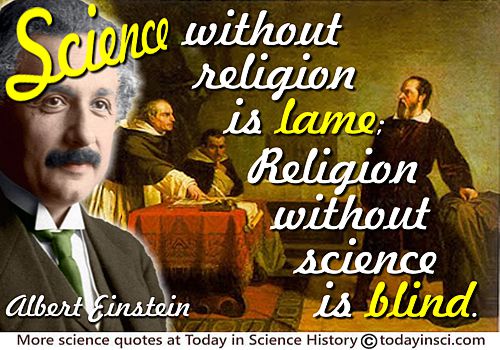 "Galileo Facing the Roman Inquisition," by Christiano Banti.
(source)
Science without religion is lame; religion without science is blind.

— Albert Einstein

Science, in the immediate, produces knowledge and, indirectly, means of action. It leads to methodical action if definite goals are set up in advance. For the function of setting up goals and passing statements of value transcends its domain. While it is true that science, to the extent of its grasp of causative connections, may reach important conclusions as to the compatibility and incompatibility of goals and evaluations, the independent and fundamental definitions regarding goals and values remain beyond science's reach.

— Albert Einstein

Scientific research can reduce superstition by encouraging people to think and survey things in terms of cause and effect. Certain it is that a conviction, akin to religious feeling, of the rationality or intelligibility of the world lies behind all scientific work of a higher order.

— Albert Einstein

Scientific research is based on the idea that everything that takes place is determined by laws of nature, and therefore this holds for the actions of people. For this reason, a research scientist will hardly be inclined to believe that events could be influenced by a prayer, i.e. by a wish addressed to a supernatural Being.
However, it must be admitted that our actual knowledge of these laws is only imperfect and fragmentary, so that, actually, the belief in the existence of basic all-embracing laws in Nature also rests on a sort of faith. All the same this faith has been largely justified so far by the success of scientific research.

— Albert Einstein

So many people today–and even professional scientists–seem to me like someone who has seen thousands of trees but has never seen a forest . A knowledge of the historic and philosophical background gives that kind of independence from prejudices of his generation from which most scientists are suffering. This independence created by philosophical insight is–in my opinion–the mark of distinction between a mere artisan or specialist and a real seeker after truth.

— Albert Einstein

Sufficient knowledge and a solid background in the basic sciences are essential for all medical students. But that is not enough. A physician is not only a scientist or a good technician. He must be more than that—he must have good human qualities. He has to have a personal understanding and sympathy for the suffering of human beings.

— Albert Einstein

The aim of science is, on the one hand, as complete a comprehension as possible of the connection between perceptible experiences in their totality, and, on the other hand, the achievement of this aim by employing a minimum of primary concepts and relations.

— Albert Einstein

The creative scientist studies nature with the rapt gaze of the lover, and is guided as often by aesthetics as by rational considerations in guessing how nature works.

— Albert Einstein

The fairest thing we can experience is the mysterious. It is the fundamental emotion which stands at the cradle of true art and true science. He who knows it not and can no longer wonder, no longer feel amazement, is as good as dead, a snuffed-out candle. It was the experience of mystery–even if mixed with fear–that engendered religion. A knowledge of the existence of something we cannot penetrate, of the manifestations of the profoundest reason and the most radiant beauty, which are only accessible to our reason in their most elementary forms–it is this knowledge and this emotion that constitute the truly religious attitude; in this sense, and in this alone, I am a deeply religious man.

— Albert Einstein

The finest emotion of which we are capable is the mystic emotion. Herein lies the germ of all art and all true science.

— Albert Einstein

The formulation of a problem is often more essential than its solution, which may be merely a matter of mathematical or experimental skill. To raise new questions, new possibilities, to regard old problems from a new angle requires creative imagination and marks real advances in science.

— Albert Einstein

The grand aim of all science is to cover the greatest number of empirical facts by logical deduction from the smallest possible number of hypotheses or axioms.

— Albert Einstein

The main source of the present-day conflicts between the spheres of religion and of science lies in this concept of a personal God.

— Albert Einstein

The man who is thoroughly convinced of the universal operation of the law of causation cannot for a moment entertain the idea of a being who interferes in the course of events–provided, of course, that he takes the hypothesis of causality really seriously. He has no use for the religion of fear and equally little for social or moral religion. A God who rewards and punishes is inconceivable to him for the simple reason that a man's actions are determined by necessity, external and internal, so that in God's eyes he cannot be responsible, any more than an inanimate object is responsible for the motions it undergoes. Science has therefore been charged with undermining morality, but the charge is unjust. A man's ethical behavior should be based effectually on sympathy, education, and social ties and needs; no religious basis is necessary. Man would indeed be in a poor way if he had to be restrained by fear of punishment and hopes of reward after death.

— Albert Einstein

The more a man is imbued with the ordered regularity of all events the firmer becomes his conviction that there is no room left by the side of this ordered regularity for causes of a different nature. For him neither the rule of human nor the rule of divine will exists as an independent cause of natural events. To be sure, the doctrine of a personal God interfering with natural events could never be refuted, in the real sense, by science, for this doctrine can always take refuge in those domains in which scientific knowledge has not yet been able to set foot.

— Albert Einstein

The most beautiful and deepest experience a man can have is the sense of the mysterious. It is the underlying principle of religion as well as all serious endeavour in art and science. He who never had this experience seems to me, if not dead, then at least blind. To sense that behind anything that can be experienced there is a something that our mind cannot grasp and whose beauty and sublimity reaches us only indirectly and as a feeble reflection, this is religiousness.

— Albert Einstein

The most beautiful and profound experience for a person is the feeling of the mysterious. It underlies religion and all deeper endeavors in art and science. Anyone who has not experienced this appears to me, if not like a dead man, at least like a blind man. To feel that behind the perceptible is hidden something that is incomprehensible, whose beauty and grandeur only reach us indirectly and in a dim reflection—that is religiousness. In that sense I am religious. It is enough for me to sense these secrets with wonder and to try to humbly grasp a faint image of the majestic structure of all things.

— Albert Einstein

The most beautiful emotion we can experience is the mystical. It is the power of all true art and science. He to whom this emotion is a stranger, who can no longer wonder and stand rapt in awe, is as good as dead. To know that what is impenetrable to us really exists, manifesting itself as the highest wisdom and the most radiant beauty, which our dull faculties can comprehend only in their most primitive forms — this knowledge, this feeling, is at the center of true religiousness. In this sense, and in this sense only, I belong to the rank of devoutly religious men.

— Albert Einstein

The most beautiful thing we can experience is the mysterious. It is the source of all true art and science. He to whom this emotion is a stranger, who can no longer pause to wonder and stand rapt in awe, is as good as dead: his eyes are closed.

— Albert Einstein

The physicist cannot simply surrender to the philosopher the critical contemplation of the theoretical foundations for he himself knows best and feels most surely where the shoe pinches. … he must try to make clear in his own mind just how far the concepts which he uses are justified … The whole of science is nothing more than a refinement of everyday thinking. It is for this reason that the critical thinking of the physicist cannot possibly be restricted by the examination of the concepts of his own specific field. He cannot proceed without considering critically a much more difficult problem, the problem of analyzing the nature of everyday thinking.

— Albert Einstein

The process of scientific discovery is, in effect, a continual flight from wonder.

— Albert Einstein

The reciprocal relationship of epistemology and science is of noteworthy kind. They are dependent on each other. Epistemology without contact with science becomes an empty scheme. Science without epistemology is–insofar as it is thinkable at all–primitive and muddled.

— Albert Einstein

The scientific theorist is not to be envied. For Nature, or more precisely experiment, is an inexorable and not very friendly judge of his work. It never says "Yes" to a theory. In the most favorable cases it says "Maybe," and in the great majority of cases simply "No." If an experiment agrees with a theory it means for the latter "Maybe," and if it does not agree it means "No." Probably every theory will someday experience its "No"—most theories, soon after conception.

— Albert Einstein

The state exists for man, not man for the state. The same may be said of science. These are old phrases, coined by people who saw in human individuality the highest human value. I would hesitate to repeat them, were it not for the ever recurring danger that they may be forgotten, especially in these days of organization and stereotypes.

— Albert Einstein

The state is made for man, not man for the state. And in this respect science resembles the state.

— Albert Einstein

The whole of science is nothing more than a refinement of everyday thinking.

— Albert Einstein

There exists a passion for comprehension, just as there exists a passion for music. That passion is rather common in children but gets lost in most people later on. Without this passion, there would be neither mathematics nor natural science.

— Albert Einstein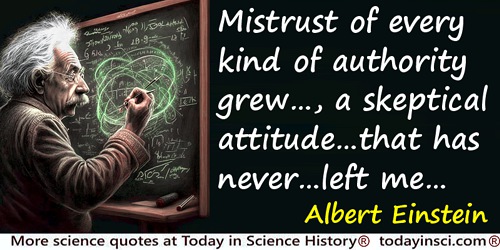 Through the reading of popular scientific books I soon reached the conviction that much in the stories of the Bible could not be true. The consequence was a positively fanatic [orgy of] freethinking coupled with the impression that youth is intentionally being deceived by the state through lies; it was a crushing impression. Mistrust of every kind of authority grew out of this experience, a skeptical attitude toward the convictions that were alive in any specific social environment–an attitude that has never again left me, even though, later on, it has been tempered by a better insight into the causal connections.

— Albert Einstein

Two years ago 1 tried to appeal to Rockefeller's conscience about the absurd method of allocating grants, unfortunately without success. Bohr has now gone to see him, in an attempt to persuade him to take some action on behalf of the exiled German scientists.

— Albert Einstein

We reverence ancient Greece as the cradle of western science. Here for the first time the world witnessed the miracle of a logical system which proceeded from step to step with such precision that every single one of its propositions was absolutely indubitable—I refer to Euclid's geometry. This admirable triumph of reasoning gave the human intellect the necessary confidence in itself for its subsequent achievements. If Euclid failed to kindle your youthful enthusiasm, then you were not born to be a scientific thinker.

— Albert Einstein

We scientists, whose tragic destiny it has been to help make the methods of annihilation ever more gruesome and more effective, must consider it our solemn and transcendent duty to do all in our power to prevent these weapons from being used for the brutal purpose for which they were invented.

— Albert Einstein

What distinguishes the language of science from language as we ordinarily understand the word? … What science strives for is an utmost acuteness and clarity of concepts as regards their mutual relation and their correspondence to sensory data.

— Albert Einstein

When men are engaged in war and conquest, the tools of science become as dangerous as a razor in the hands of a child of three. We must not condemn man because his inventiveness and patient conquest of the forces of nature are being exploited for false and destructive purposes. Rather, we should remember that the fate of mankind hinges entirely upon man's moral development.

— Albert Einstein

When the number of factors coming into play in a phenomenological complex is too large, scientific method in most cases fails us. One need only think of the weather, in which case prediction even for a few days ahead is impossible. Nevertheless no one doubts that we are confronted with a causal connection whose causal components are in the main known to us.

— Albert Einstein

When the solution is simple, God is answering. Where the world ceases to be the scene of our personal hopes and wishes, where we face it as free beings admiring, asking and observing, there we enter the realm of Art and Science.

— Albert Einstein

Where the world ceases to be the scene of our personal hopes and wishes, where we face it as free beings admiring, asking and observing, there we enter the realm of Art and Science. If what is seen is seen and experienced is portrayed in the language of logic, we are engaged in science. If it is communicated through forms whose connections are not accessible to the conscious mind but are recognized intuitively as meaningful, then we are engaged in art.

— Albert Einstein

While it is true that scientific results are entirely independent from religious and moral considerations, those individuals to whom we owe the great creative achievements of science were all of them imbued with the truly religious conviction that this universe of ours is something perfect and susceptible to the rational striving for knowledge. If this conviction had not been a strongly emotional one and if those searching for knowledge had not been inspired by Spinoza's Amor Dei Intellectualis, they would hardly have been capable of that untiring devotion which alone enables man to attain his greatest achievements.

— Albert Einstein

Whoever has undergone the intense experience of successful advances made in [science], is moved by profound reverence for the rationality made manifest in existence.

— Albert Einstein

Why does this magnificent applied science which saves work and makes life easier bring us so little happiness? … The simple answer runs: "Because we have not yet learned to make sensible use of it."

— Albert Einstein

Working on the final formulation of technological patents was a veritable blessing for me. It enforced many-sided thinking and also provided important stimuli to physical thought. Academia places a young person under a kind of compulsion to produce impressive quantities of scientific publications–a temptation to superficiality.

— Albert Einstein