(source)

Albert Einstein

(14 Mar 1879 - 18 Apr 1955)




[Almost certainly not by Einstein.] The more I study science, the more I believe in God.

— Albert Einstein

All religions, arts and sciences are branches of the same tree. All these aspirations are directed toward ennobling man's life, lifting it from the sphere of mere physical existence and leading the individual towards freedom.

— Albert Einstein

Anyone who thinks science is trying to make human life easier or more pleasant is utterly mistaken.

— Albert Einstein

But, on the other hand, every one who is seriously involved in the pursuit of science becomes convinced that a spirit is manifest in the laws of the Universe—a spirit vastly superior to that of man, and one in the face of which we with our modest powers must feel humble.

— Albert Einstein

By an application of the theory of relativity to the taste of readers, today in Germany I am called a German man of science, and in England I am represented as a Swiss Jew. If I come to be regarded as a bête noire the descriptions will be reversed, and I shall become a Swiss Jew for the Germans and a German man of science for the English!

— Albert Einstein

Development of Western science is based on two great achievements: the invention of the formal logical system (in Euclidean geometry) by the Greek philosophers, and the discovery of the possibility to find out causal relationships by systematic experiment (during the Renaissance). In my opinion, one has not to be astonished that the Chinese sages have not made these steps. The astonishing thing is that these discoveries were made at all.

— Albert Einstein

Even though the realms of religion and science in themselves are clearly marked off from each other, nevertheless there exist between the two strong reciprocal relationships and dependencies. Though religion may be that which determines the goal, it has, nevertheless, learned from science, in the broadest sense, what means will contribute to the attainment of the goals it has set up. But science can only be created by those who are thoroughly imbued with the aspiration toward truth and understanding. This source of feeling, however, springs from the sphere of religion. To this there also belongs the faith in the possibility that the regulations valid for the world of existence are rational, that is, comprehensible to reason. I cannot conceive of a genuine scientist without that profound faith. The situation may be expressed by an image: science without religion is lame, religion without science is blind.

— Albert Einstein

Here arises a puzzle that has disturbed scientists of all periods. How can it be that mathematics, being after all a product of human thought which is independent of experience, is so admirably appropriate to the objects of reality? Is human reason, then, without experience, merely by taking thought, able to fathom the properties of real things?

— Albert Einstein

However, all scientific statements and laws have one characteristic in common: they are "true or false" (adequate or inadequate). Roughly speaking, our reaction to them is "yes" or "no." The scientific way of thinking has a further characteristic. The concepts which it uses to build up its coherent systems are not expressing emotions. For the scientist, there is only "being," but no wishing, no valuing, no good, no evil; no goal. As long as we remain within the realm of science proper, we can never meet with a sentence of the type: "Thou shalt not lie." There is something like a Puritan's restraint in the scientist who seeks truth: he keeps away from everything voluntaristic or emotional.

— Albert Einstein

I agree with Schopenhauer that one of the most powerful motives that attracts people to science and art is the longing to escape from everyday life.

— Albert Einstein

I believe in intuition and inspiration. Imagination is more important than knowledge. For knowledge is limited, whereas imagination embraces the entire world, stimulating progress, giving birth to evolution. It is, strictly speaking, a real factor in scientific research.

— Albert Einstein

I believe with Schopenhauer that one of the strongest motives that lead men to art and science is escape from everyday life with its painful crudity and hopeless dreariness, from the fetters of one's own ever shifting desires. A finely tempered nature longs to escape from personal life into the world of objective perception and thought; this desire may be compared with the townsman's irresistible longing to escape from his noisy, cramped surroundings into the silence of high mountains, where the eye ranges freely through the still, pure air and fondly traces out the restful contours apparently built for eternity.

— Albert Einstein

I do not believe that a moral philosophy can ever be founded on a scientific basis. … The valuation of life and all its nobler expressions can only come out of the soul's yearning toward its own destiny. Every attempt to reduce ethics to scientific formulas must fail. Of that I am perfectly convinced.

— Albert Einstein

I have always eaten animal flesh with a somewhat guilty conscience.

— Albert Einstein

I have little patience with scientists who take a board of wood, look for its thinnest part and drill a great number of holes where drilling is easy.

— Albert Einstein

If I would be a young man again and had to decide how to make my living, I would not try to become a scientist or scholar or teacher. I would rather choose to be a plumber or a peddler in the hope to find that modest degree of independence still available under present circumstances.

— Albert Einstein

If we consider that part of the theory of relativity which may nowadays in a sense be regarded as bone fide scientific knowledge, we note two aspects which have a major bearing on this theory. The whole development of the theory turns on the question of whether there are physically preferred states of motion in Nature (physical relativity problem). Also, concepts and distinctions are only admissible to the extent that observable facts can be assigned to them without ambiguity (stipulation that concepts and distinctions should have meaning). This postulate, pertaining to epistemology, proves to be of fundamental importance.

— Albert Einstein

In the temple of science are many mansions, and various indeed are they that dwell therein and the motives that have led them thither. Many take to science out of a joyful sense of superior intellectual power; science is their own special sport to which they look for vivid experience and the satisfaction of ambition; many others are to be found in the temple who have offered the products of their brains on this altar for purely utilitarian purposes. Were an angel of the Lord to come and drive all the people belonging to these two categories out of the temple, the assemblage would be seriously depleted, but there would still be some men, of both present and past times, left inside. Our Planck is one of them, and that is why we love him.

— Albert Einstein

It has often been said, and certainly not without justification, that the man of science is a poor philosopher. Why then should it not be the right thing for the physicist to let the philosopher do the philosophising? Such might indeed be the right thing to do a time when the physicist believes he has at his disposal a rigid system of fundamental laws which are so well that waves of doubt can't reach them; but it cannot be right at a time when the very foundations of physics itself have become problematic as they are now … when experience forces us to seek a newer and more solid foundation.

— Albert Einstein

It is difficult even to attach a precise meaning to the term "scientific truth." So different is the meaning of the word "truth" according to whether we are dealing with a fact of experience, a mathematical proposition or a scientific theory. "Religious truth" conveys nothing clear to me at all.

— Albert Einstein

It is not enough that you should understand about applied science in order that your work may increase man's blessings. Concern for man himself and his fate must always form the chief interest of all technical endeavours... in order that the creations of our minds shall be a blessing and not a curse to mankind. Never forget this in the midst of your diagrams and equations.

— Albert Einstein

It stands to the everlasting credit of science that by acting on the human mind it has overcome man's insecurity before himself and before nature.

— Albert Einstein

It was my good fortune to be linked with Mme. Curie through twenty years of sublime and unclouded friendship. I came to admire her human grandeur to an ever growing degree. Her strength, her purity of will, her austerity toward herself, her objectivity, her incorruptible judgement— all these were of a kind seldom found joined in a single individual... The greatest scientific deed of her life—proving the existence of radioactive elements and isolating them—owes its accomplishment not merely to bold intuition but to a devotion and tenacity in execution under the most extreme hardships imaginable, such as the history of experimental science has not often witnessed.

— Albert Einstein

It was, of course, a lie what you read about my religious convictions, a lie which is being systematically repeated. I do not believe in a personal God and I have never denied this but have expressed it clearly. If something is in me which can be called religious then it is the unbounded admiration for the structure of the world so far as our science can reveal it.

— Albert Einstein

It would be possible to describe absolutely everything scientifically, but it would make no sense. It would be without meaning, as if you described a Beethoven symphony as a variation of wave pressure.

— Albert Einstein

Man tries to make for himself in the fashion that suits him best a simplified and intelligible picture of the world; he then tries to some extent to substitute this cosmos of his for the world of experience, and thus to overcome it. This is what the painter, the poet, the speculative philosopher, and the natural scientist do, each in his own fashion. Each makes this cosmos and its construction the pivot of his emotional life, in order to find in this way the peace and security which he cannot find in the narrow whirlpool of personal experience.

— Albert Einstein

Most of the fundamental ideas of science are essentially simple, and may, as a rule, be expressed in a language comprehensible to everyone.
Co-authored with Leopold Infeld.

— Albert Einstein

My scientific work is motivated by an irresistible longing to understand the secrets of nature and by no other feeling. My love for justice and striving to contribute towards the improvement of human conditions are quite independent from my scientific interests.

— Albert Einstein

One of the strongest motives that lead men to art and science is escape from everyday life with its painful crudity and hopeless dreariness, from the fetters of one's own ever-shifting desires. A finely tempered nature longs to escape from the personal life into the world of objective perception and thought.

— Albert Einstein

One scientific epoch ended and another began with James Clerk Maxwell.

— Albert Einstein

One thing I have learned in a long life: that all our science, measured against reality, is primitive and childlike—and yet is the most precious thing we have.

— Albert Einstein

Science has gone a long way toward helping man to free himself from the burden of hard labor; yet, science itself is not a liberator. It creates means, not goals. It is up to men to utilize those means to achieve reasonable goals.

— Albert Einstein

Science is a wonderful thing if one does not have to earn one's living at it. One should earn one's living by work of which one is sure one is capable. Only when we do not have to be accountable to anybody can we find joy in scientific endeavor.

— Albert Einstein

Science is the attempt to make the chaotic diversity of our sense-experience correspond to a logically uniform system of thought.

— Albert Einstein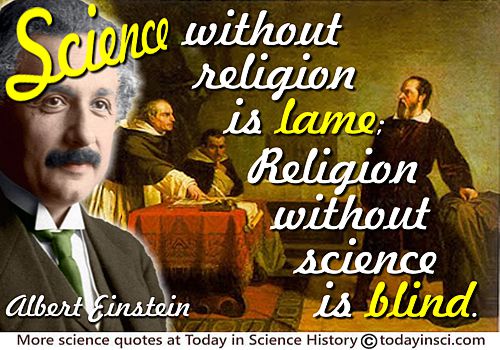 "Galileo Facing the Roman Inquisition," by Christiano Banti.
(source)
Science without religion is lame; religion without science is blind.

— Albert Einstein

Scientific research can reduce superstition by encouraging people to think and survey things in terms of cause and effect. Certain it is that a conviction, akin to religious feeling, of the rationality or intelligibility of the world lies behind all scientific work of a higher order.

— Albert Einstein

Scientific research is based on the idea that everything that takes place is determined by laws of nature, and therefore this holds for the actions of people. For this reason, a research scientist will hardly be inclined to believe that events could be influenced by a prayer, i.e. by a wish addressed to a supernatural Being.
However, it must be admitted that our actual knowledge of these laws is only imperfect and fragmentary, so that, actually, the belief in the existence of basic all-embracing laws in Nature also rests on a sort of faith. All the same this faith has been largely justified so far by the success of scientific research.

— Albert Einstein

The aim of science is, on the one hand, as complete a comprehension as possible of the connection between perceptible experiences in their totality, and, on the other hand, the achievement of this aim by employing a minimum of primary concepts and relations.

— Albert Einstein

The fairest thing we can experience is the mysterious. It is the fundamental emotion which stands at the cradle of true art and true science. He who knows it not and can no longer wonder, no longer feel amazement, is as good as dead, a snuffed-out candle. It was the experience of mystery–even if mixed with fear–that engendered religion. A knowledge of the existence of something we cannot penetrate, of the manifestations of the profoundest reason and the most radiant beauty, which are only accessible to our reason in their most elementary forms–it is this knowledge and this emotion that constitute the truly religious attitude; in this sense, and in this alone, I am a deeply religious man.

— Albert Einstein

The formulation of a problem is often more essential than its solution, which may be merely a matter of mathematical or experimental skill. To raise new questions, new possibilities, to regard old problems from a new angle requires creative imagination and marks real advances in science.

— Albert Einstein

The grand aim of all science is to cover the greatest number of empirical facts by logical deduction from the smallest possible number of hypotheses or axioms.

— Albert Einstein

The most beautiful emotion we can experience is the mystical. It is the power of all true art and science. He to whom this emotion is a stranger, who can no longer wonder and stand rapt in awe, is as good as dead. To know that what is impenetrable to us really exists, manifesting itself as the highest wisdom and the most radiant beauty, which our dull faculties can comprehend only in their most primitive forms — this knowledge, this feeling, is at the center of true religiousness. In this sense, and in this sense only, I belong to the rank of devoutly religious men.

— Albert Einstein

The most beautiful thing we can experience is the mysterious. It is the source of all true art and science. He to whom this emotion is a stranger, who can no longer pause to wonder and stand rapt in awe, is as good as dead: his eyes are closed.

— Albert Einstein

The physicist cannot simply surrender to the philosopher the critical contemplation of the theoretical foundations for he himself knows best and feels most surely where the shoe pinches. … he must try to make clear in his own mind just how far the concepts which he uses are justified … The whole of science is nothing more than a refinement of everyday thinking.

— Albert Einstein

The reciprocal relationship of epistemology and science is of noteworthy kind. They are dependent on each other. Epistemology without contact with science becomes an empty scheme. Science without epistemology is–insofar as it is thinkable at all–primitive and muddled.

— Albert Einstein

The whole of science is nothing more than a refinement of everyday thinking.

— Albert Einstein

There exists a passion for comprehension, just as there exists a passion for music. That passion is rather common in children but gets lost in most people later on. Without this passion, there would be neither mathematics nor natural science.

— Albert Einstein

Two years ago 1 tried to appeal to Rockefeller's conscience about the absurd method of allocating grants, unfortunately without success. Bohr has now gone to see him, in an attempt to persuade him to take some action on behalf of the exiled German scientists.

— Albert Einstein

We reverence ancient Greece as the cradle of western science. Here for the first time the world witnessed the miracle of a logical system which proceeded from step to step with such precision that every single one of its propositions was absolutely indubitable—I refer to Euclid's geometry. This admirable triumph of reasoning gave the human intellect the necessary confidence in itself for its subsequent achievements. If Euclid failed to kindle your youthful enthusiasm, then you were not born to be a scientific thinker.

— Albert Einstein

What distinguishes the language of science from language as we ordinarily understand the word? … What science strives for is an utmost acuteness and clarity of concepts as regards their mutual relation and their correspondence to sensory data.

— Albert Einstein

When men are engaged in war and conquest, the tools of science become as dangerous as a razor in the hands of a child of three. We must not condemn man because his inventiveness and patient conquest of the forces of nature are being exploited for false and destructive purposes. Rather, we should remember that the fate of mankind hinges entirely upon man's moral development.

— Albert Einstein

While it is true that scientific results are entirely independent from religious and moral considerations, those individuals to whom we owe the great creative achievements of science were all of them imbued with the truly religious conviction that this universe of ours is something perfect and susceptible to the rational striving for knowledge. If this conviction had not been a strongly emotional one and if those searching for knowledge had not been inspired by Spinoza's Amor Dei Intellectualis, they would hardly have been capable of that untiring devotion which alone enables man to attain his greatest achievements.

— Albert Einstein

Why does this magnificent applied science which saves work and makes life easier bring us so little happiness? ... The simple answer runs: Because we have not yet learned to make sensible use of it.'

— Albert Einstein

[An outsider views a scientist] as a type of unscrupulous opportunist: he appears as a realist, insofar as he seeks to describe the world independent of the act of perception; as idealist insofar as he looks upon the concepts and theories as the free inventions of the human spirit (not logically derivable from that which is empirically given); as positivist insofar as he considers his concepts and theories justified only to the extent to which they furnish a logical representation of relations among sense experiences. He may even appear as Platonist or Pythagorean insofar as he considers the viewpoint of logical simplicity as an indispensable and effective tool of his research.

— Albert Einstein

[Kepler] had to realize clearly that logical-mathematical theoretizing, no matter how lucid, could not guarantee truth by itself; that the most beautiful logical theory means nothing in natural science without comparison with the exactest experience. Without this philosophic attitude, his work would not have been possible.

— Albert Einstein

[Misquotation? Probably not by Einstein.] We owe a lot to the Indians, who taught us how to count, without which no worthwhile scientific discovery could have been made.

— Albert Einstein

[Newton wrote to Halley … that he would not give Hooke any credit] That, alas, is vanity. You find it in so many scientists. You know, it has always hurt me to think that Galileo did not acknowledge the work of Kepler.

— Albert Einstein