(source)

Albert Einstein

(14 Mar 1879 - 18 Apr 1955)




I do not think words alone will solve humanity's present problems. The sound of bombs drowns out men's voices. In times of peace I have great faith in the communication of ideas among thinking men, but today, with brute force dominating so many millions of lives, I fear that the appeal to man's intellect is fast becoming virtually meaningless.

— Albert Einstein

If we consider that part of the theory of relativity which may nowadays in a sense be regarded as bone fide scientific knowledge, we note two aspects which have a major bearing on this theory. The whole development of the theory turns on the question of whether there are physically preferred states of motion in Nature (physical relativity problem). Also, concepts and distinctions are only admissible to the extent that observable facts can be assigned to them without ambiguity (stipulation that concepts and distinctions should have meaning). This postulate, pertaining to epistemology, proves to be of fundamental importance.

— Albert Einstein

The formulation of a problem is often more essential than its solution, which may be merely a matter of mathematical or experimental skill. To raise new questions, new possibilities, to regard old problems from a new angle requires creative imagination and marks real advances in science.

— Albert Einstein

The intellect has little to do on the road to discovery. There comes a leap in consciousness, call it intuition or what you will, and the solution comes to you and you don't know why or how.

— Albert Einstein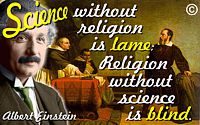 "Galileo Facing the Roman Inquisition," by Christiano Banti.
(source)