(source)

Albert Einstein

(14 Mar 1879 - 18 Apr 1955)




~~[Reinterpretation]~~ The significant problems we face cannot be solved at the same level of thinking we were at when we created them.

— Albert Einstein

Clarity about the aims and problems of socialism is of greatest significance in our age of transition. Since, under present circumstances, free and unhindered discussion of these problems has come under a powerful taboo, I consider the foundation of this magazine to be an important public service.

— Albert Einstein

Do not worry about your problems in mathematics. I assure you, my problems with mathematics are much greater than yours.

— Albert Einstein

I do not think words alone will solve humanity's present problems. The sound of bombs drowns out men's voices. In times of peace I have great faith in the communication of ideas among thinking men, but today, with brute force dominating so many millions of lives, I fear that the appeal to man's intellect is fast becoming virtually meaningless.

— Albert Einstein

I sometimes ask myself how it came about that I was the one to develop the theory of relativity. The reason, I think, is that a normal adult never stops to think about the problem of space and time. These are things which he has thought of as a child. But my intellectual development was retarded, as a result of which I began to wonder about space and time only when I had already grown up.

— Albert Einstein

If we consider that part of the theory of relativity which may nowadays in a sense be regarded as bone fide scientific knowledge, we note two aspects which have a major bearing on this theory. The whole development of the theory turns on the question of whether there are physically preferred states of motion in Nature (physical relativity problem). Also, concepts and distinctions are only admissible to the extent that observable facts can be assigned to them without ambiguity (stipulation that concepts and distinctions should have meaning). This postulate, pertaining to epistemology, proves to be of fundamental importance.

— Albert Einstein

It has often been said, and certainly not without justification, that the man of science is a poor philosopher. Why then should it not be the right thing for the physicist to let the philosopher do the philosophising? Such might indeed be the right thing to do a time when the physicist believes he has at his disposal a rigid system of fundamental laws which are so well that waves of doubt can't reach them; but it cannot be right at a time when the very foundations of physics itself have become problematic as they are now … when experience forces us to seek a newer and more solid foundation.

— Albert Einstein

It's not that I'm so smart, it's just that I stay with problems longer.

— Albert Einstein

Nevertheless, it is necessary to remember that a planned economy is not yet socialism. A planned economy as such may be accompanied by the complete enslavement of the individual. The achievement of socialism requires the solution of some extremely difficult socio-political problems: how is it possible, in view of the far-reaching centralisation of political and economic power, to prevent bureaucracy from becoming all-powerful and overweening? How can the rights of the individual be protected and therewith a democratic counterweight to the power of bureaucracy be assured?

— Albert Einstein

The formulation of a problem is often more essential than its solution, which may be merely a matter of mathematical or experimental skill. To raise new questions, new possibilities, to regard old problems from a new angle requires creative imagination and marks real advances in science.

— Albert Einstein

The intellect has little to do on the road to discovery. There comes a leap in consciousness, call it intuition or what you will, and the solution comes to you and you don't know why or how.

— Albert Einstein

The physicist cannot simply surrender to the philosopher the critical contemplation of the theoretical foundations for he himself knows best and feels most surely where the shoe pinches. … he must try to make clear in his own mind just how far the concepts which he uses are justified … The whole of science is nothing more than a refinement of everyday thinking. It is for this reason that the critical thinking of the physicist cannot possibly be restricted by the examination of the concepts of his own specific field. He cannot proceed without considering critically a much more difficult problem, the problem of analyzing the nature of everyday thinking.

— Albert Einstein

The release of atomic energy has not created a new problem. It has merely made more urgent the necessity of solving an existing one … I do not believe that civilization will be wiped out in a war fought with the atomic bomb. Perhaps two thirds of the people of the Earth would be killed.

— Albert Einstein

The United States is the most powerful technically advanced country in the world to-day. Its influence on the shaping of international relations is absolutely incalculable. But America is a large country and its people have so far not shown much interest in great international problems, among which the problem of disarmament occupies first place today. This must be changed, if only in the essential interests of the Americans. The last war has shown that there are no longer any barriers between the continents and that the destinies of all countries are closely interwoven. The people of this country must realize that they have a great responsibility in the sphere of international politics. The part of passive spectator is unworthy of this country and is bound in the end to lead to disaster all round.

— Albert Einstein

We can't solve problems by using the same kind of thinking we used when we created them.

— Albert Einstein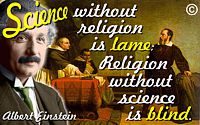 "Galileo Facing the Roman Inquisition," by Christiano Banti.
(source)